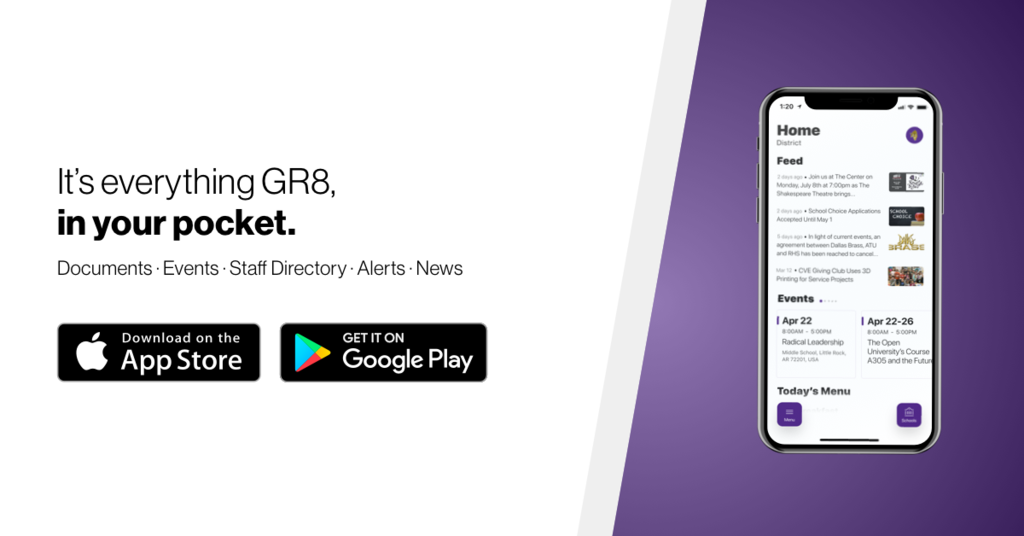 Activity update for 10/5: JH soccer will play Stover tonight in Stover. Start time will be 4:30. Varsity Soccer will play Smithton in the Kaysinger Conference Tournament, in Stover, following the JH game. Varsity game will approximately start around 5:45-6:00.


Volleyball and Soccer updates for 10/4 (tonight): Soccer will be at Stover playing their first round game in the Kaysinger Conference Tournament against LaMonte. Game time is 7:00 p.m. Volleyball is at home with Pink Out against Cole Camp. The order of contests will be 5:00 p.m. Junior High "A"/"B" playing a total of 4 sets. Junior Varsity will following JH, and Varsity will follow JV.

Green Ridge R-VIII is hosting a flu clinic for students and staff on Oct. 14. Forms have been sent home with students. If you need a form contact the office. When filling out the form, please make sure to fill out BOTH sides. All forms need to be turned into the school by Friday, October 7.


Mrs. Dove and her students enjoyed creating their egg cars. They were able to plan, create, and test them on different angles of incline. #GR8stories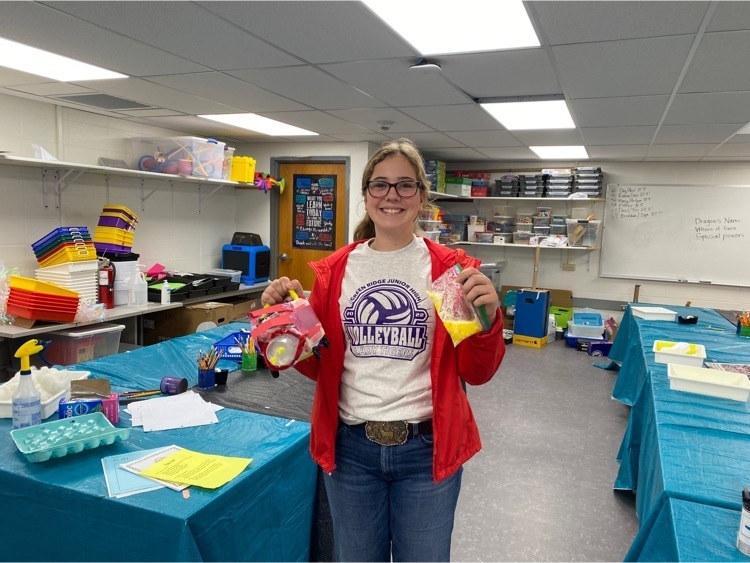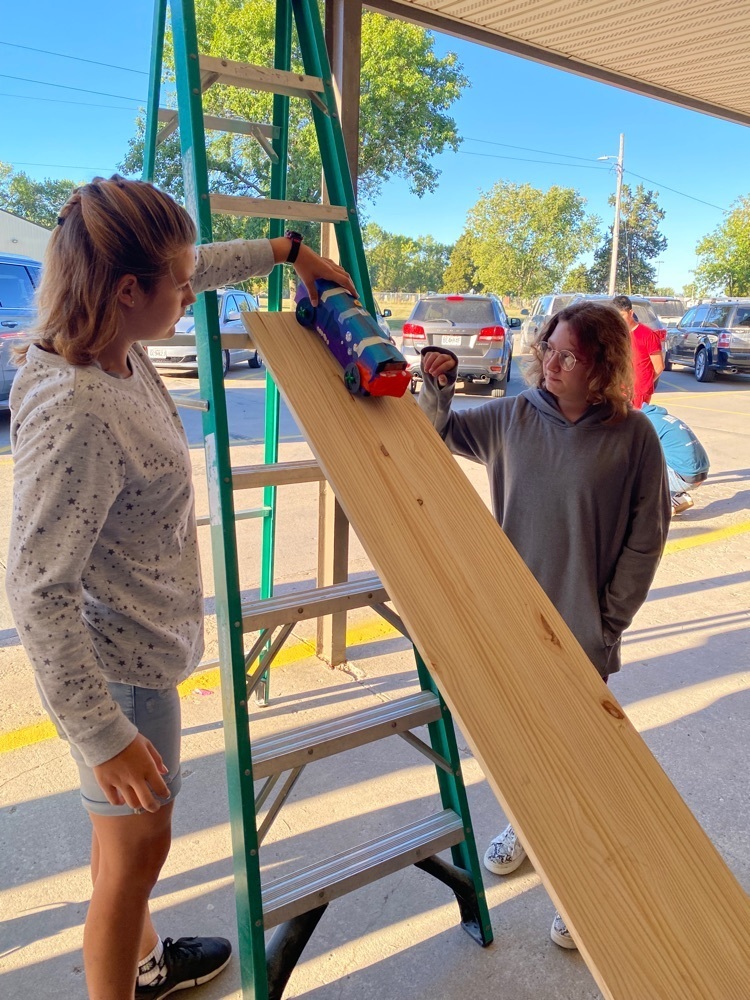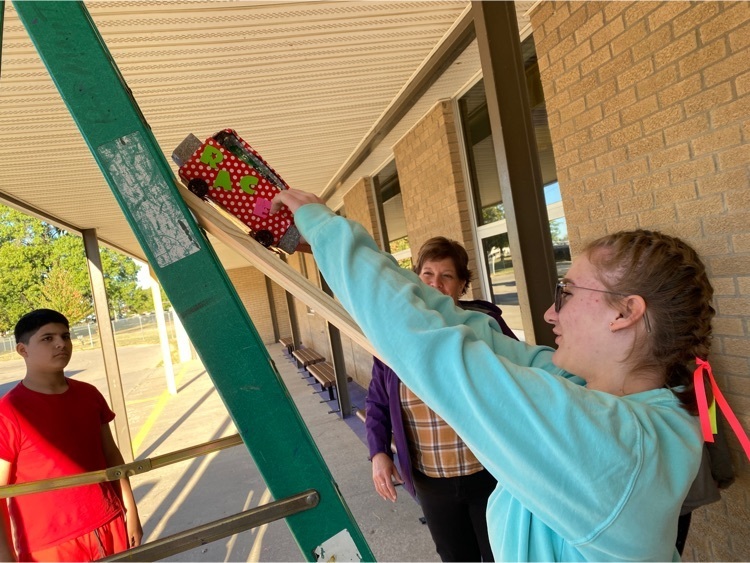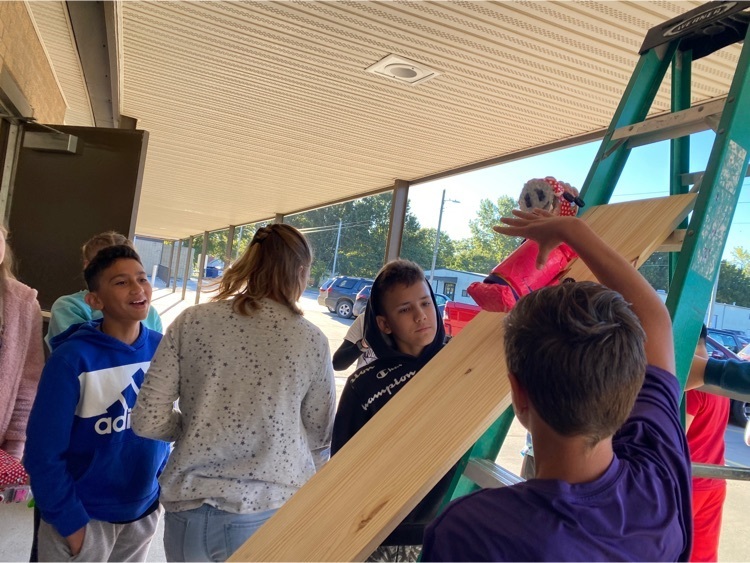 The JH Lady Tigers have been playing some GR8 Games this week. Traveling to Lincoln on Monday Night the A Team won in 3 sets: 25-15 17-25 15-7. Leading in Aces for the night Emma Larimore with 4 Kynleigh Tyler with 3 and Alayna Brosch with 3. We had some great hitting and were able to get the ball to multiple hitters giving Aliya Edington 2 kills Maggie Reed 2 Kills and Alayna Brosch 3 Kills. The B Team played a single set winning 27-25. In this very tight game the girls were able to make some great plays and show how much they've grown through the season this far. Macie Nilson and Mya Edington each had an ace to help the team to victory. Tuesday the Tigers faced the Lady Vikings from LaMonte for an exciting night of volleyball. The A Team served 21 Aces for the win 25-18 25-13. Zoe Davenport added 3 kills to help the team to victory! Alayna Brosch also contributed 3 kills and Emma Larimore added one. The B team played two close games but came up short losing 17-25 and 22-25. The team is really starting to work together and become one unit. Kyndall Gilbertson led the team with 2 kills and Myah Maholovich, Mya Edington, and Macie Nilson added 2 aces each to help their team. The Lady Tigers JH will play tonight at Home vs. Northwest in the Big Gym starting at 5:30

Athletic Update for Thursday 9/29: Varsity Soccer vs. Cole Camp starting at 5:00, with JH Soccer following. JH Volleyball, JV Volleyball, and Varsity Volleyball vs. Northwest will be in one gym (Big Gym) starting at 5:30 in that order. JH will play a maximum of three sets. Good Luck Tigers!
Tuesday night volleyball action brought another set of wins for the Lady Tigers!  Junior Varsity continued the winning streak (now at 4 wins!!!) in a 2-set win 25-20, 25-12 behind the ace-winning serves of Kayden Box (8 aces), Jellisa Atwood (7 aces), and Abby Warner (7 aces). Lot's O'Ace last night!  Warner added 5 kills and Atwood and Box each had 2 kills for the night as well. In Varsity action, Lady Tigers took charge in the first set to win 25-8, but had a tough time on serve-receive in the second set losing 17-25.  They came fighting back in the 3rd picking up communication and intensity to take the next sets 25-8, 25-13.  Kelsey Buxton controlled the offense for the Lady Tigers with 10 kills, while setter Matti Mergen kept the Vikings off balance with well placed 2-ball attacks to finish with 9 kills.  Libero Santana Rivas served for 7 aces and passed for 8 digs.  Mergen chipped in 9 digs defensively and dished out 10 assists.  Sydney Gordon finished with 9 assists.  Emery Cannon joined Buxton on the blocks with Buxton finishing with 4 and Cannon getting 3 blocks.  Cannon and Mergen also added 5 aces for the night in the win. Lady Tigers travel to Concordia tonight for non-Kaysinger play, then will return to the home court Thursday night to take on Northwest!  Hey Rah Tigers
HS boys soccer got back on track Tuesday night with an 8-0 win over LaMonte. Up 2-0 at half, the Tigers exploded for 6 goals in the final 14 minutes. Mark Pavlioglo had 2 goals. Kamryn Hoos had 2 goals and 3 assists. Ryan Hagedorn, Shane Meyer, Raul Ramirez and Logan Dove each had a goal. Weston Crawford added 3 assists. The Tigers play their final home game Thursday at 5 pm. Come root them on and support their Pink Out night!
Lady Tigers tackle the Lincoln Cardinals for the win! Lady Tigers Volleyball team started the week with wins for both Junior Varsity and Varsity as they returned to Kaysinger play Monday night in Lincoln.  Junior Varsity continued the winning streak with a 25-17, 25-14 win behind Kayden Box's 8 kills and 2 aces.  Emery Cannon added 4 kills and an ace while Mallory Reed chipped in 3 kills and 2 aces. Varsity volleyball was met with an energetic fired up Lincoln crowd in the first set, but remained collected and focused to fight back from a 12-21 hole to win the first set 27-25.  Lady Tigers continued their momentum to sweep the Cardinals the next 2 sets 25-22 and 25-21.  Led by Kayley Goodman's 10 kills and 4 aces, Lady Tigers displayed a balanced attack with Sydney Gordon and Kelsey Buxton finishing with 7 kills and Emery Cannon chipping in 4 kills.  Molli Mahalovich and Mergen each found 2 kills of their own.   Mergen added to her night serving 4 aces and dishing out 16 assists and scrapping for 13 digs.  Santana Rivas sported the Libero jersey once again to stabilize serve receive and give the Lady Tigers reinforcement on defense.  Rivas led the team defensively with 14 digs and Goodman finished with 12 digs. Lady Tigers are now 7-6-1 overall and 2-2 in Kaysinger play.  They take on the La Monte Vikings tonight at home.  Wear your PURPLE for Purple Out and show your spirit for Spirit Week by wearing BOOTS!  Hey Rah Tigers!

A busy week for Green Ridge Athletics. Green Ridge Volleyball travels to Lincoln tonight. JH and JV will start in opposite gyms at 5:30 p.m. Varsity will follow in the High School Gym. Volleyball and Soccer play at Home against LaMonte on Tuesday. JH and JV Volleyball will start at 5:30, Varsity to follow. Varsity Soccer will play first at 5:30, followed by JH. HS Volleyball travels to Concordia on Wednesday, with JV starting at 5:30. JH/JV/HS Volleyball plays Northwest at home on Thursday. Game time is 5:30 in both gyms. Soccer plays Cole Camp in their "Pink Out" game. Varsity will play first with a start time of 5:00 p.m., with JH following. JV Volleyball will have a JV tournament in Green Ridge on Saturday, and JH "B" volleyball will be traveling to Windsor. Cross Country will be Traveling to Calvary Lutheran for a meet as well. Good Luck Tigers!

The JH Lady Tigers team had an exciting week of volleyball! Tuesday at Stover the A team fell short 19-25 17-25. LC Box led the team with 4 aces and 1 Kill. Alayna Brosch added 1 kill and 1 ace, Kynleigh Tyler and Aliya Edington added 2 aces each. The B rallied hard but didn't quite come out on top taking Stover to 3 sets 17-25 25-23 13-15. Lou Schnakenberg led the team with 8 aces and Whitney Rupe & Ariana Burton both added 4 each. Thusday @ Home the Lady Tigers faced the SH Gremlins, A team fought a tough 3 sets 19-25 25-19 9-15. Emma Larimore led the team with 3 aces and Maggie Reed added 2 kills and aces to help her team. The B team rallied hard from their close run tuesday to earn a W vs SH, 25-21 14-25 15-8. Ariana Burton and Whitney Rupe led the team with 4 Aces each, Kyndall Gilbertson added 3 aces and Rayleigh Williams added 2 kills to finish the night off with a win. Don't miss this week's games as JH Volleyball travels to take on Lincoln tonight @ 5:30. Tuesday at Home vs. Lamonte at 5:30, Thursday vs Northwest at 5:30, & B Team heads to Windsor Saturday Morning! Go Tigers!
Lady Tigers wrapped up a week of volleyball taking on the Kaysinger powerhouse Sacred Heart Lady Gremlins on Thursday night.  Junior Varsity dug out another 3-set win (23-25, 25-12, 15-13) with a balanced offense and steady serves.  Kayden Box led the serving effort with 5 aces.  Jellisa Atwood added 3 aces of her own.  Offensively, Lady Tigers had a balanced group of hitters finding kills at just the right times.  Atwood, Mallory Reed and Abby Warner all finished with 3 kills.  Box and Alexas Stevens grabbed 2 kills each of their own.  Another nice win!! Varsity Lady Tigers stayed in the fight, but couldn't out-power the serving and hitting game of the Lady Gremlins.  Losing 17-25, 18-25, 6-25, Lady Tigers were led offensively by Emery Cannon with 4 kills.  Kelsey Buxton and Matti Mergen both added 3 kills for the night.  Mergen also served for 3 aces and dished out 5 assists.  Sydney Gordon led defensively with 6 digs, Mergen and Kayley Goodman finished with 4 digs a piece and Santana Rivas, Buxton, and Cannon all had 3 digs.   Lady Tigers will have a busy week this week!  Monday night Lady Tigers travel to Lincoln.  Tuesday will be a home game against LaMonte.  Then Wednesday, we head to Concordia before finishing at home Thursday against Northwest.     But wait there's more!  Lady Tigers Junior Varsity will be in action all day Saturday 10/1 in Green Ridge for the Annual JV Invitational tournament aka "Fall Showdown".  Come check out the action and get a cheeseburger and snacks to support the Lady TIger Volleyball program!  Hey Rah Tigers!

Green Ridge Cross Country Travels to Hermitage this morning for one heck of a race, and hill run. Tigers will start competing at 9:00 a.m. Good Luck XC runners!

Contact the school to schedule a screening.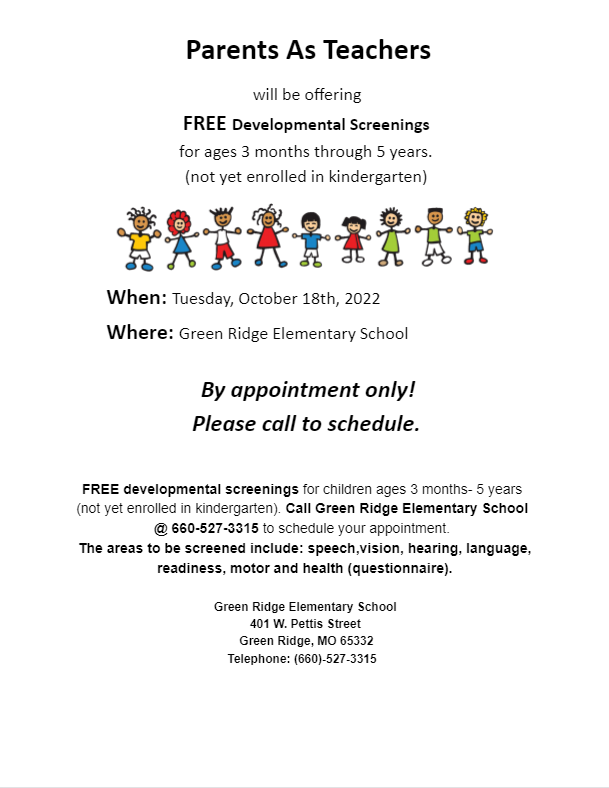 GR Pink Out Night October 4.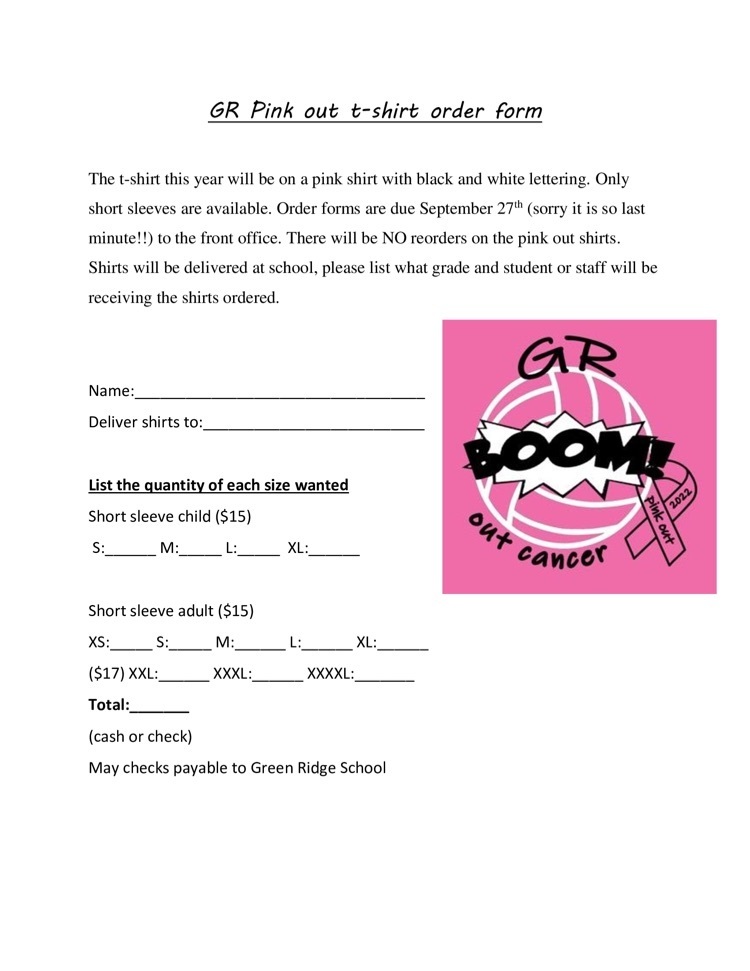 Our Lady Tiger Volleyball team will be returning to the Home Court tonight to take on the Sacred Heart Gremlins. In Tuesday night's game against Stover, the JV Lady Tigers put together a thriller 3-set win over the Lady Bulldogs 22-25, 29-27, 15-13.  Abby Warner tallied 7 aces from the service line and added 4 kills to Jellisa Atwood's 5 kills in a steady offense!  Kayden Box, Mallory Reed, and Emery Cannon each chipped in 4 kills as well.  Santana Rivas added 4 aces of her own in the JV Win!  Well Done!! In Tuesday's Varsity match against Stover, Lady Tigers struggled defensively against a powerful Lady Bulldog offense losing 18-25, 6-25, 18-25.  Kayley Goodman led with 10 kills followed by Sydney Gordan's 5 kills.  Matti Mergen served 2 aces and dished out 16 assists.  Santana Rivas scrambled in the back court for 13 digs. The theme for tonight's match is "Black Out"  so come out and cheer on our Lady Tigers at 5:30pm!  

Athletic Update for 9/22: JH Soccer will open their season against Sacred Heart, in Green Ridge, game time will be 5:00 p.m. Varsity Soccer will play following the JH contest. JH Volleyball will play against Sacred Heart, in the little gym at Green Ridge, game time will be 5:30 p.m. JV Volleyball will be in the big gym, starting at 5:30 p.m. against Sacred Heart, with the Varsity contest to follow. Good Luck Tigers!