Ms.Kristy took a crew of eager musicians to Conference Solo & Ensemble today. Everyone performed well and came away with critiques to help them prepare for Districts on April 1st at State Fair Community College. Ratings are as follows: Stetson Mahin: vocal solo, 1 Miley Hayes: Trumpet solo, 1 Callie Knoernschild: piano solo, 2 Eric Thomas: Horn solo, 2 Isabel Knoernschild: vocal solo, 2 Stetson M., Weston Crawford, Gavin Bottom, Conner Garrigus, Raul Ramirez: Vocal Quartet, 2 Eric T, Callie K., Rylee Donaldson: Horn trio, 2 Savannah Nilson, Isabel Knoernschild, Katie Musgrave, Josie Porter: Woodwind Quartet, 2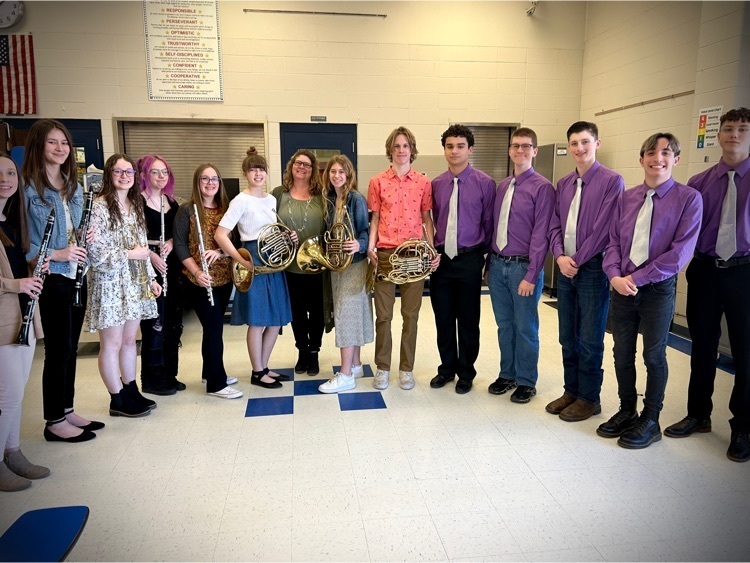 Thank you Green Ridge community for supporting our Book Fair! We were very successful with the help of our Grands visiting the book fair with their grandchildren.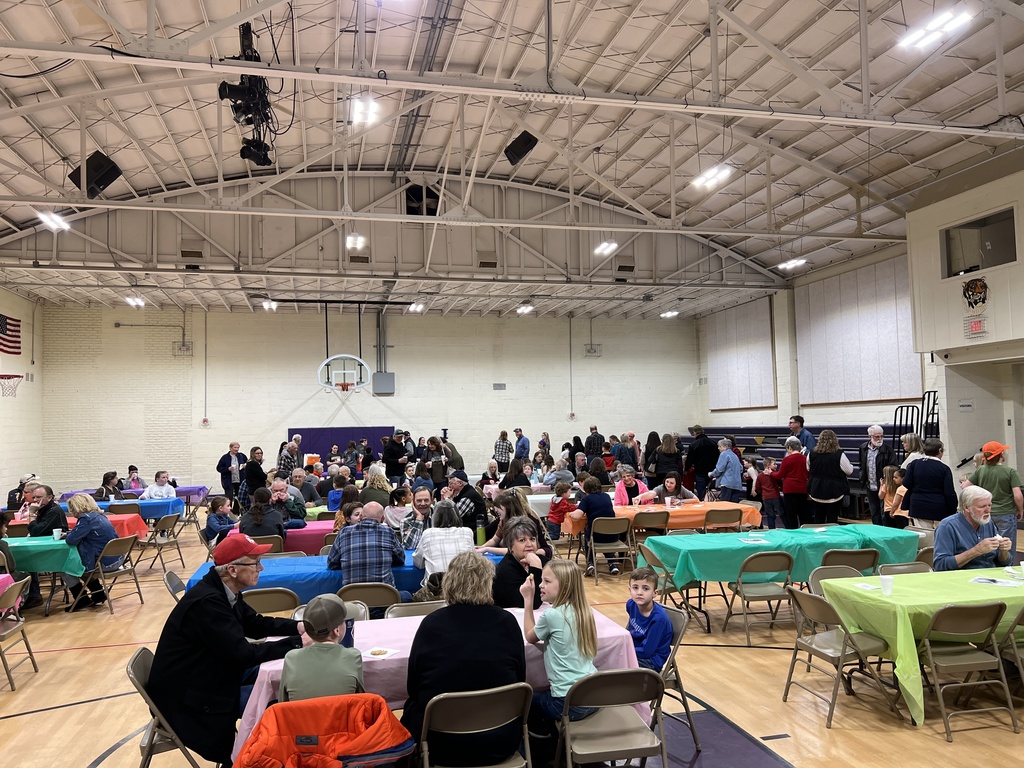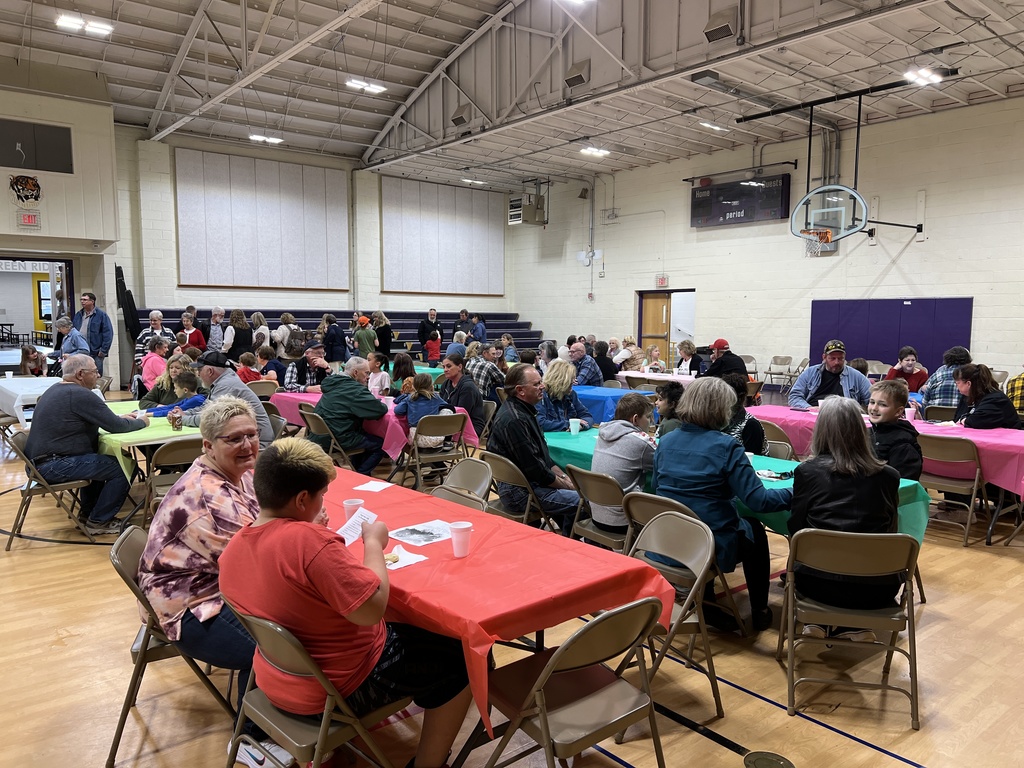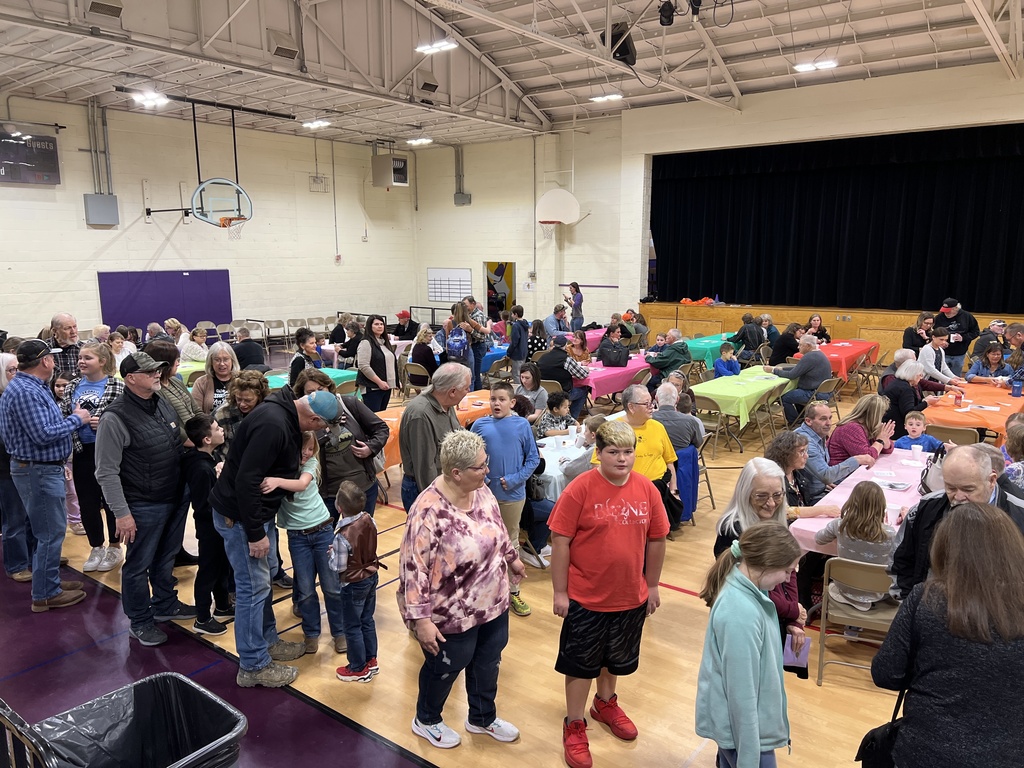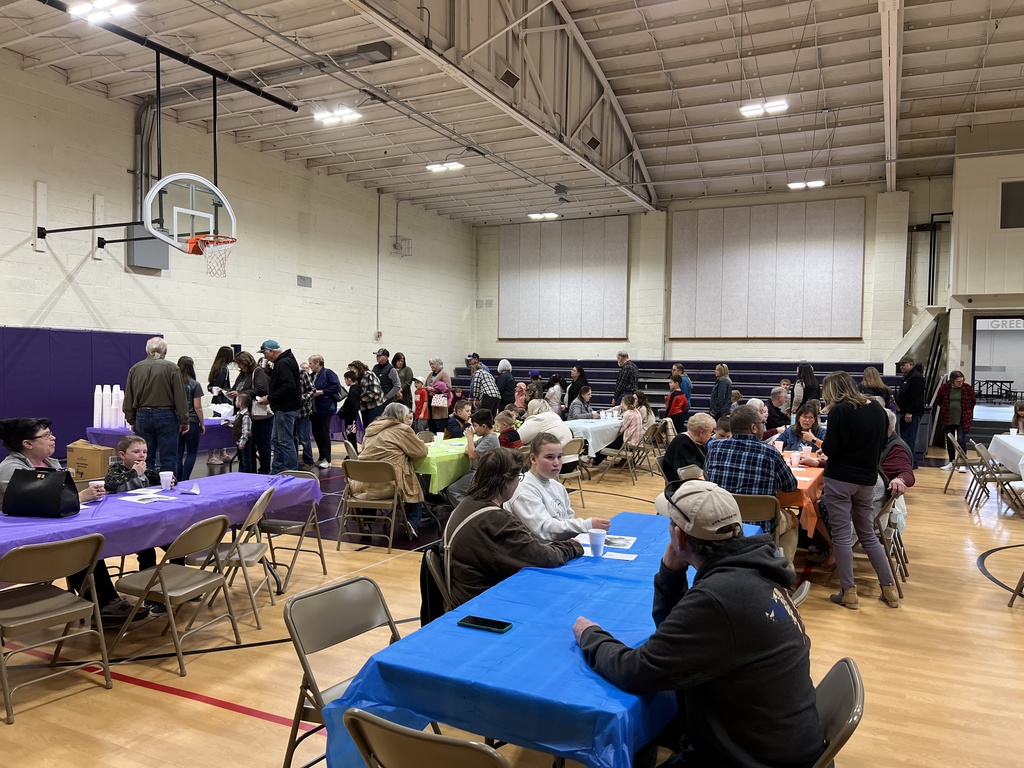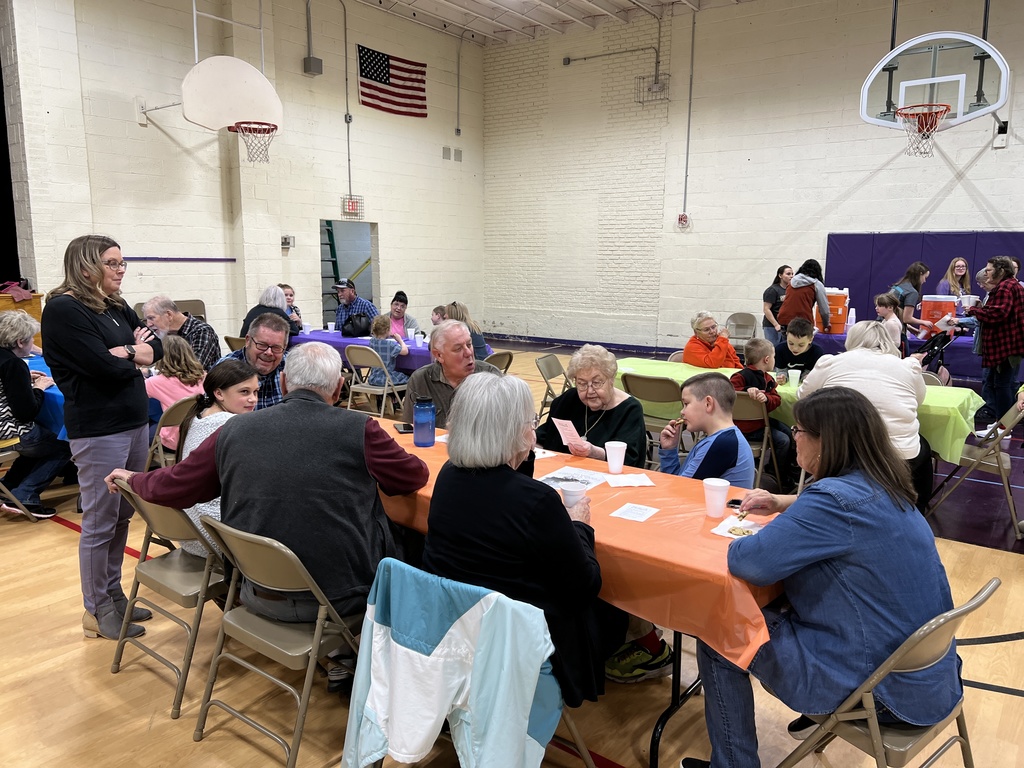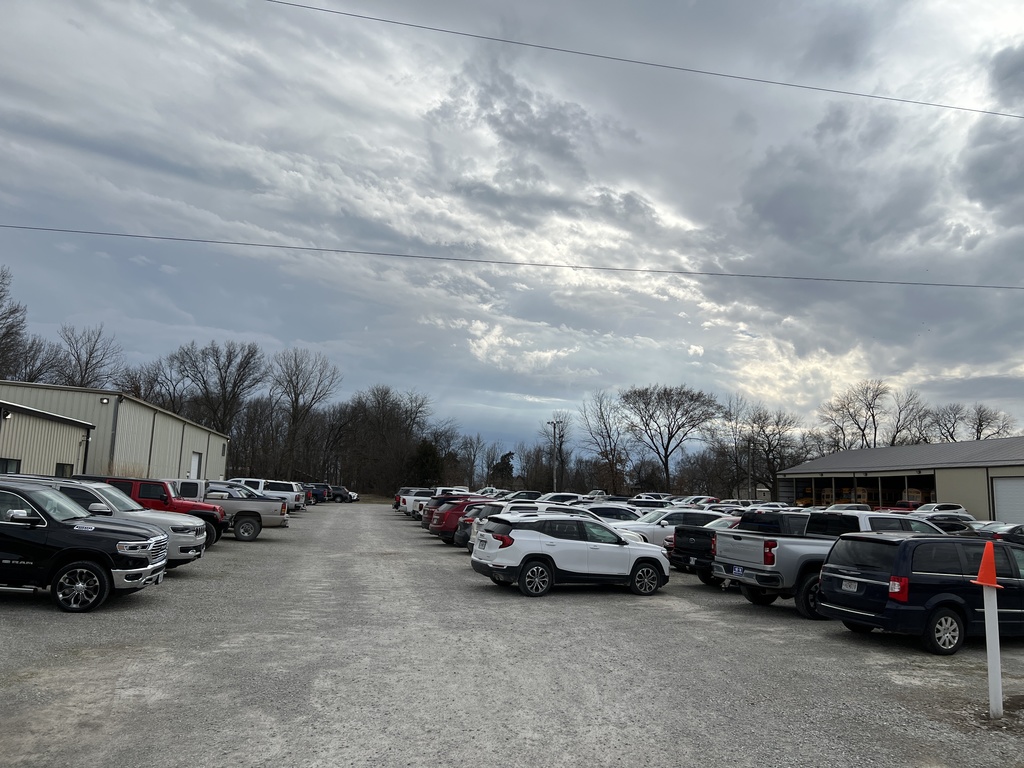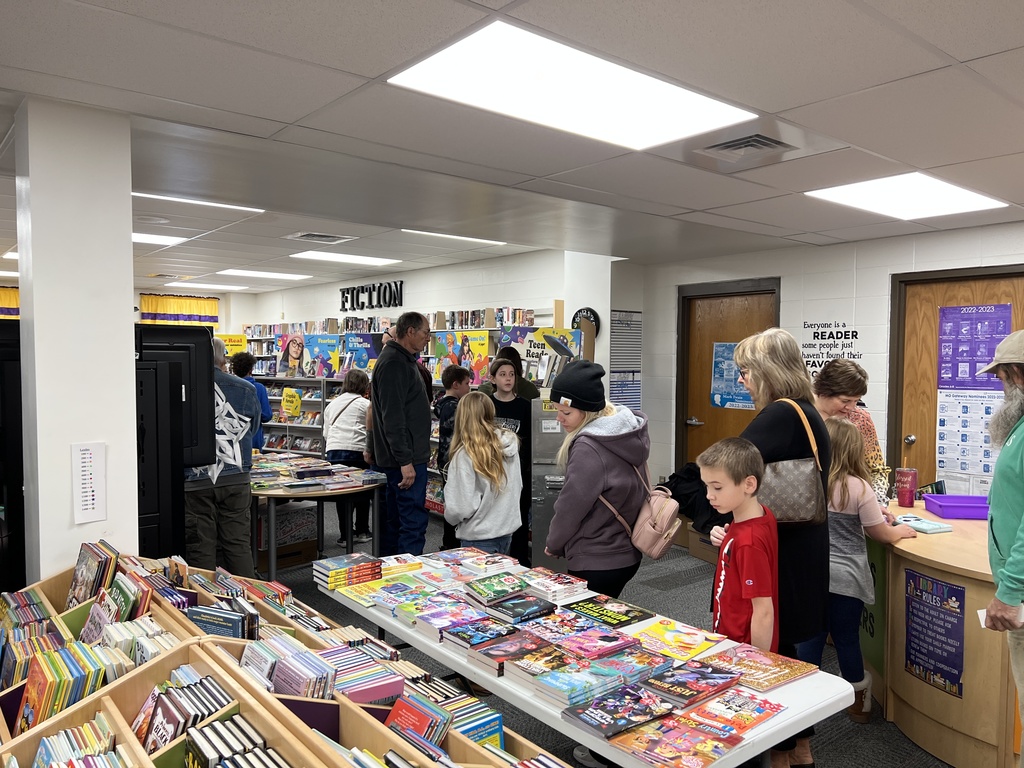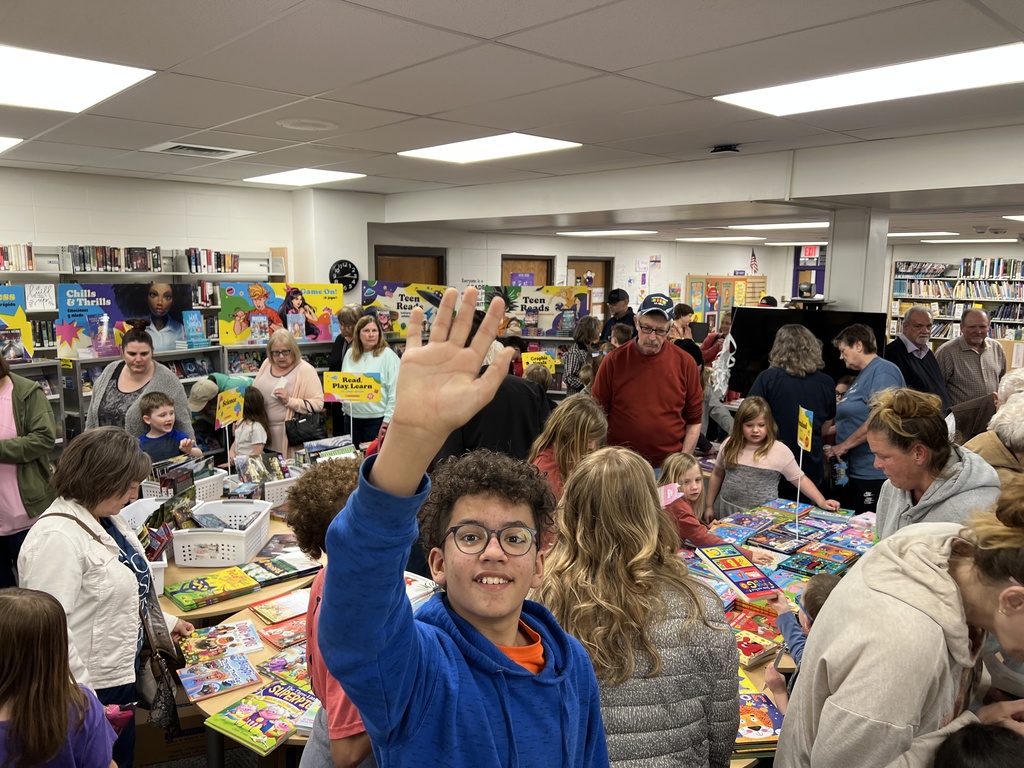 We welcomed our grandparents and grand-friends this last Thursday. I can't say how much I appreciate all of the grands that came to school to be with their grandchildren. The joy on all of the faces, old and young, filled the room with sunshine! I want to thank our NHS students for their help in setting up, tearing down, and running of the event. I also would like to thank our PTO board and volunteers for helping with this event, especially the cookies made by Sarah Carter! They were delicious! Here are a few pictures from the day. Feel free to add your pictures to the comment section. ~~Rachel Hammers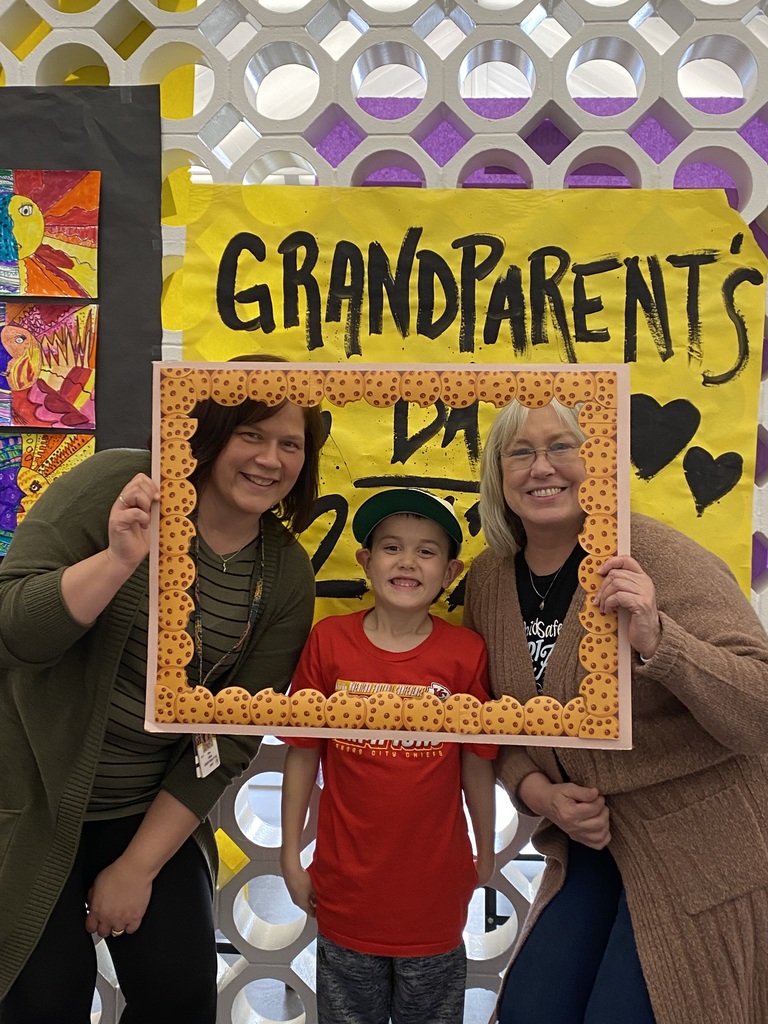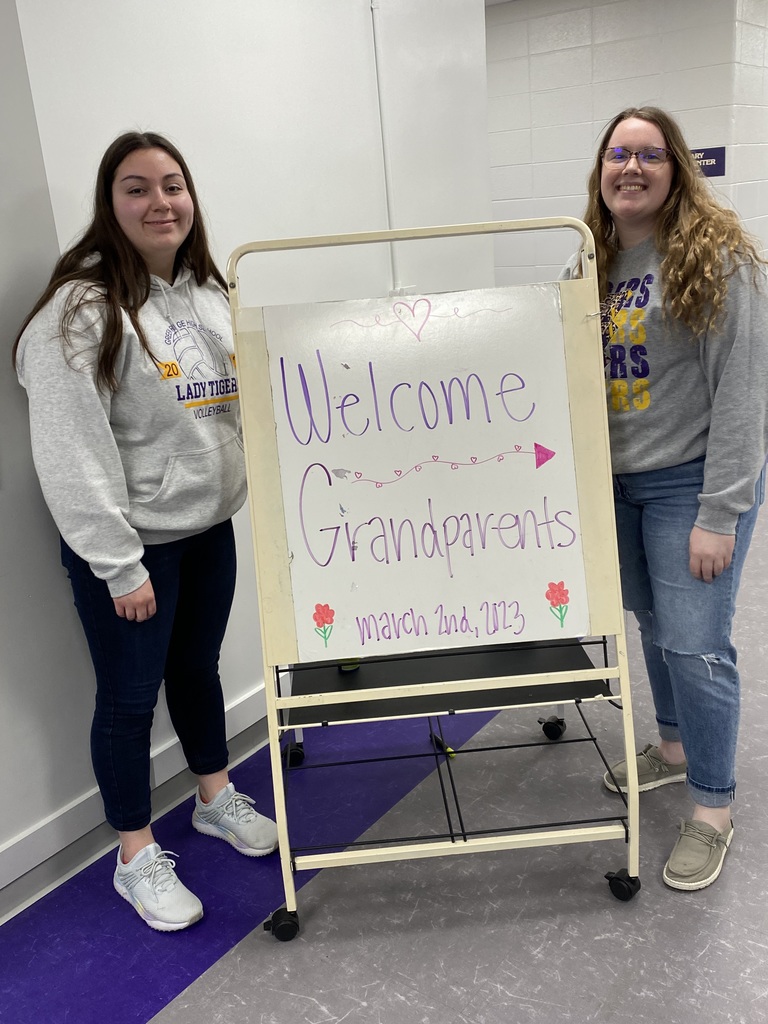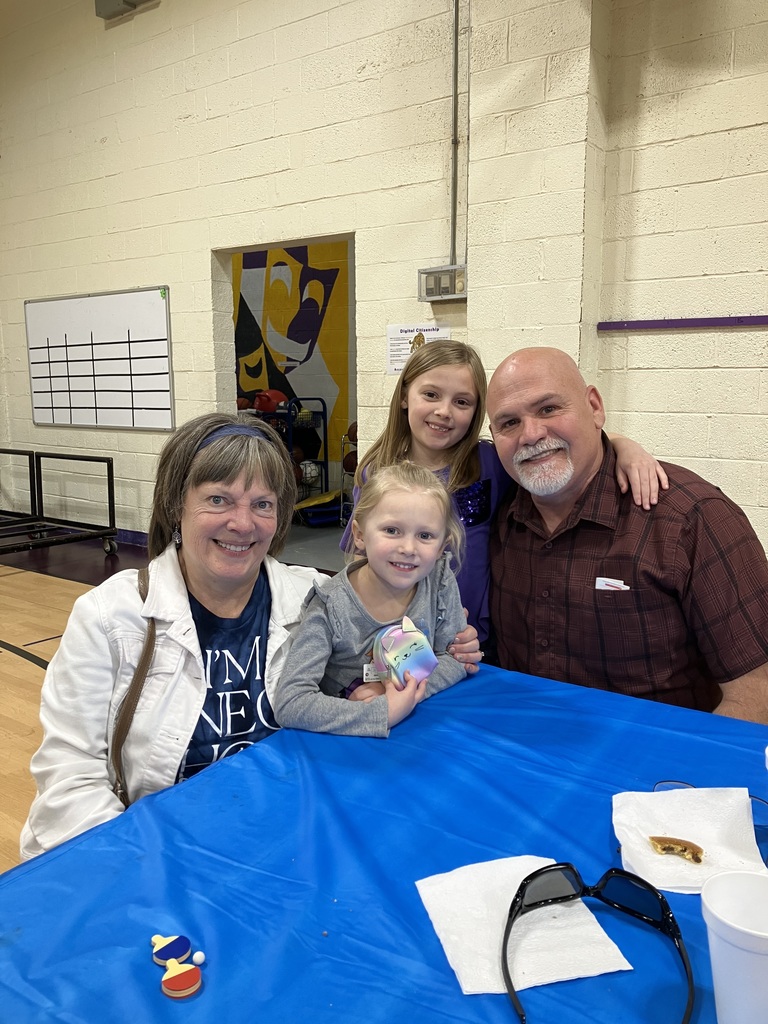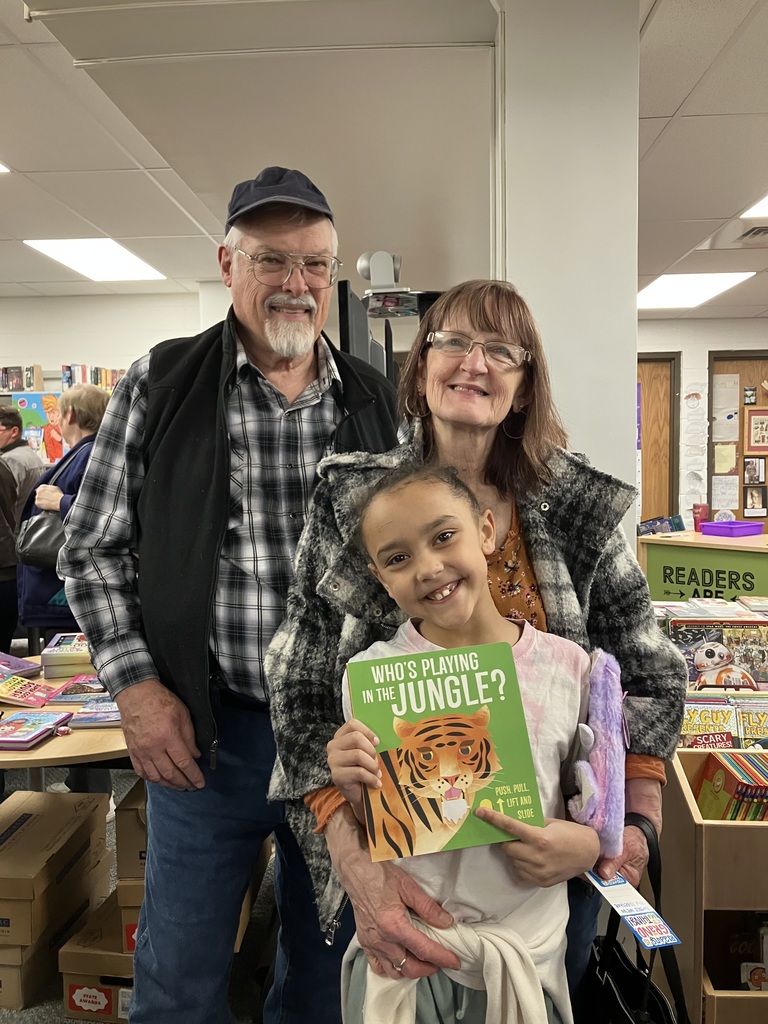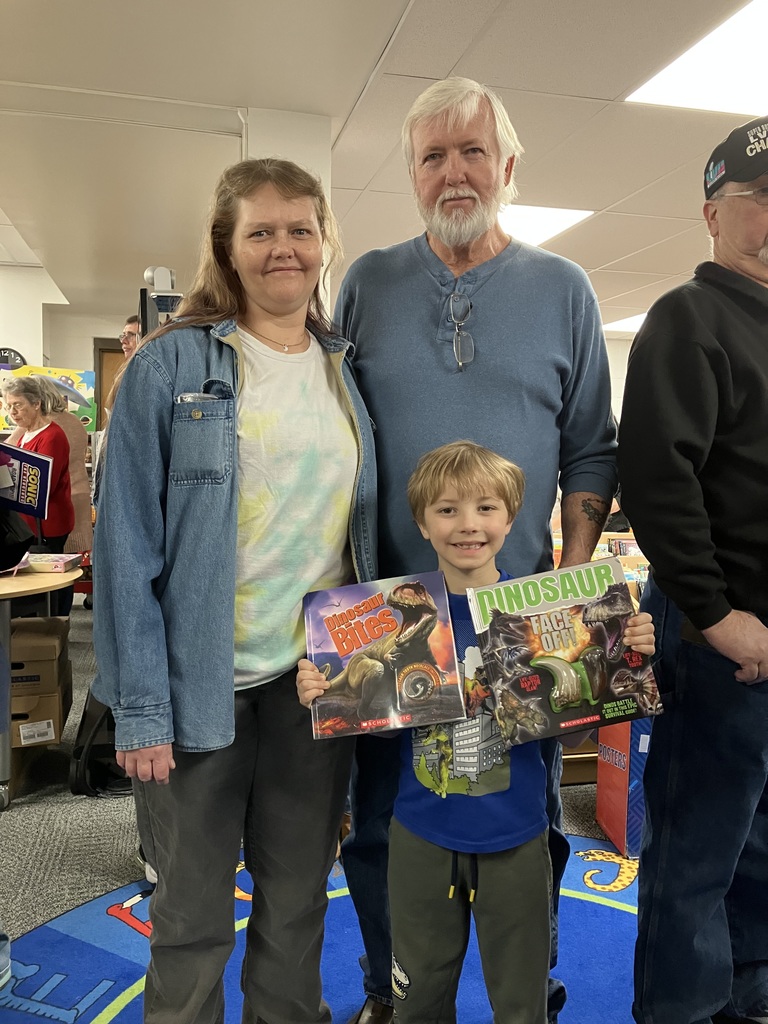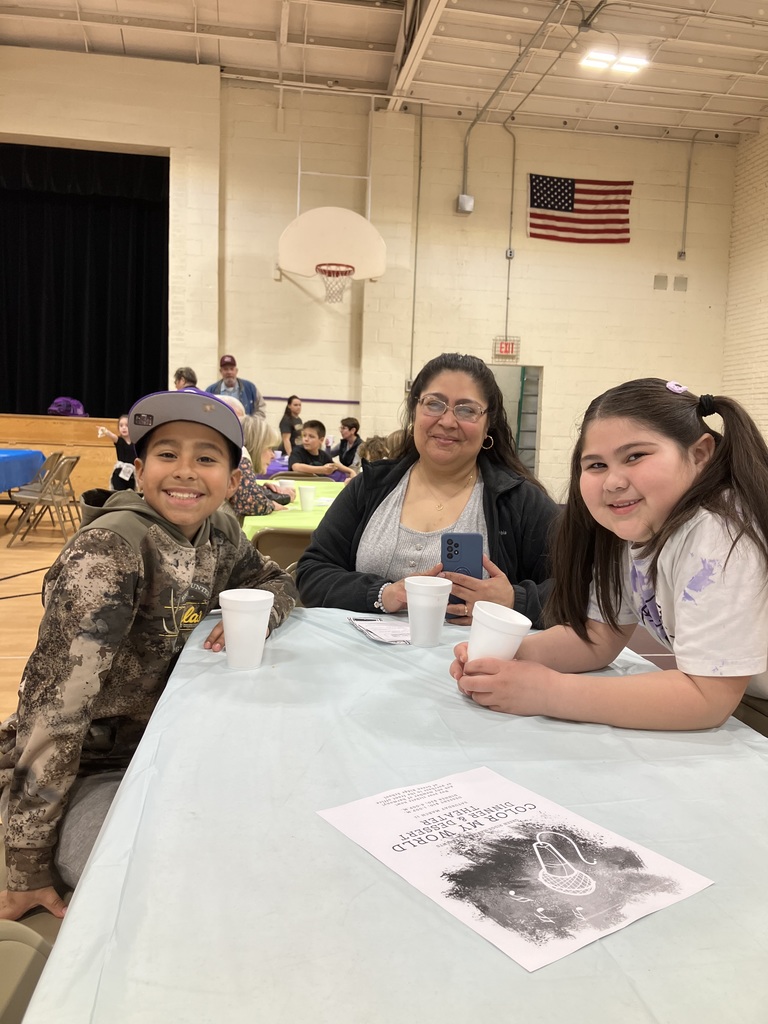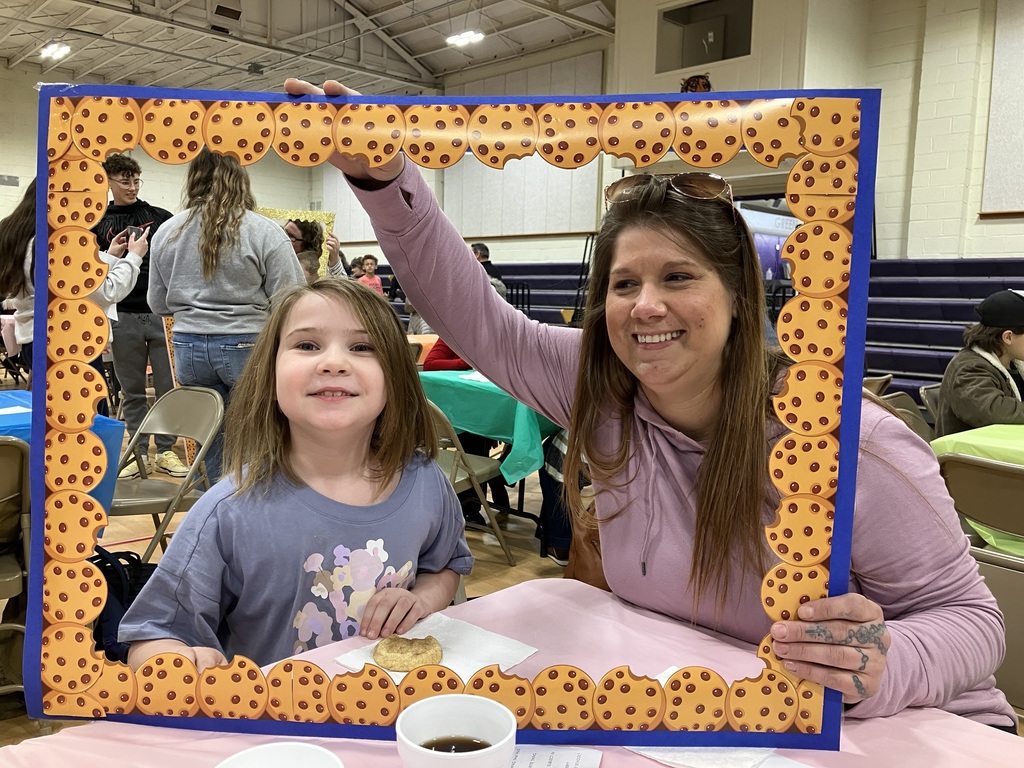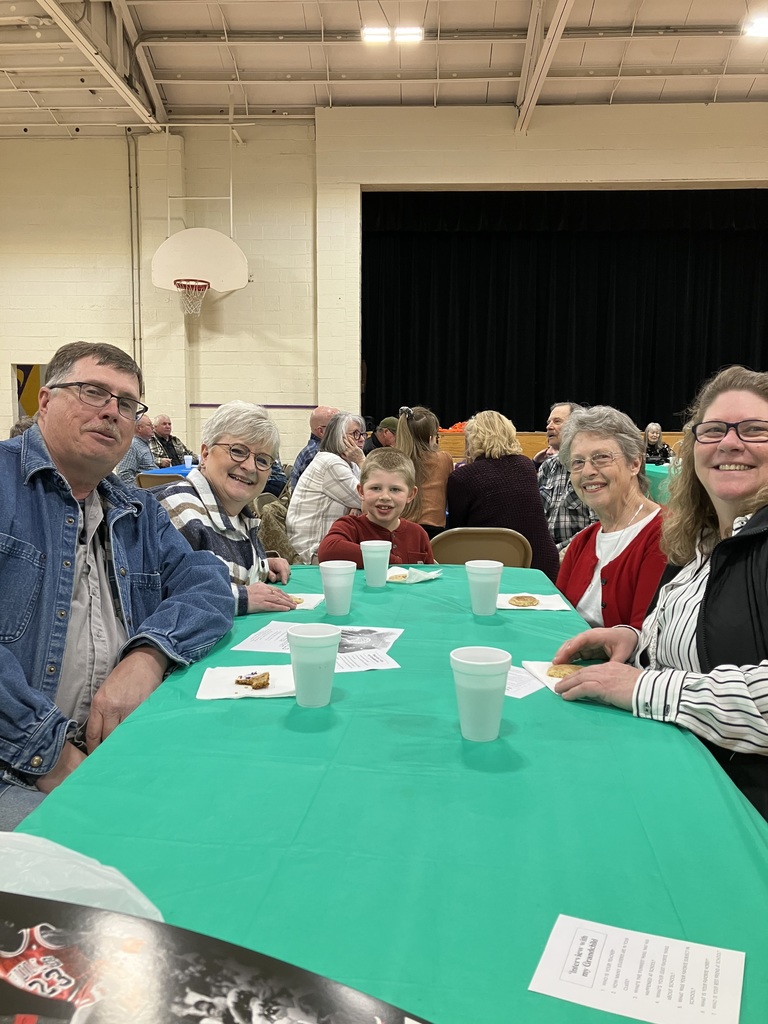 Harmony's Annual Dessert & Dinner Theater Saturday, March 11 Come out for a good time & support Harmony's current & future seasons as well as Harmony's future members as they put on performances to remember!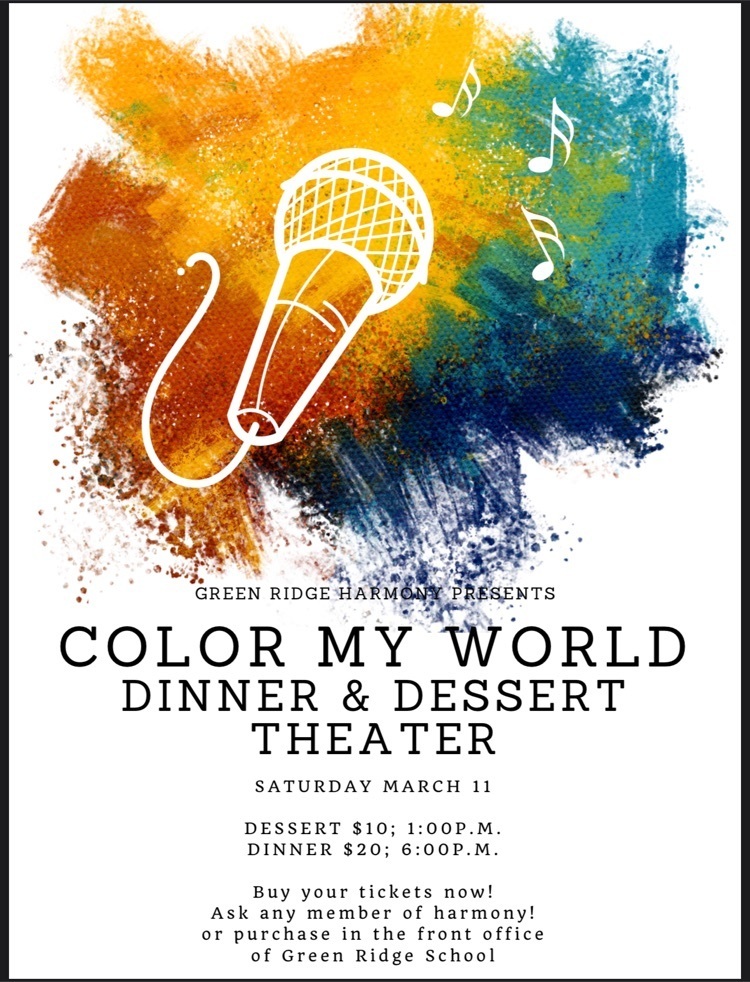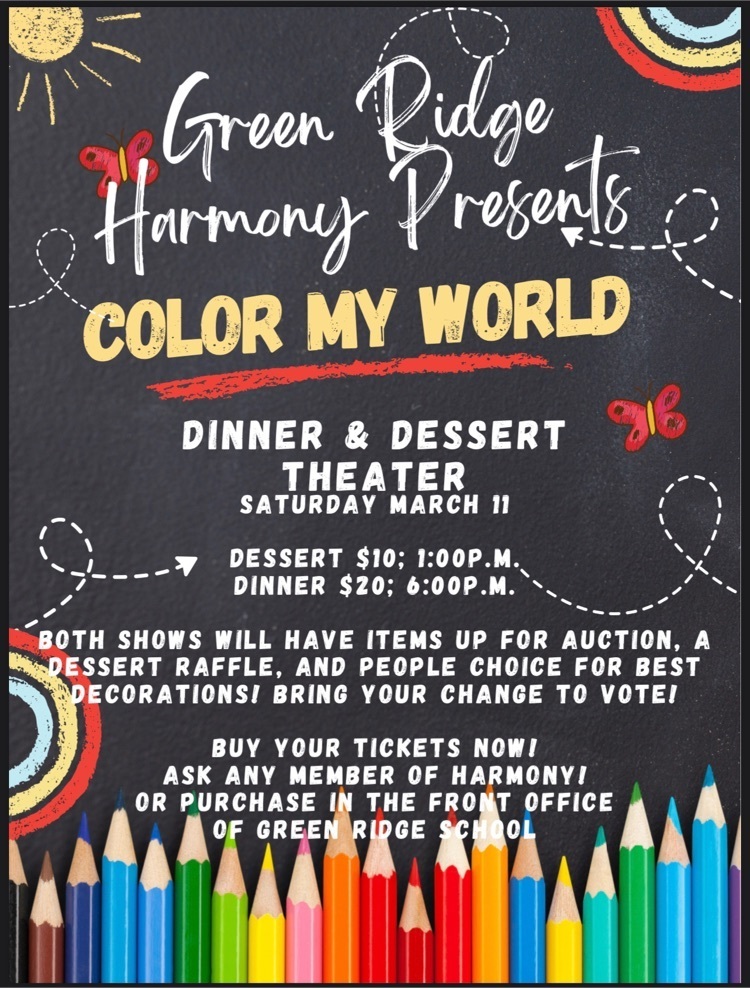 Mrs. Pottorff's Kindergarteners celebrated Dr. Seuss's birthday this week! Sure love seeing those little tiger cubs with books in their paws!!!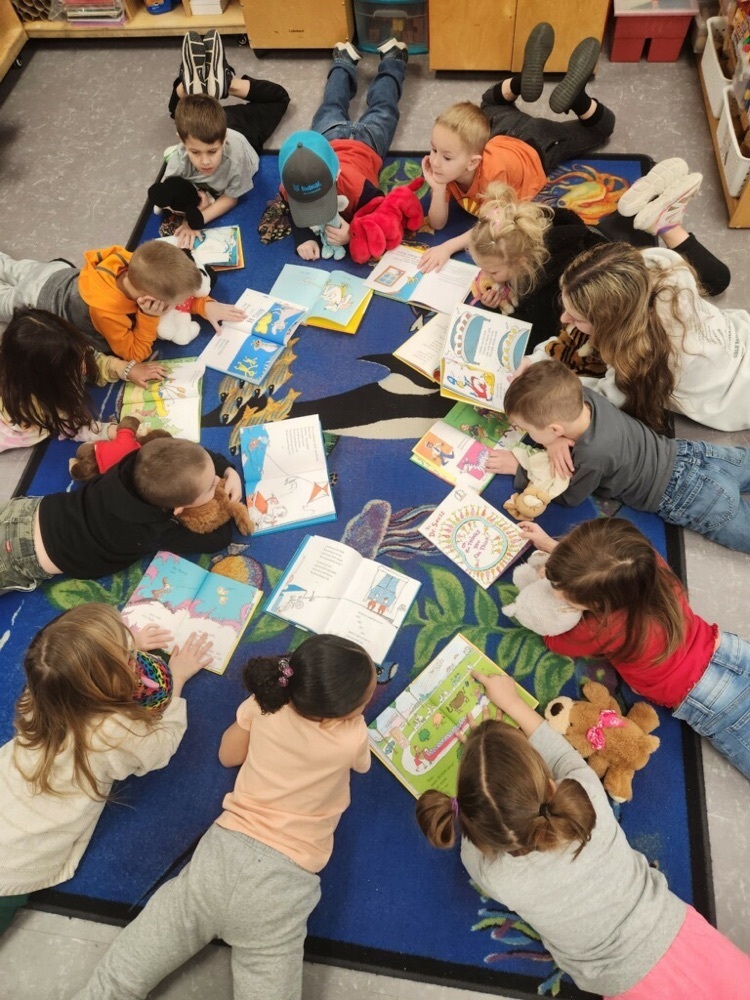 Thank you to all of the grandparents that came to Green Ridge R8 today for our Grandparent's Day! We enjoyed celebrating with you and your grandchildren! A big thanks to all who visited the Book Fair as well! You were the highlight of your grandchild's day!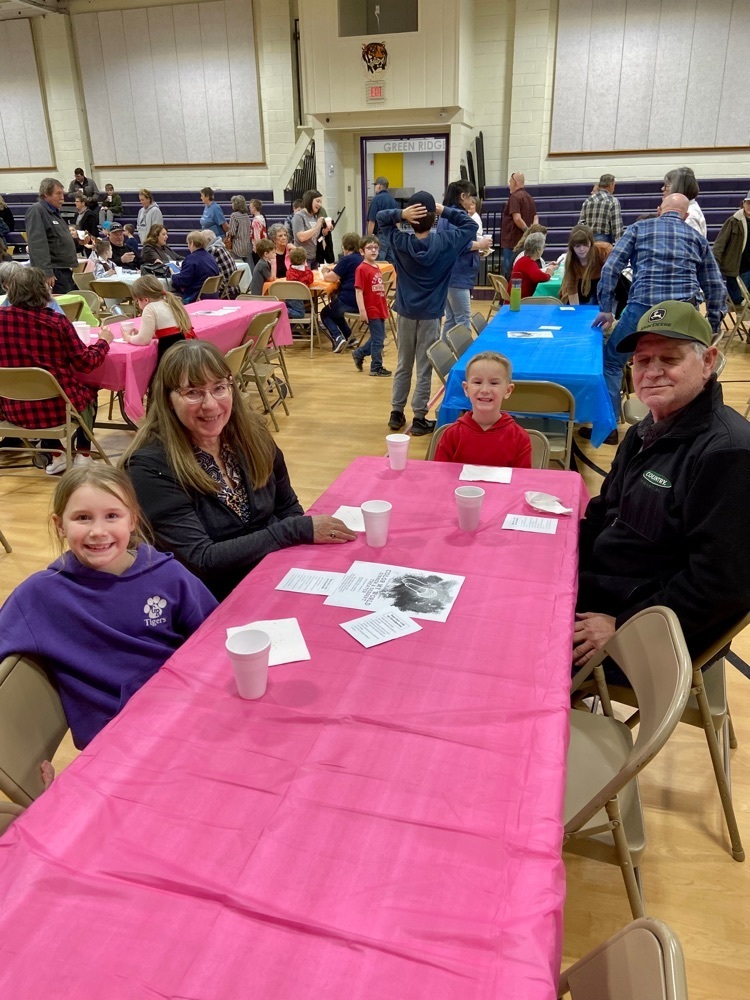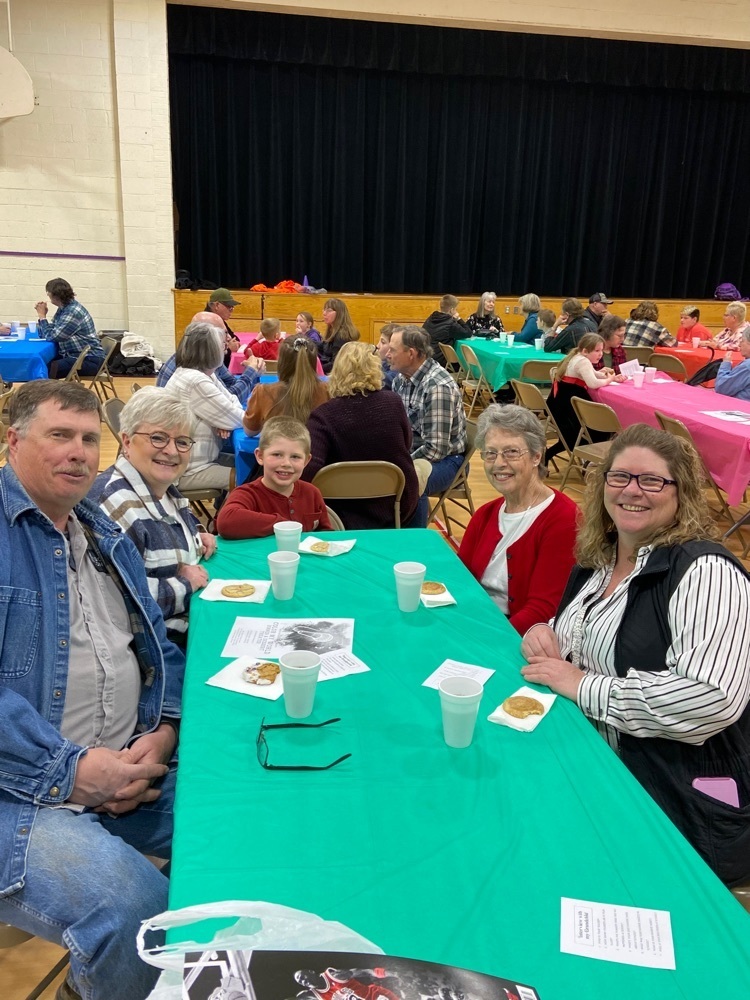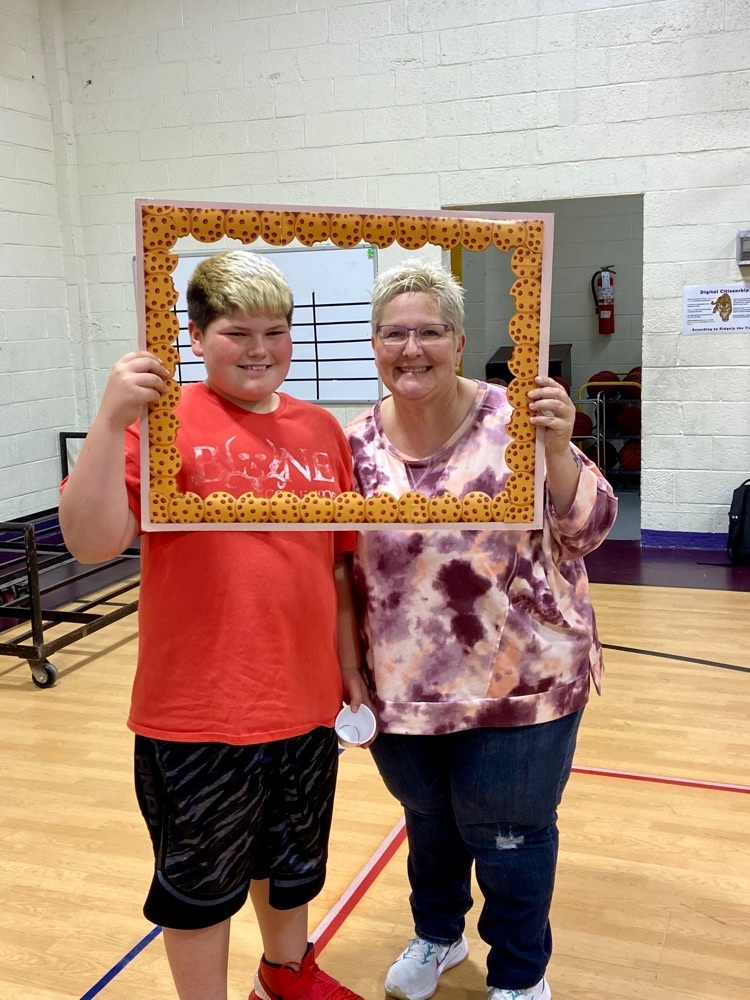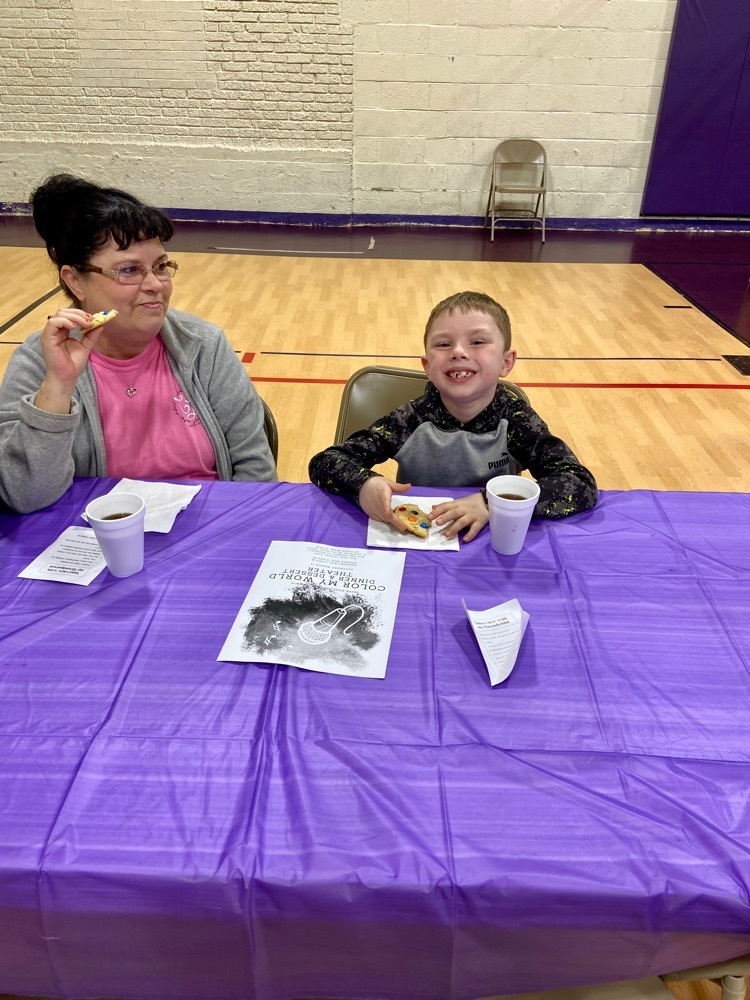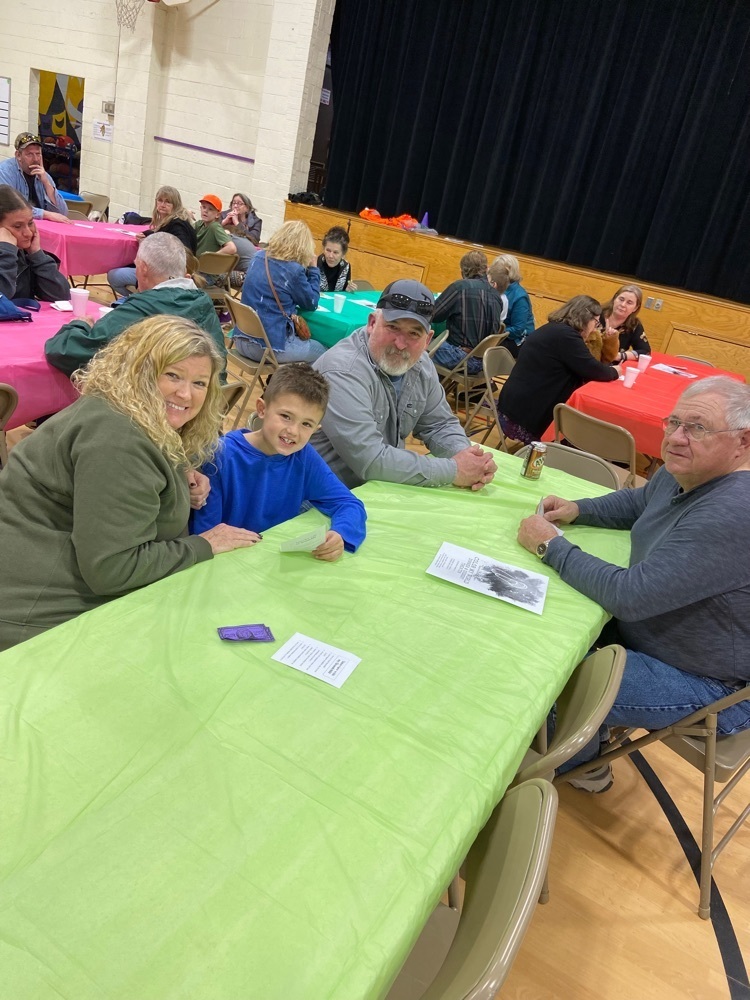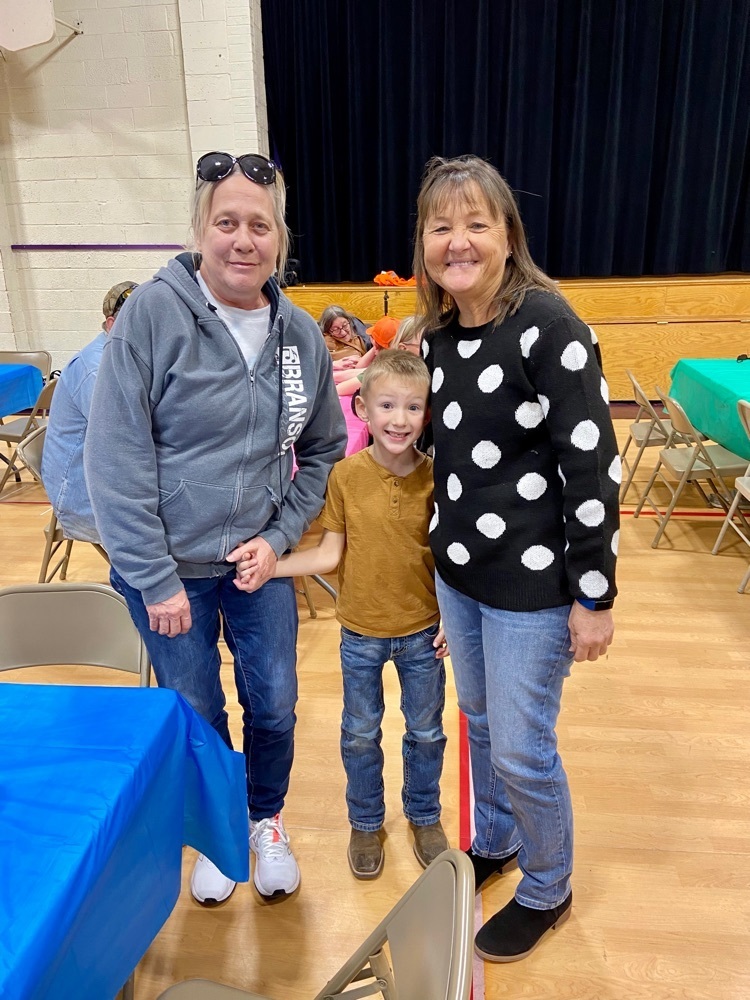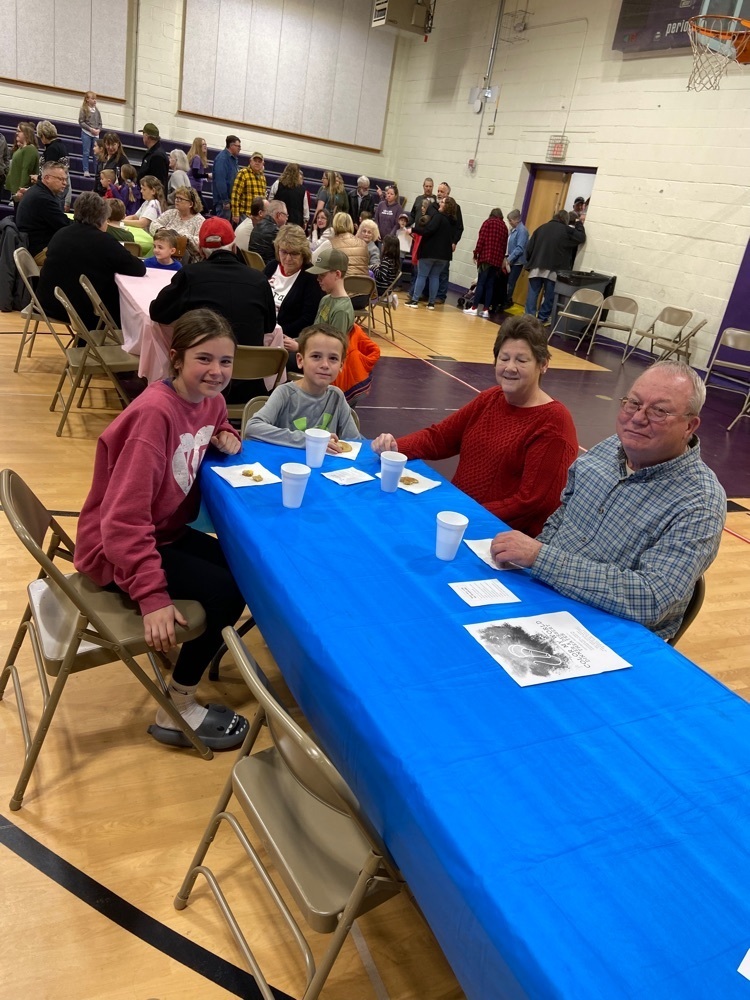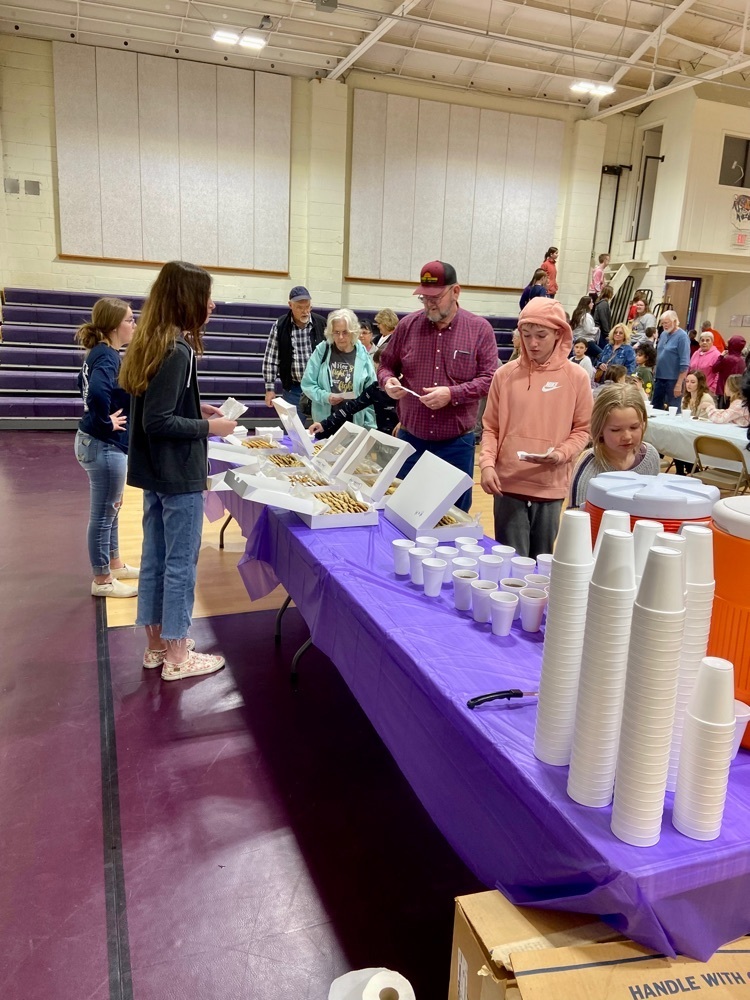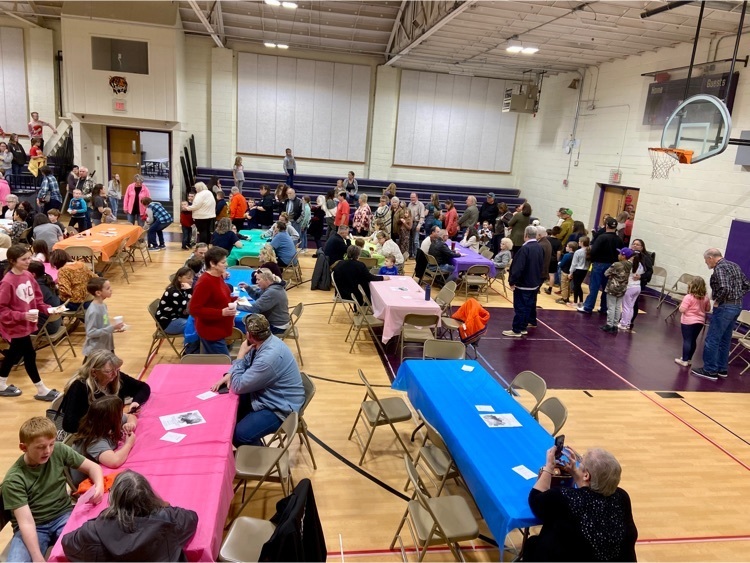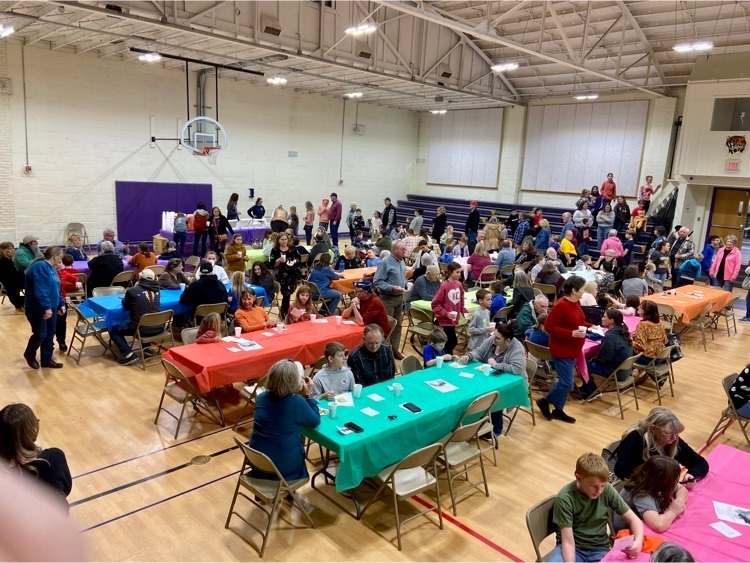 It's that time again, time for Kindergarten screenings!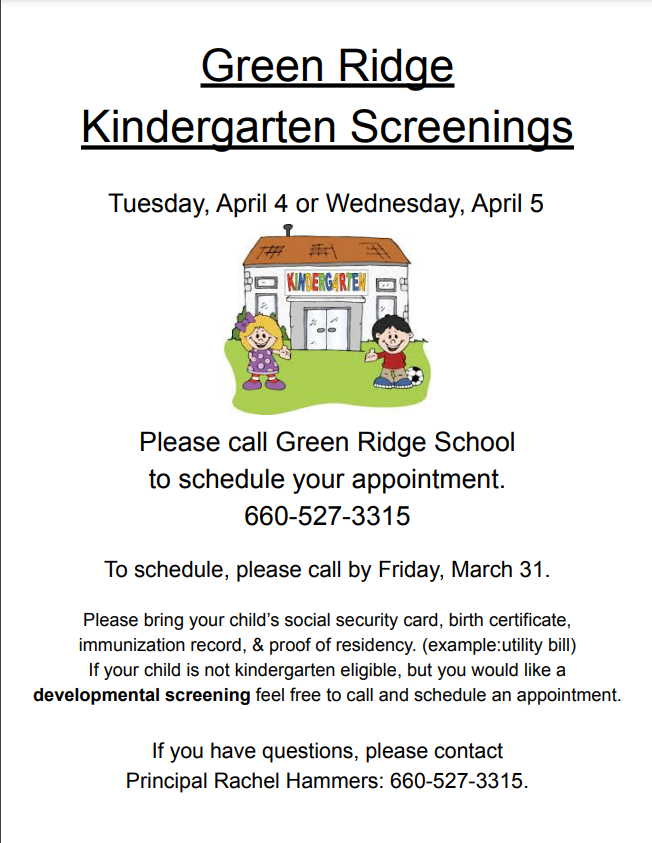 Senior Spotlight
Congratulations to Jacob Tylar for being recognized as an outstanding senior student at Green Ridge HS. He was recognized by the Sedalia Rotary Club on Monday for his academic achievements. Great job Jacob!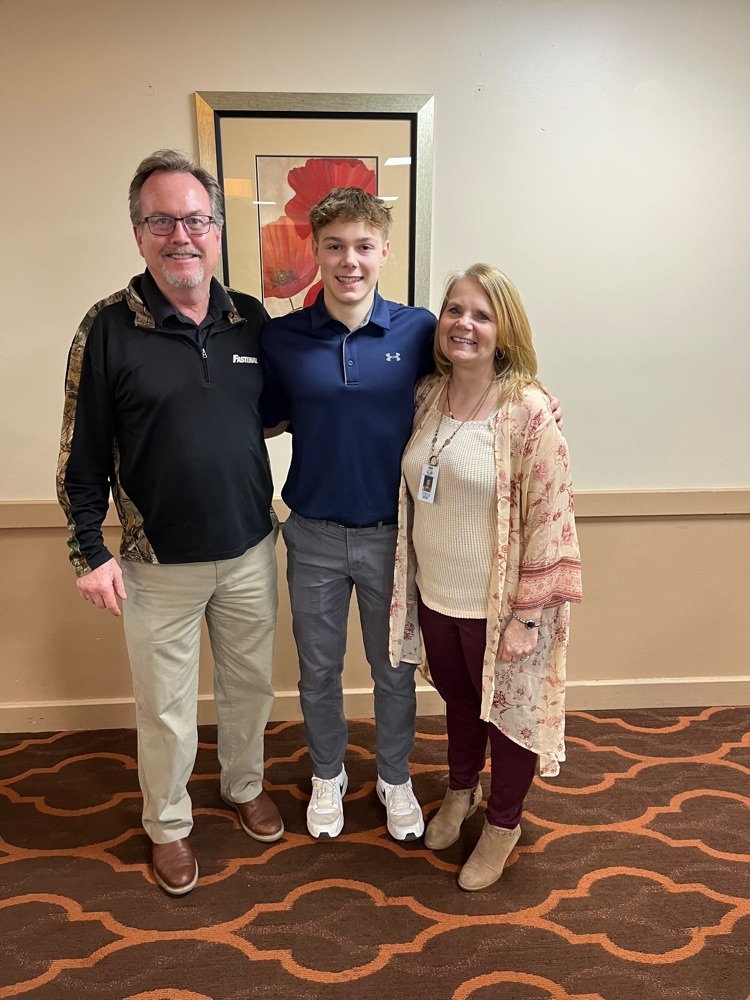 First grader, Dylan Sleeper, was the top earner for Green Ridge Elementary during our recent PTO Read-A-Thon fund raiser. His prize was being Mrs.Hammers' assistant principal today! He led the pledge of allegiance on the intercom, announced today's lunch, and told everyone the joke of the day! Thank you to everyone who supported Dylan and the rest our Tigers Cubs! Also including a throwback pic from our 80's Day....what an awesome admin duo!!! 💜💛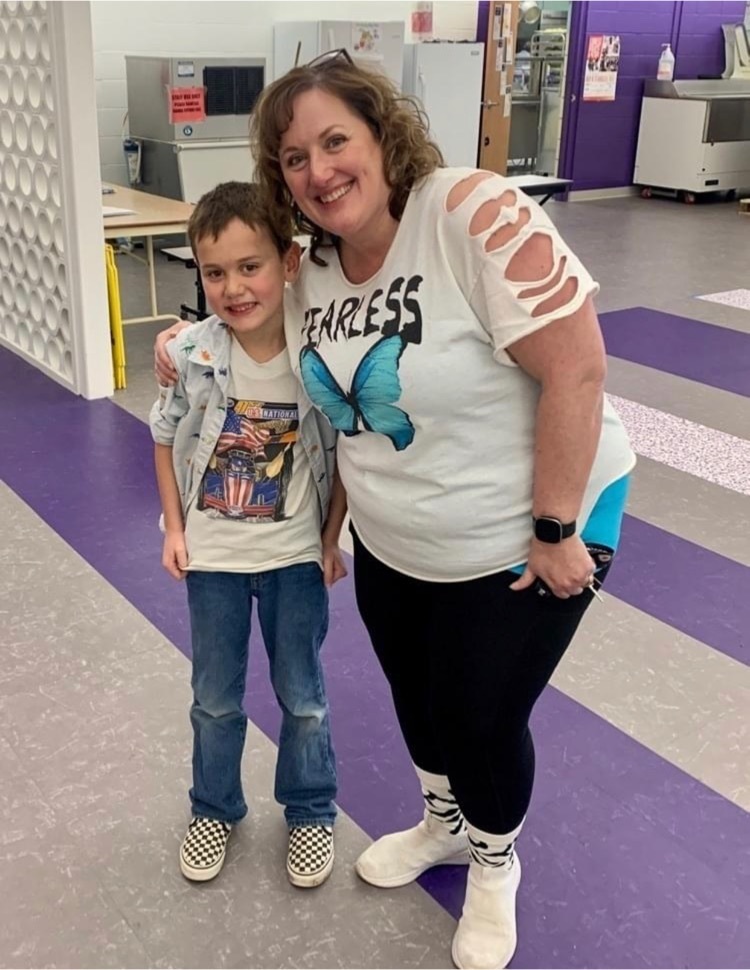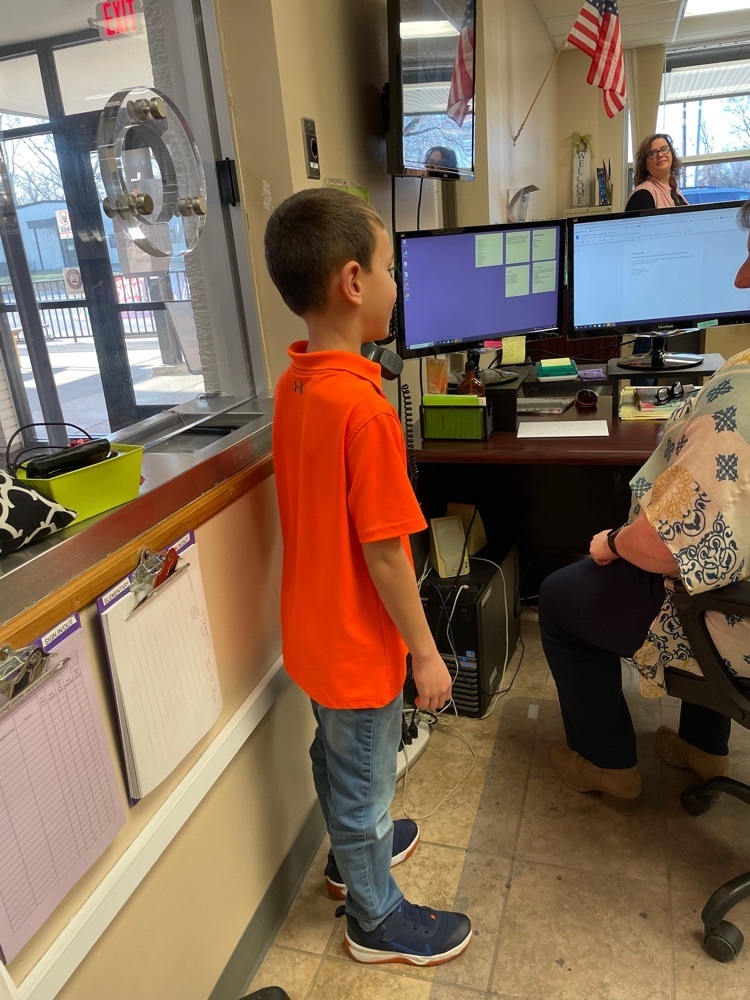 Our incoming superintendent, Mr. Brett Hieronymus, came to visit our school today! He was interviewed by students in our business classes and read The Three Little Wolves and the Big Bad Pig to Mrs. Shoop's class. He even brought them treats! Thanks for your visit, Mr. Hieronymus! Welcome to our GR8 school!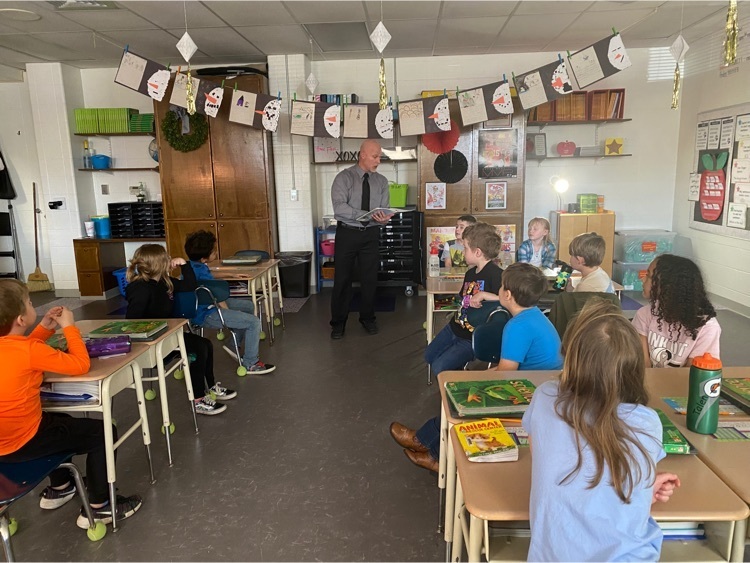 Our 4th Graders have been busy analyzing characters and a variety of other deep comprehension activities. One amazing feature of our current reading series is that students are able to circle, underline, and highlight the text!!!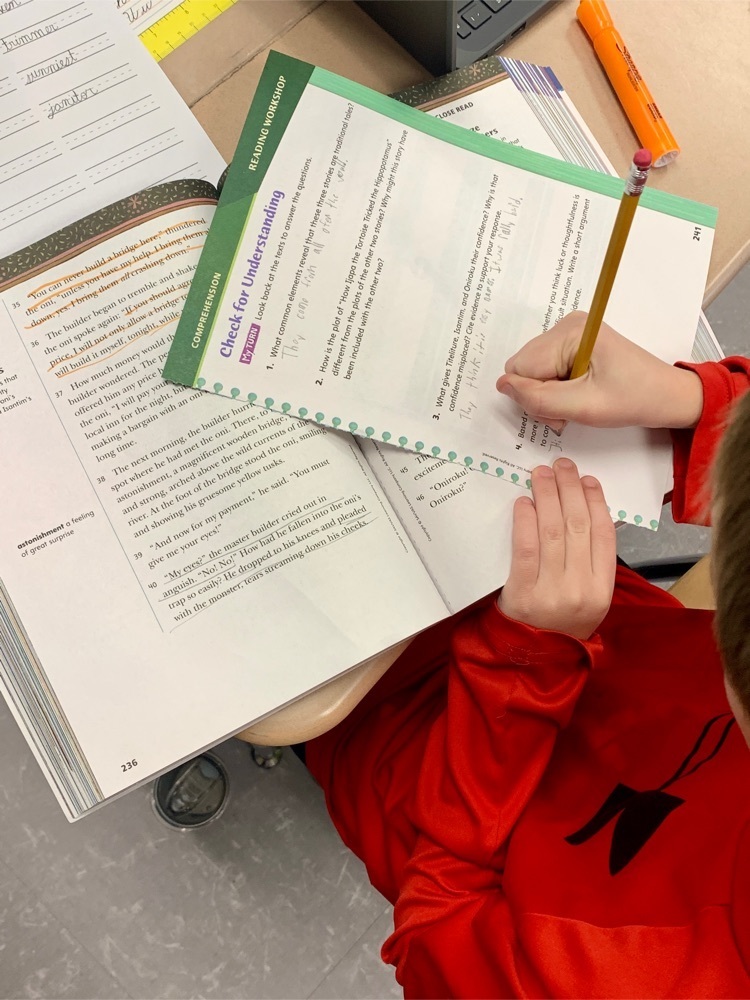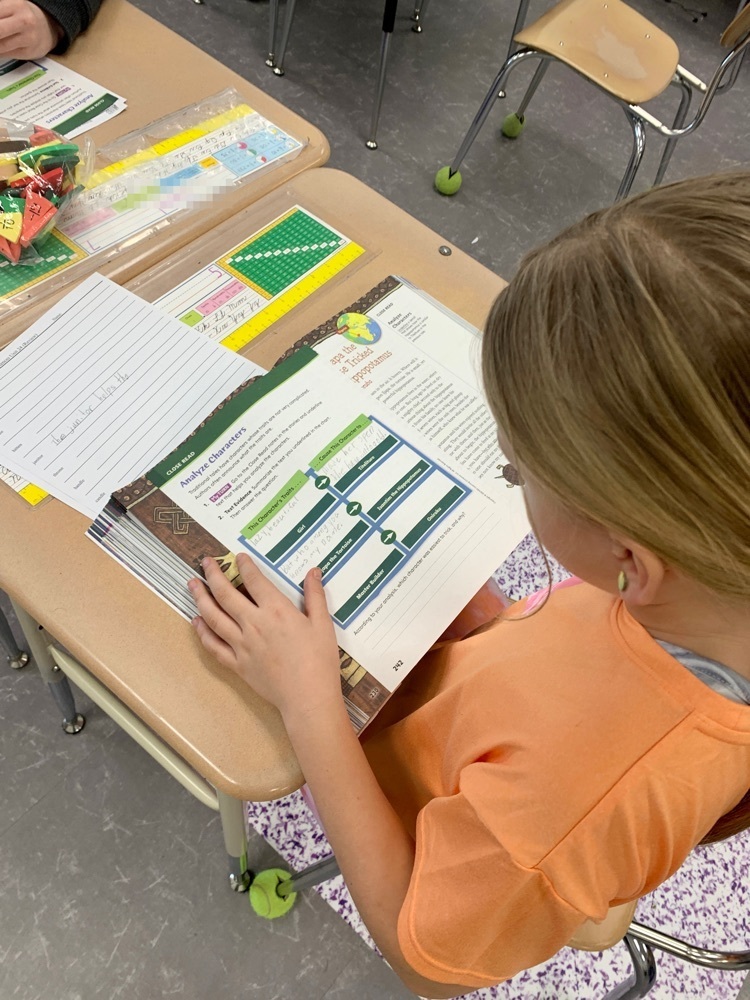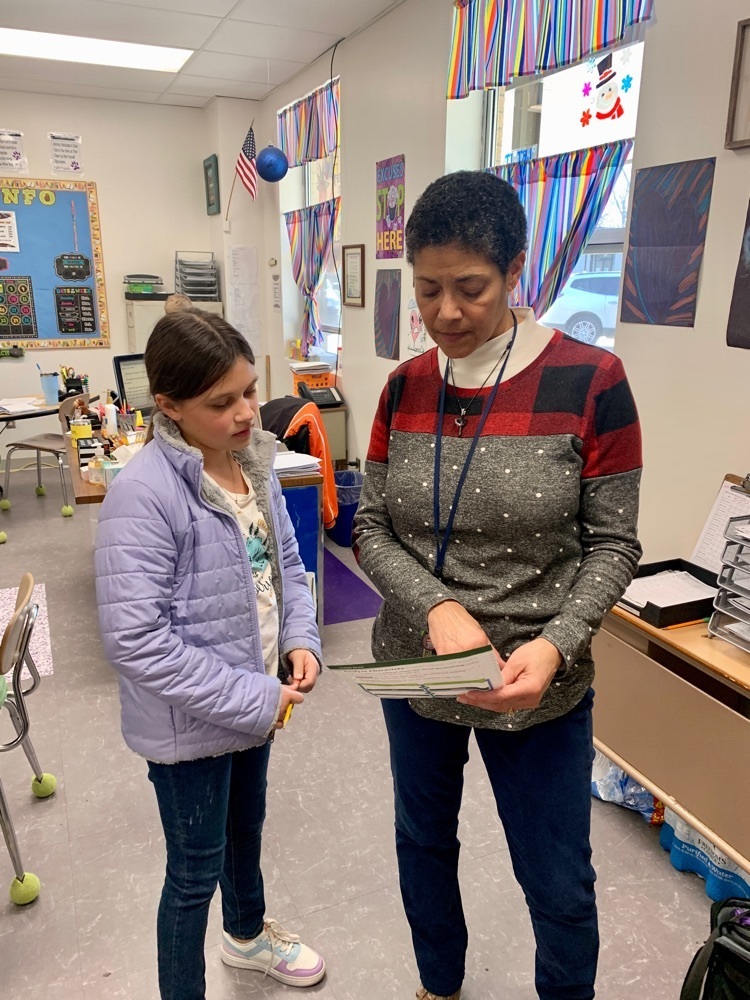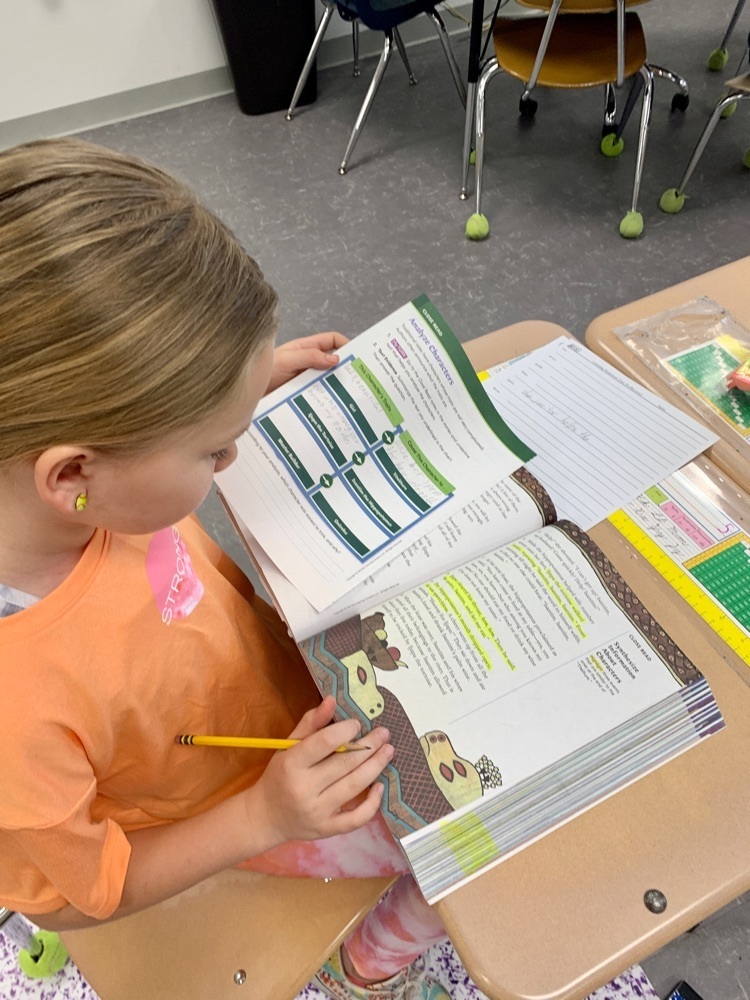 The 3rd Grade Spelling Bee in Lincoln is getting close!!! Multiple spelling bee rounds take place at Green Ridge R8 before the official event!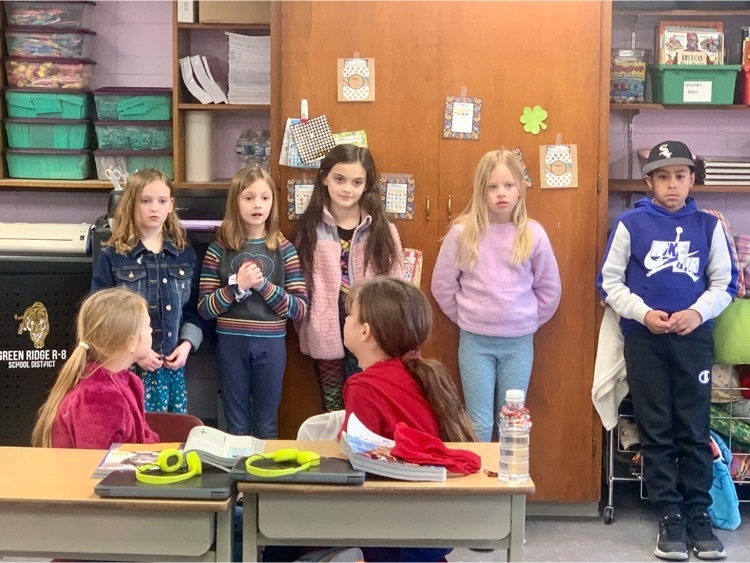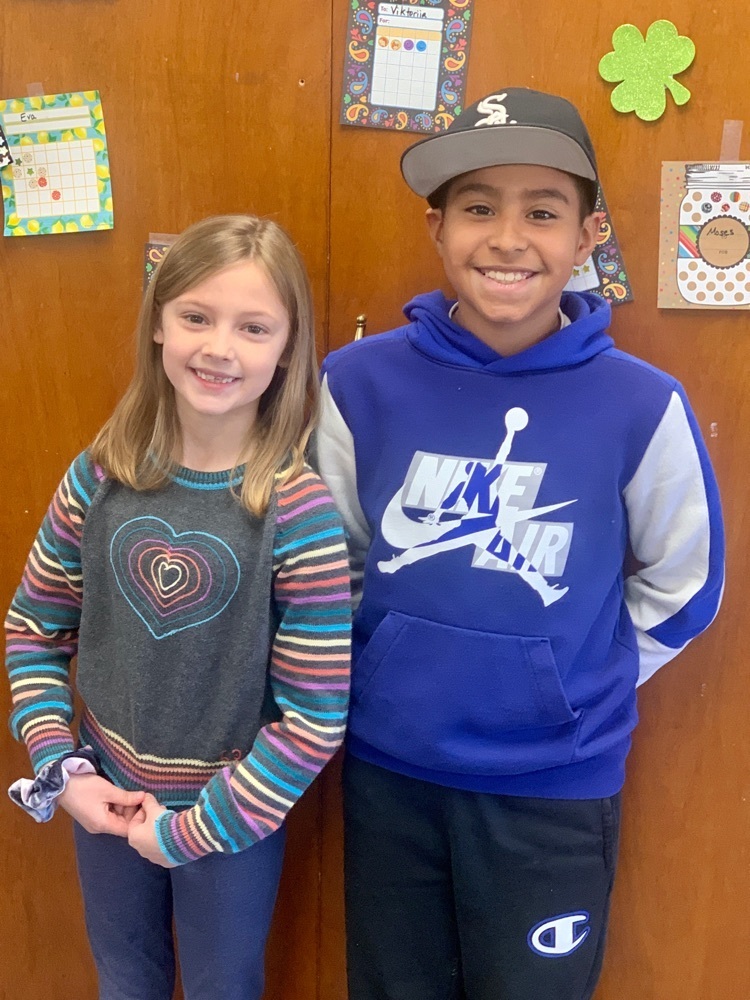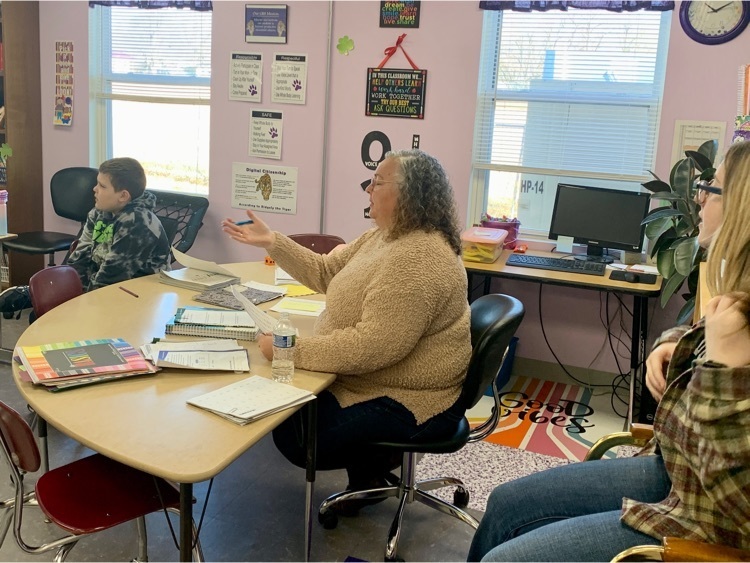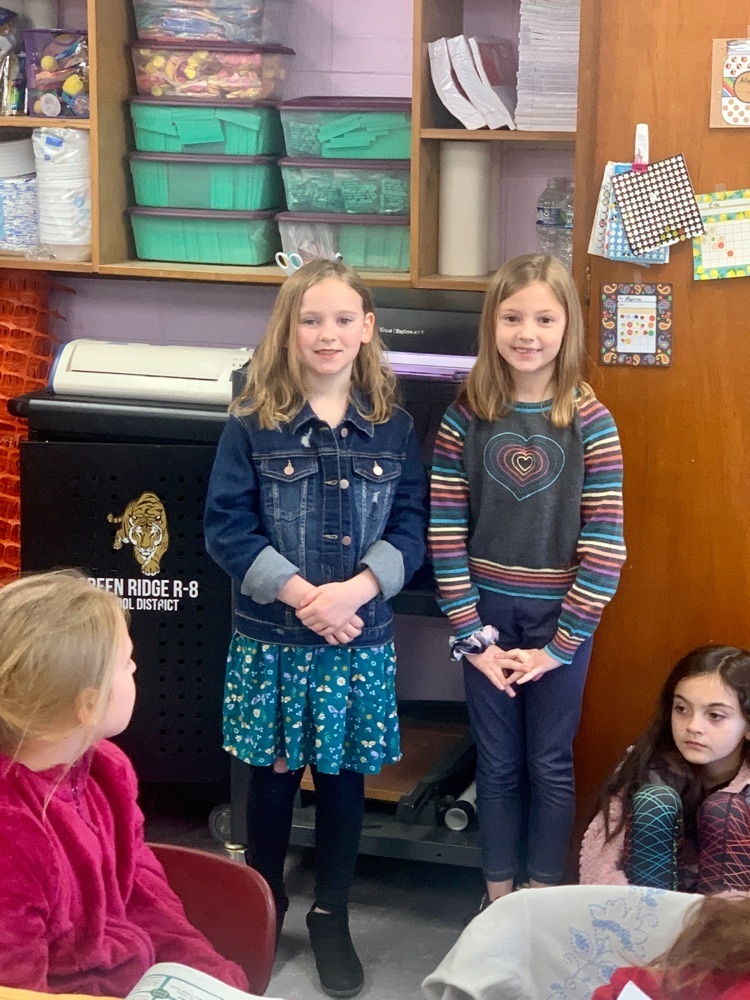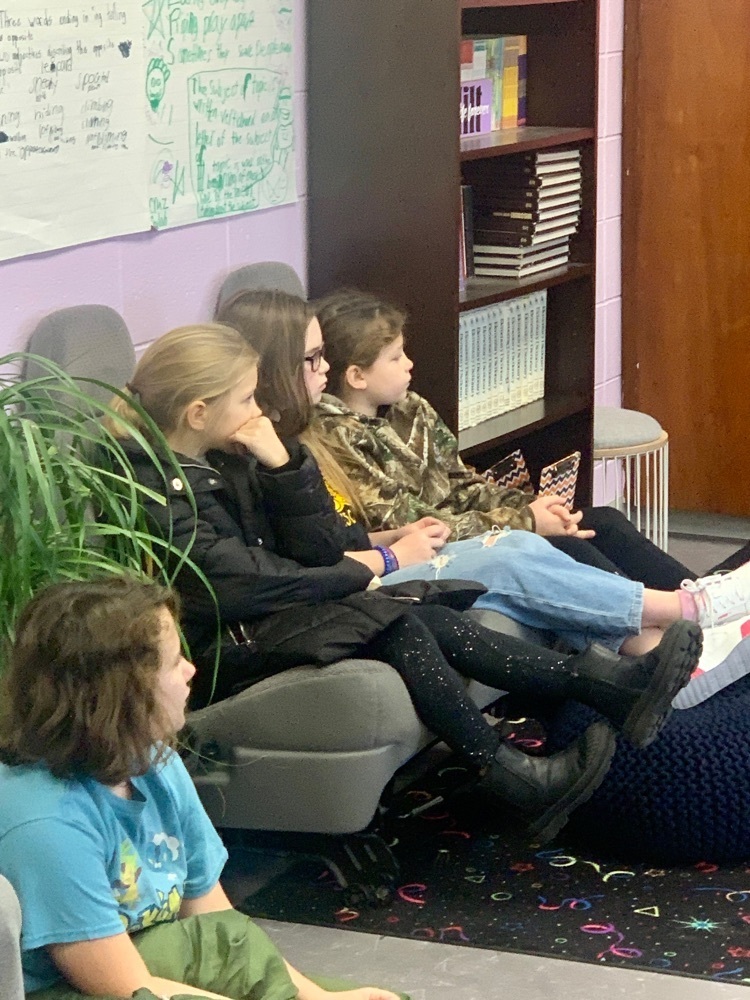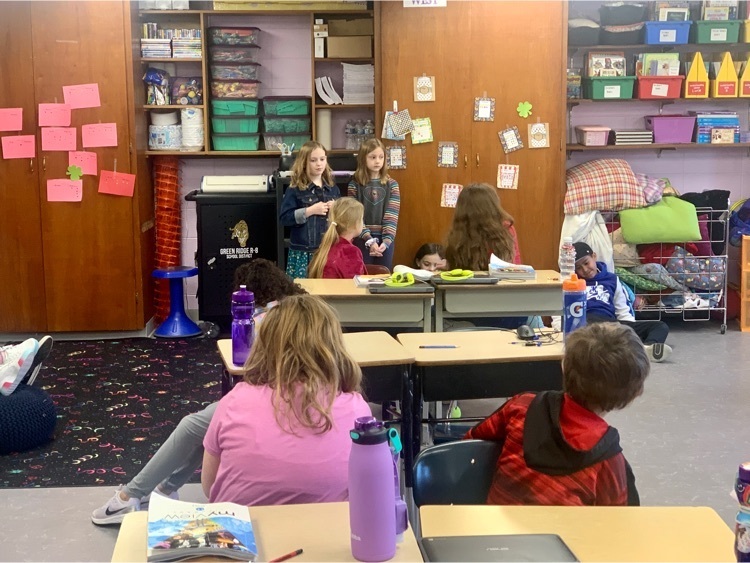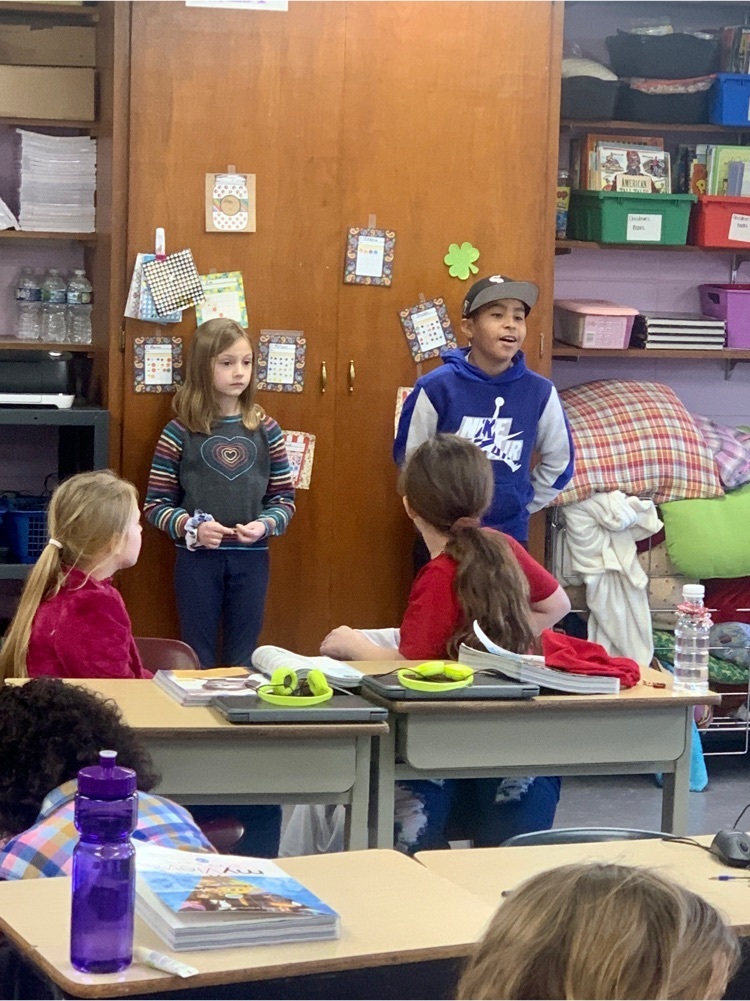 3rd Grade has been working hard in their new math series. We have seen an increase in math scores this year! Can't wait for the upcoming Math Contest in Lincoln! Keep up the GR8 work!!!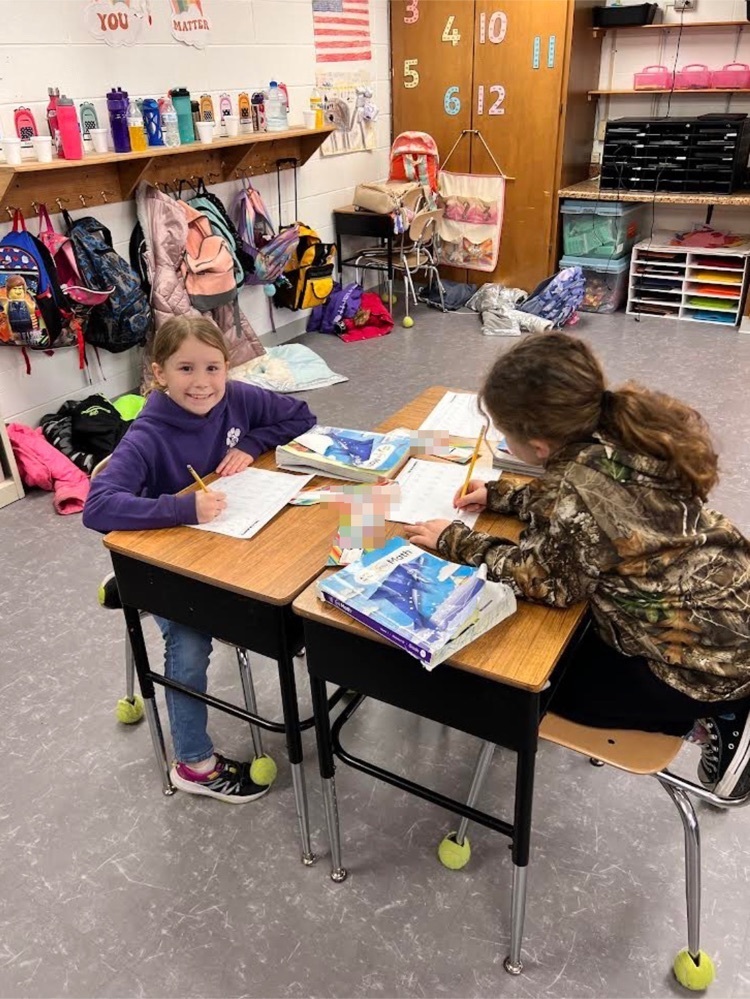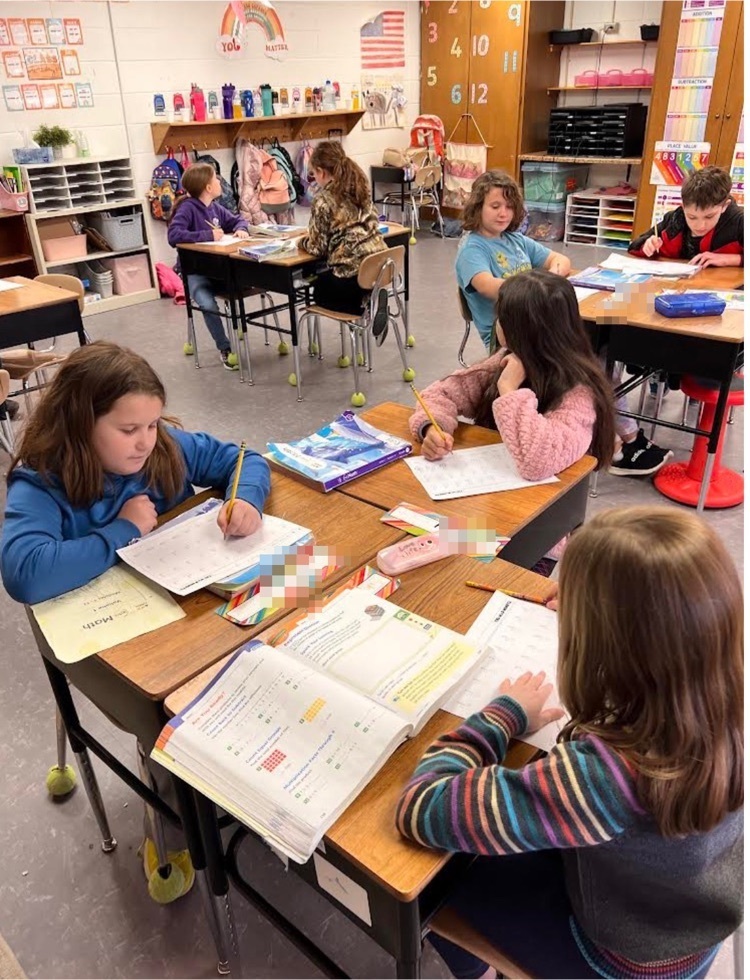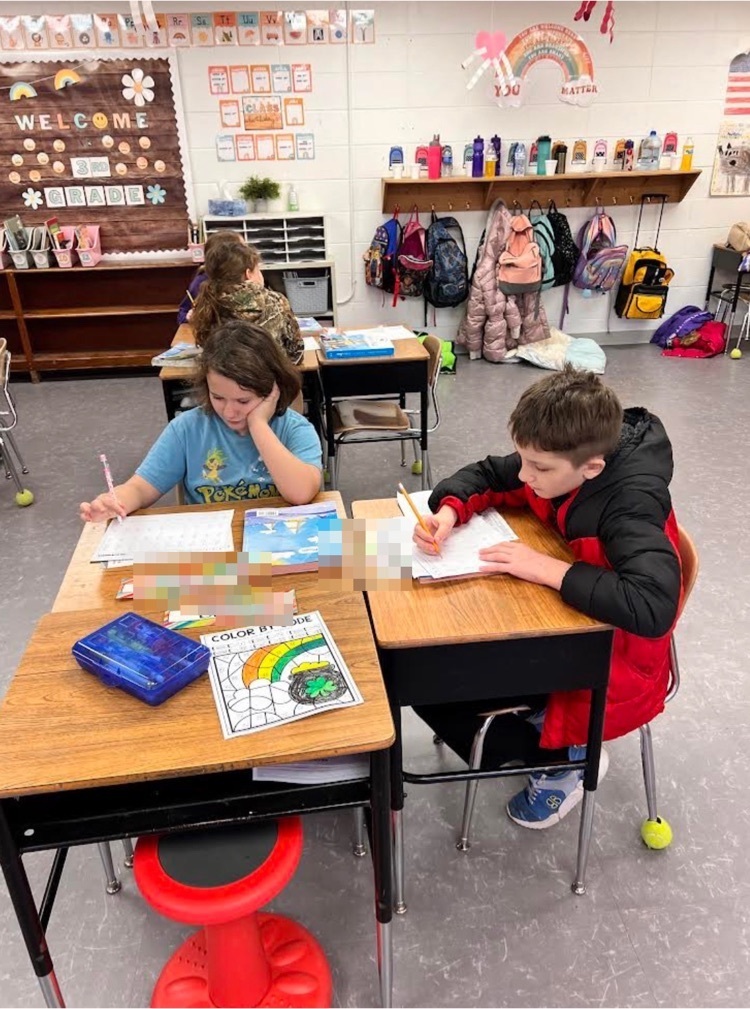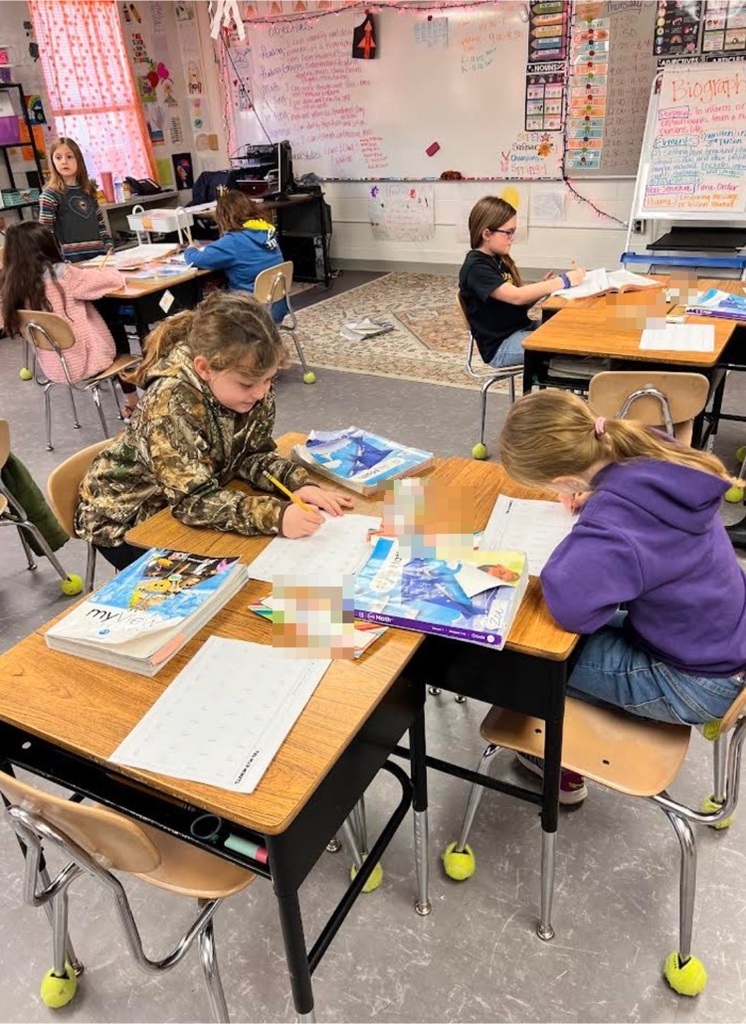 Thank you, Ms. Schmidli and students, for hosting a fabulous Poetry Cafe!!!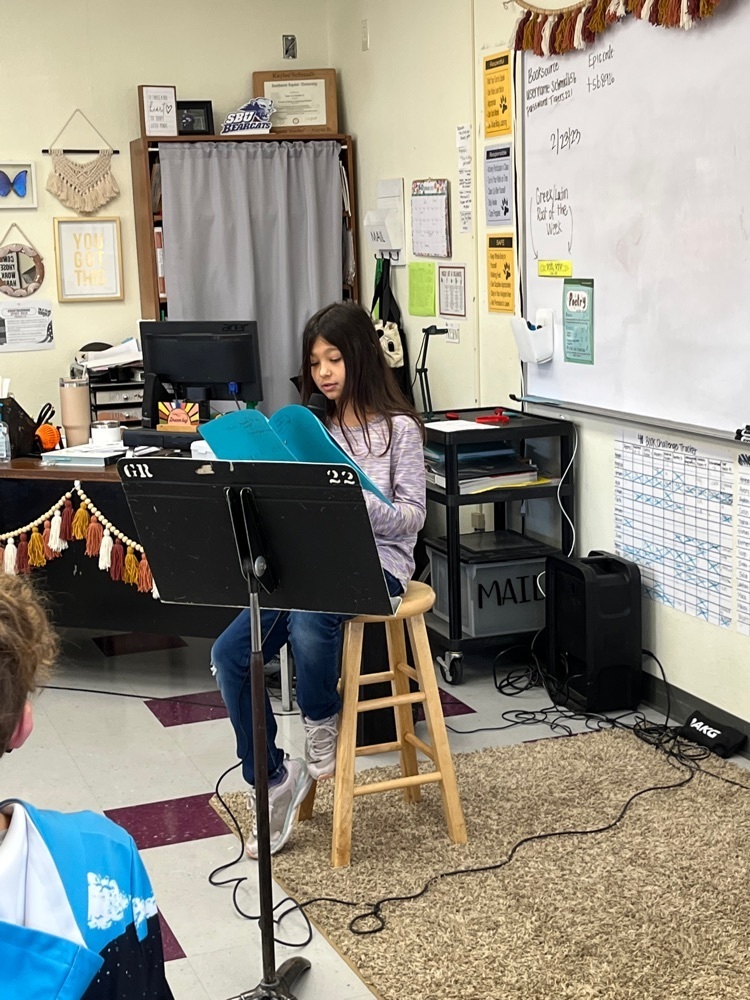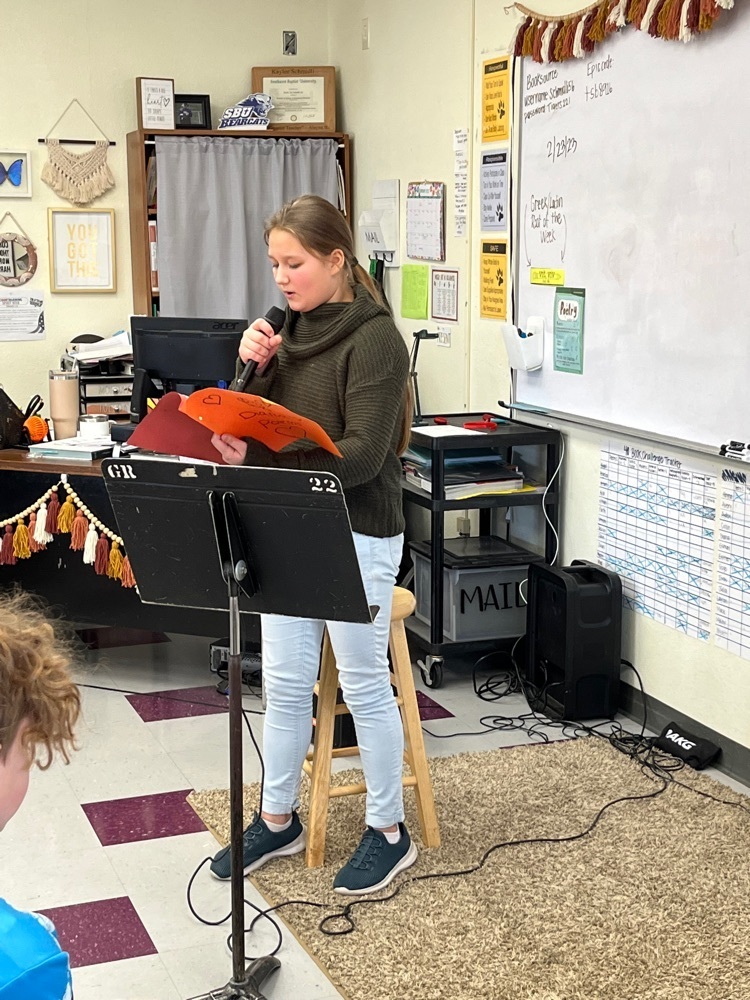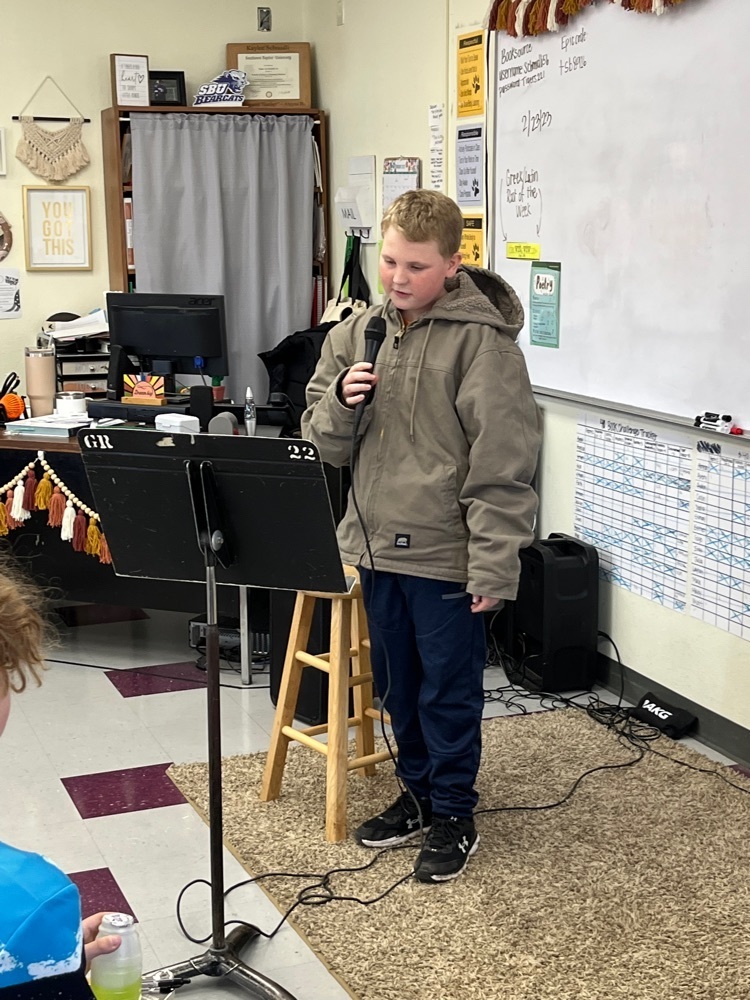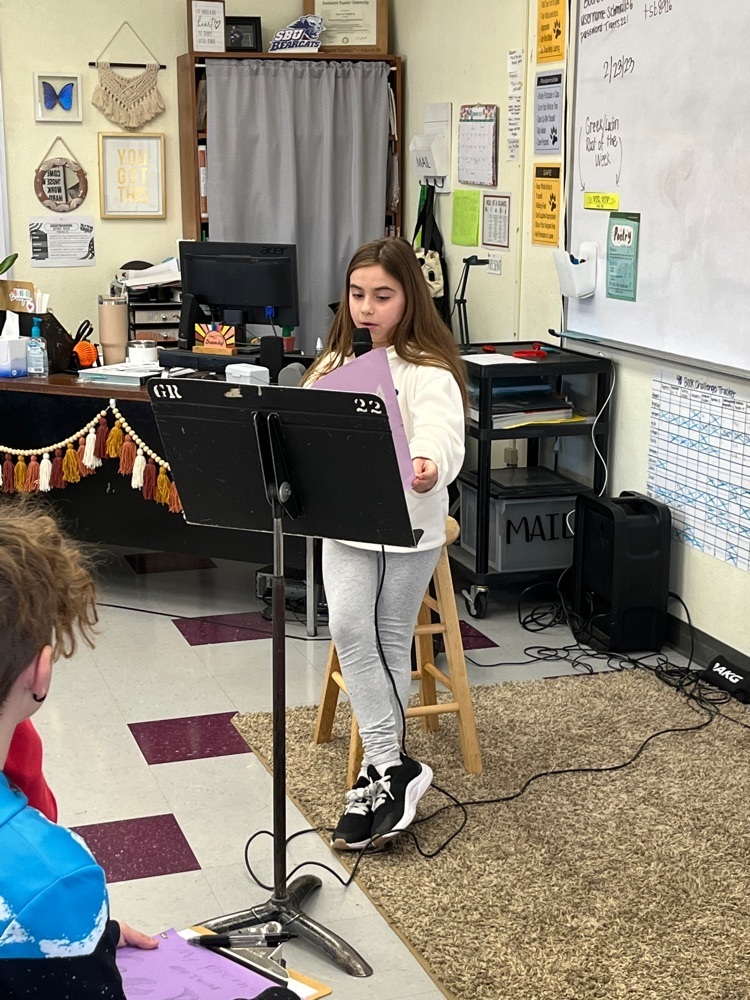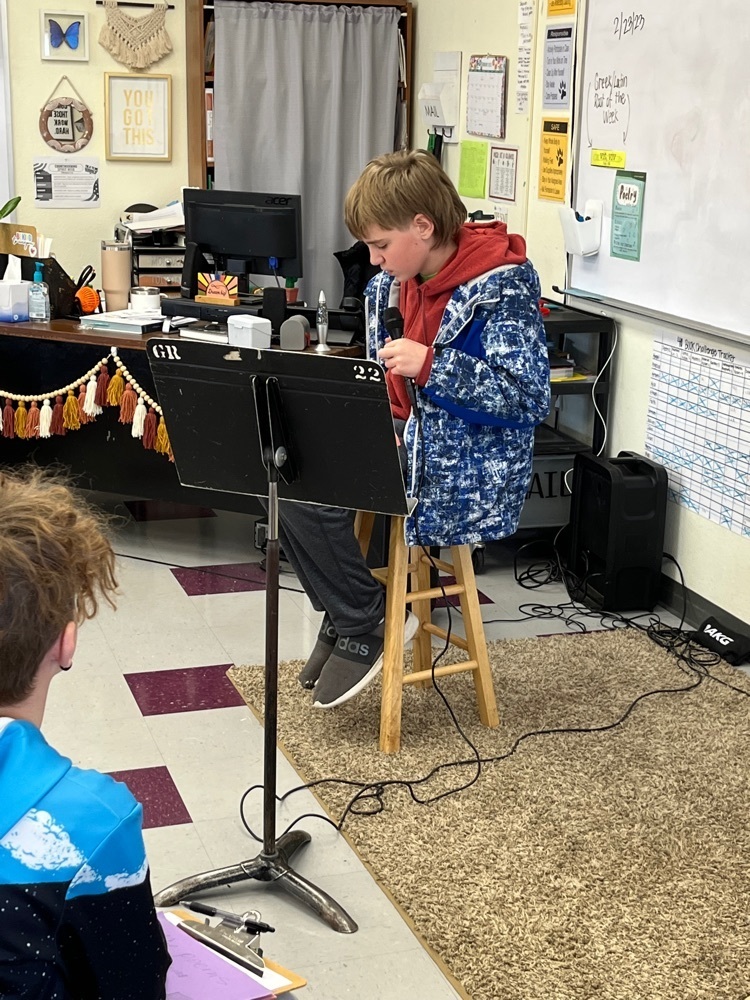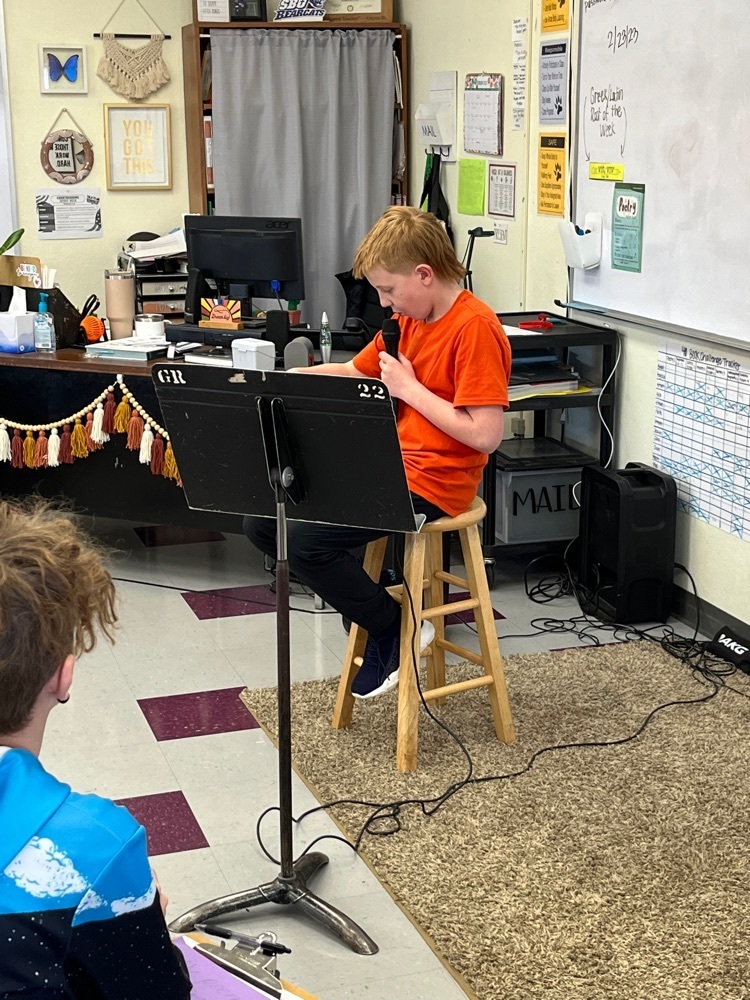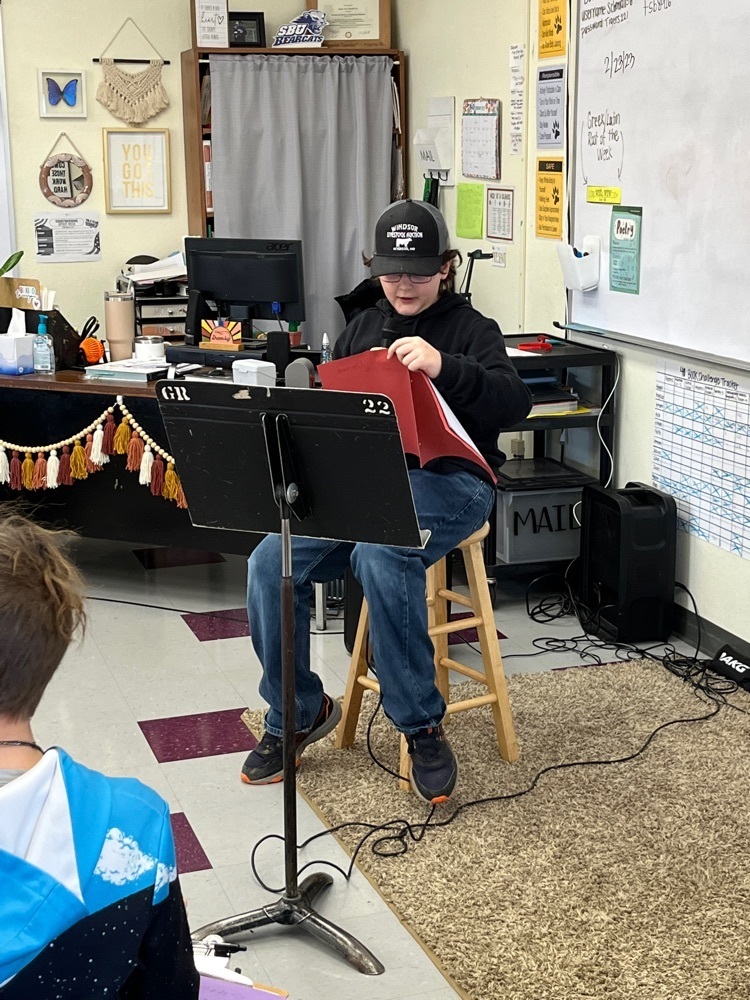 5th Graders presented their amazing poetry at last week's Poetry Cafe!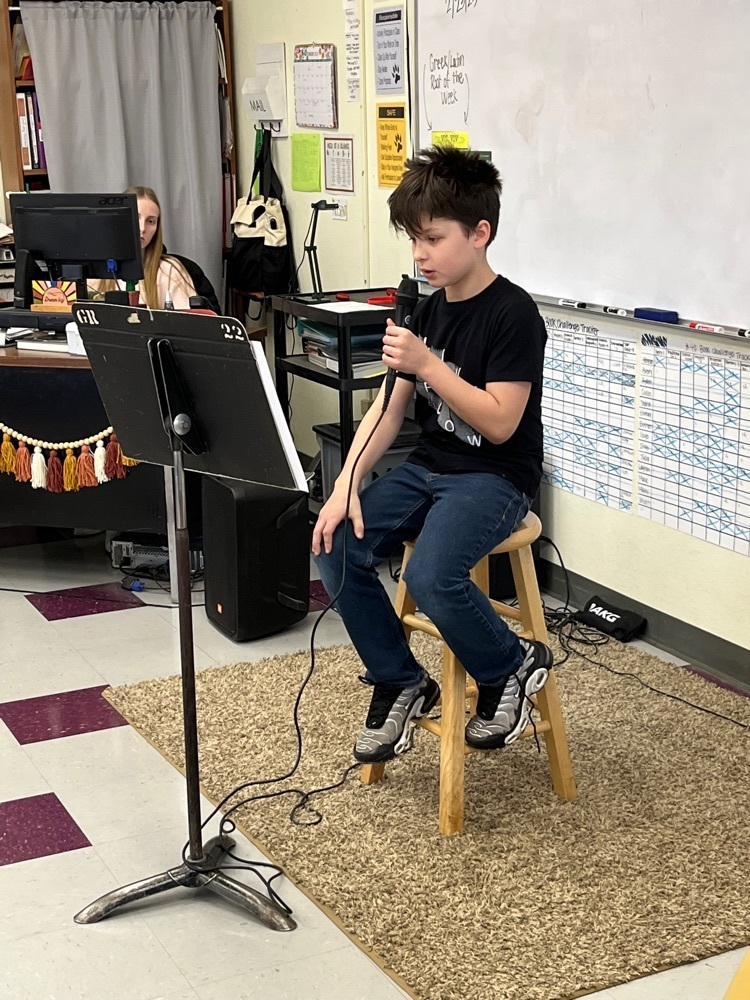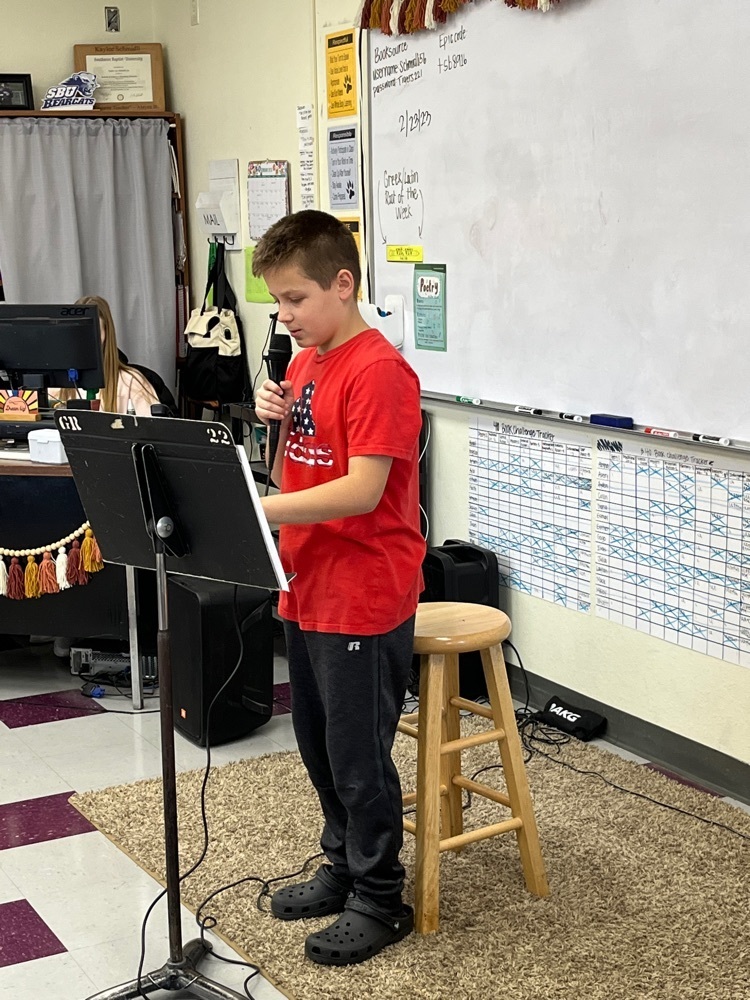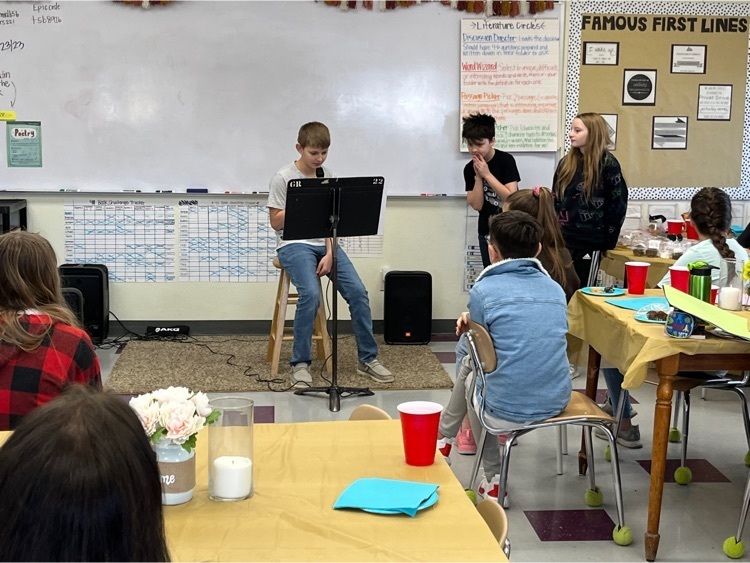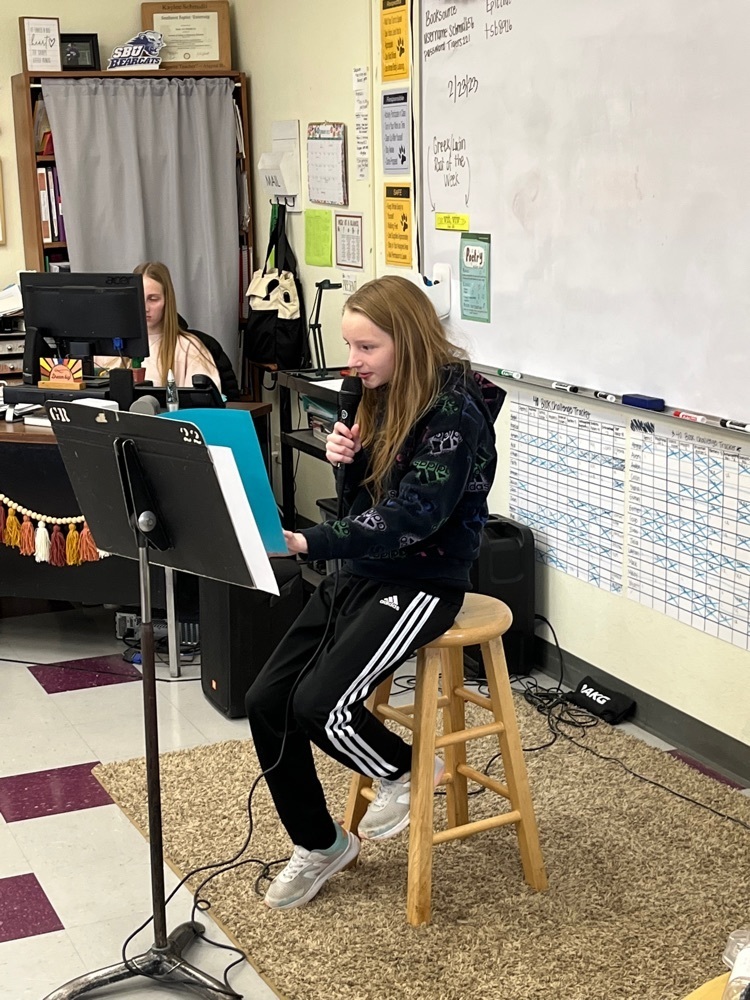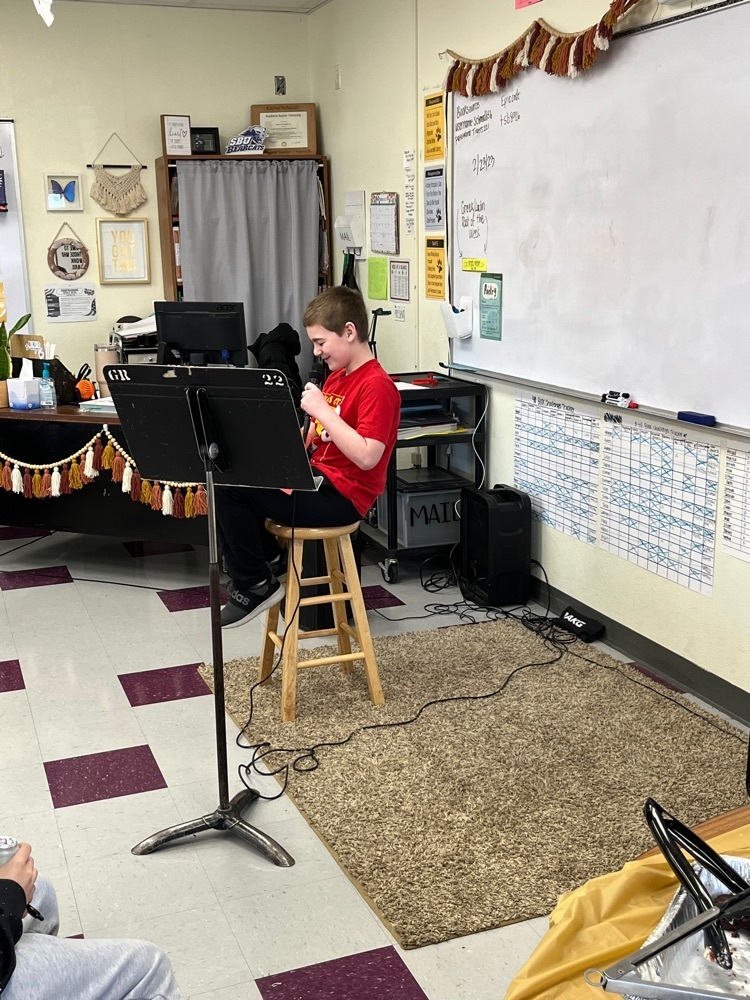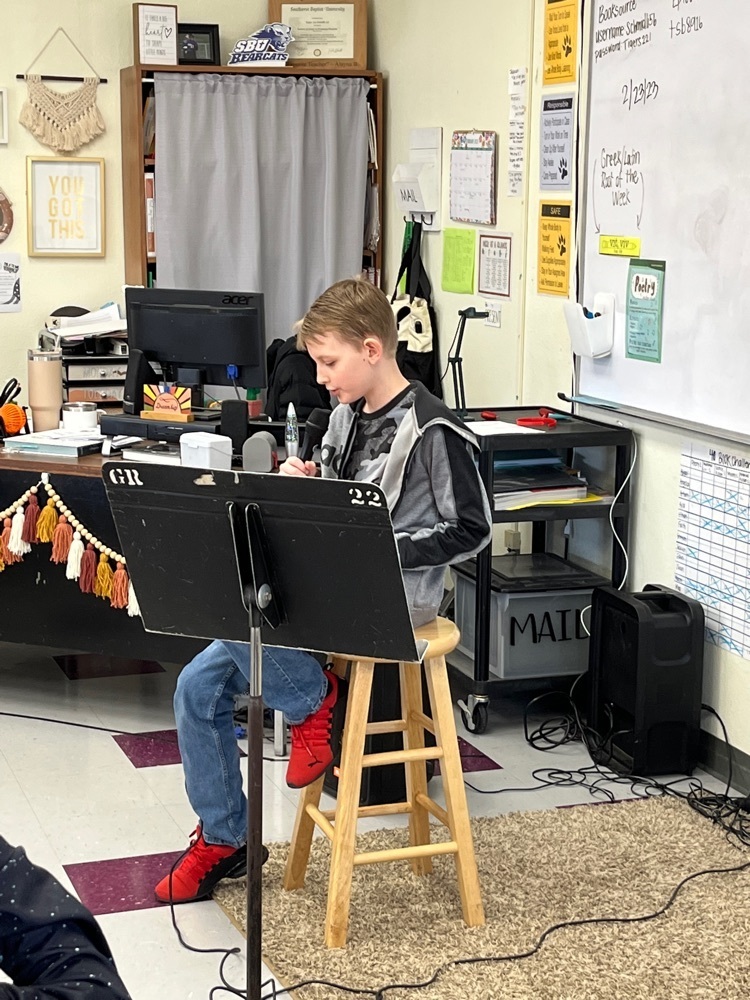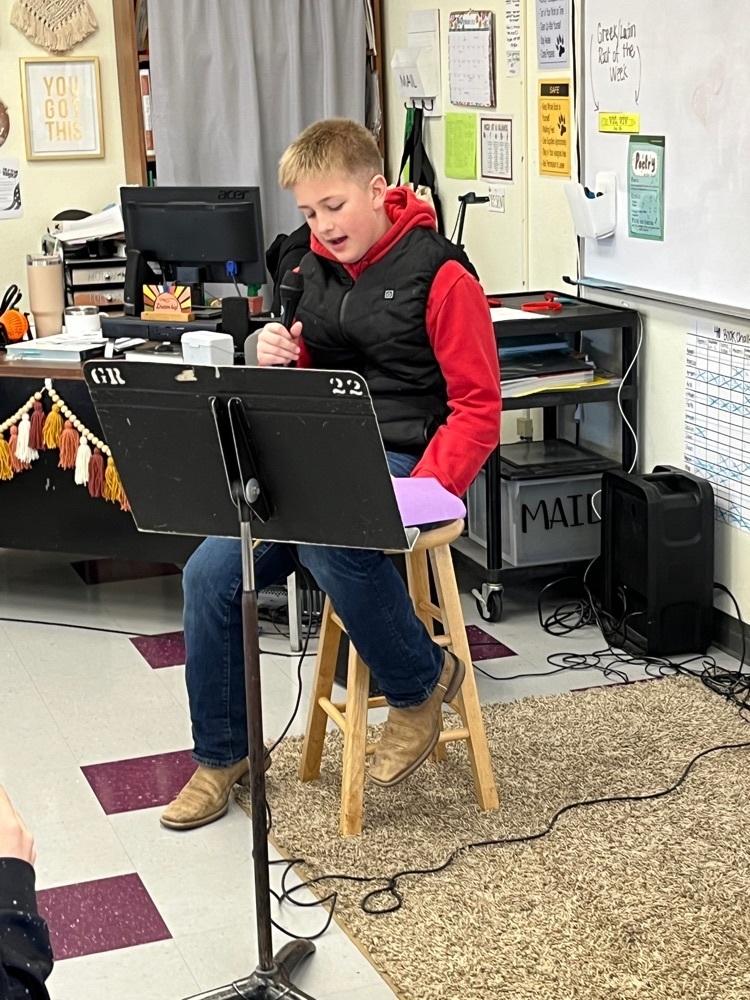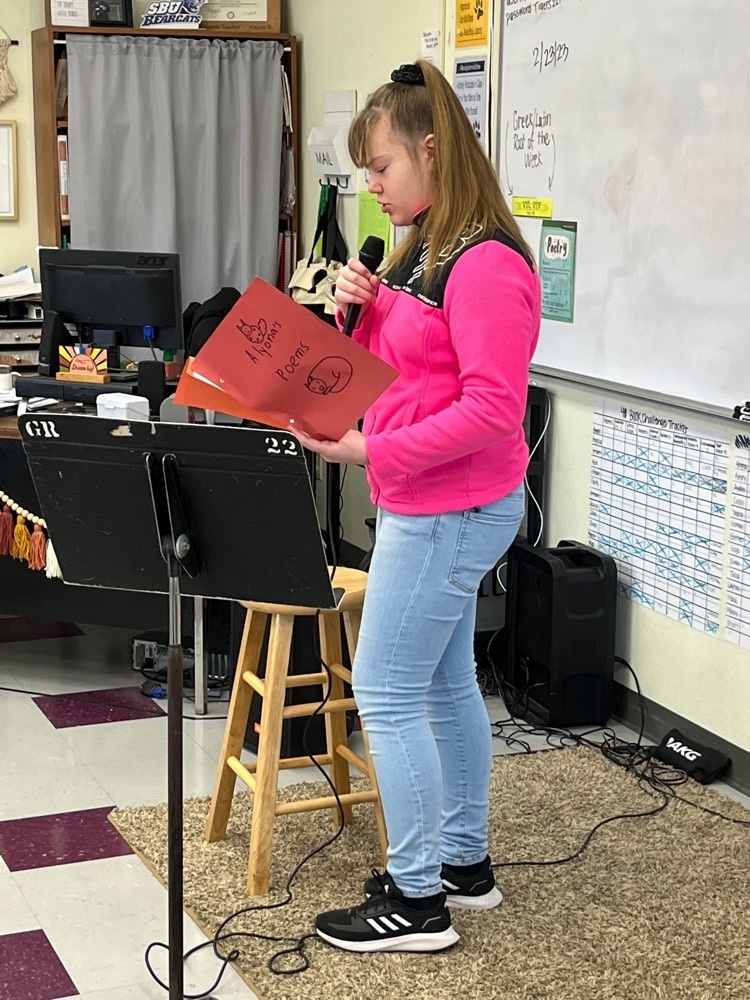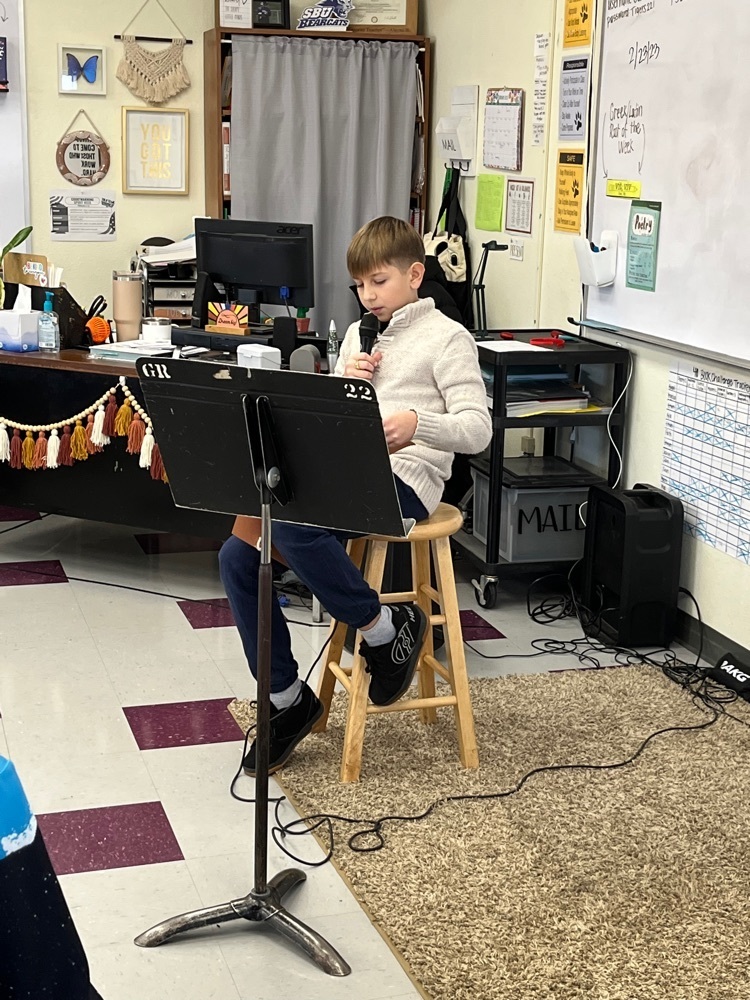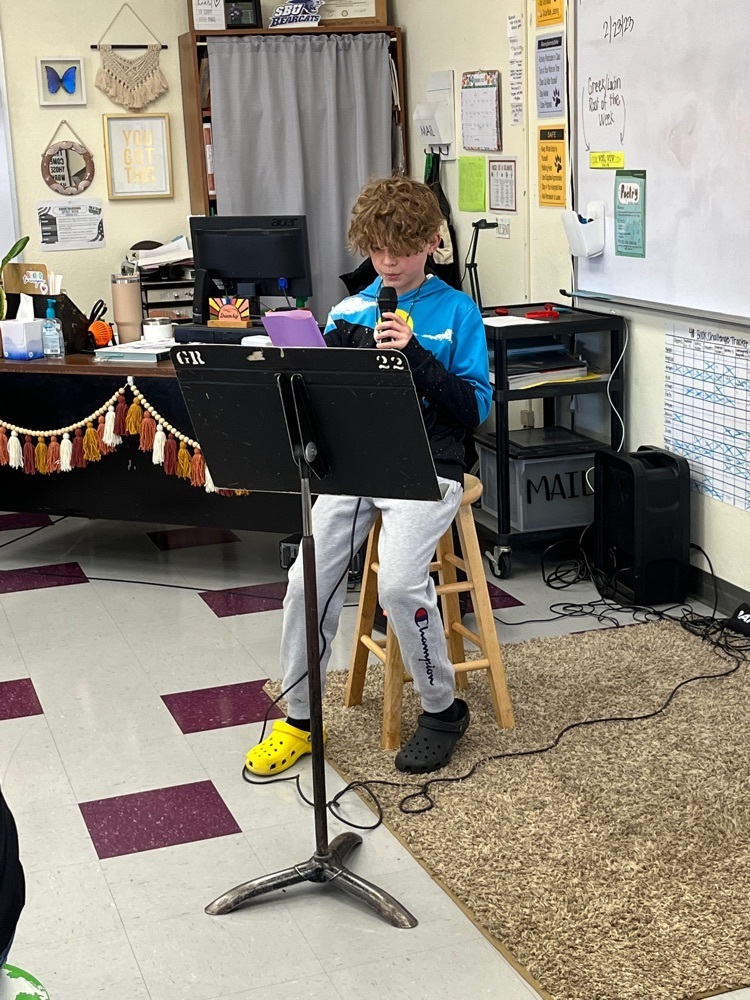 Poetry Cafe was a great opportunity for parents to observe how much growth is happening in 5th grade!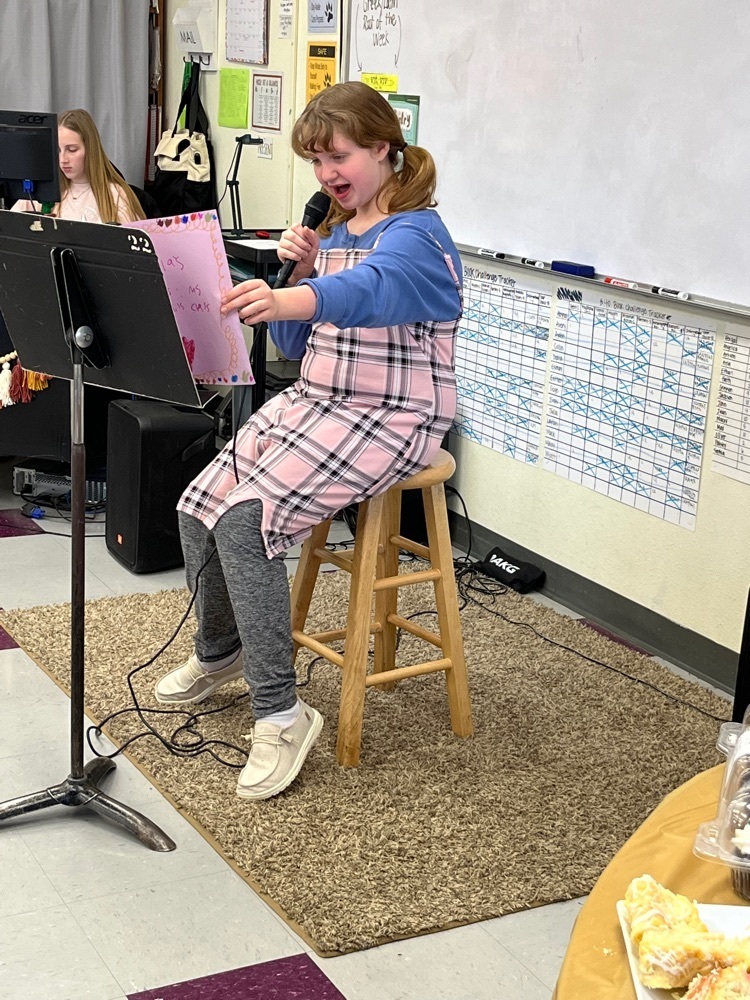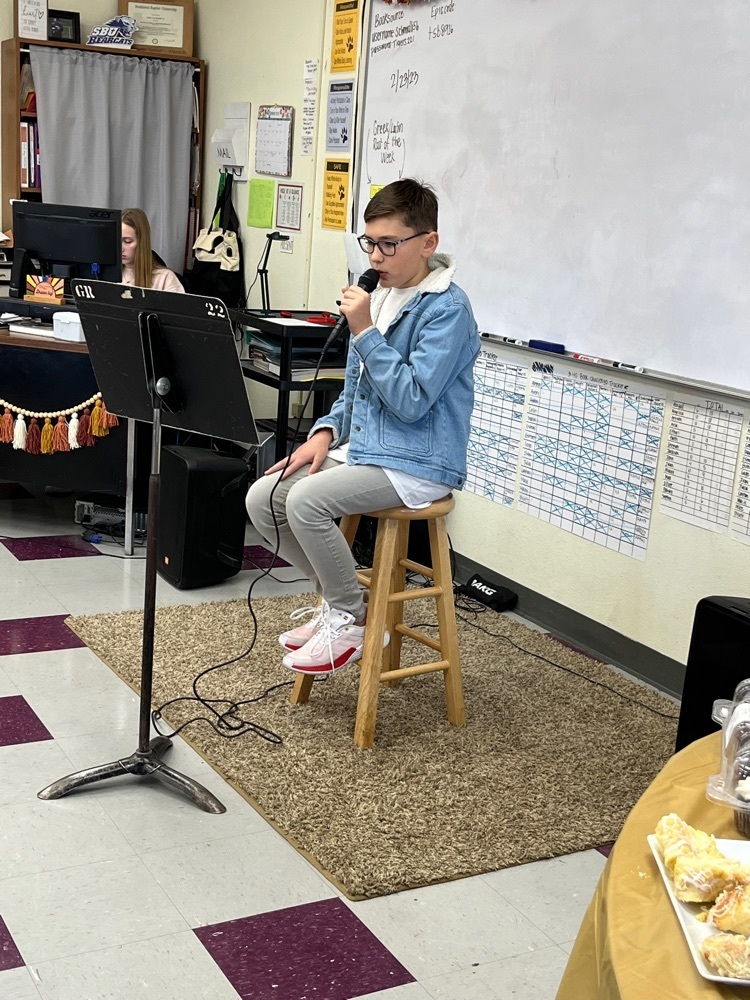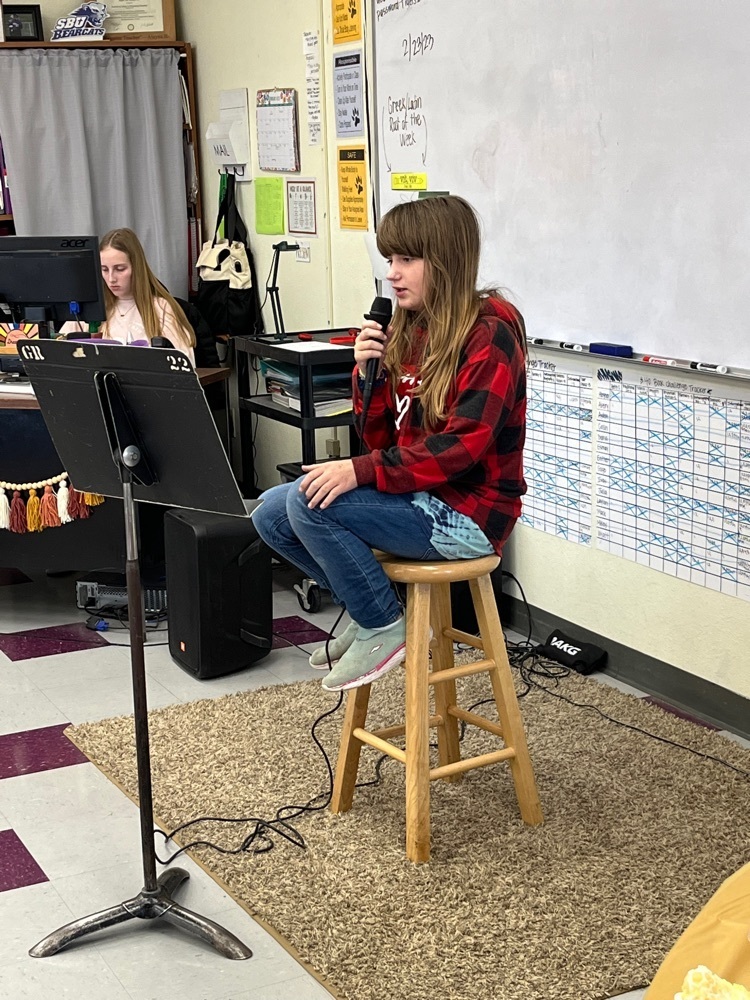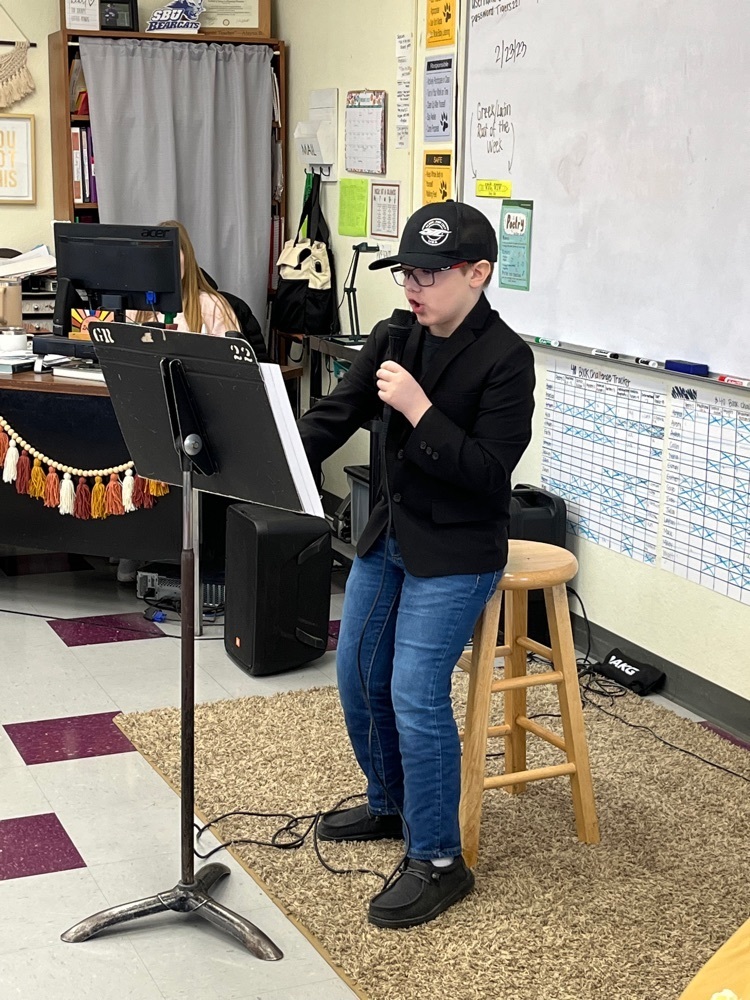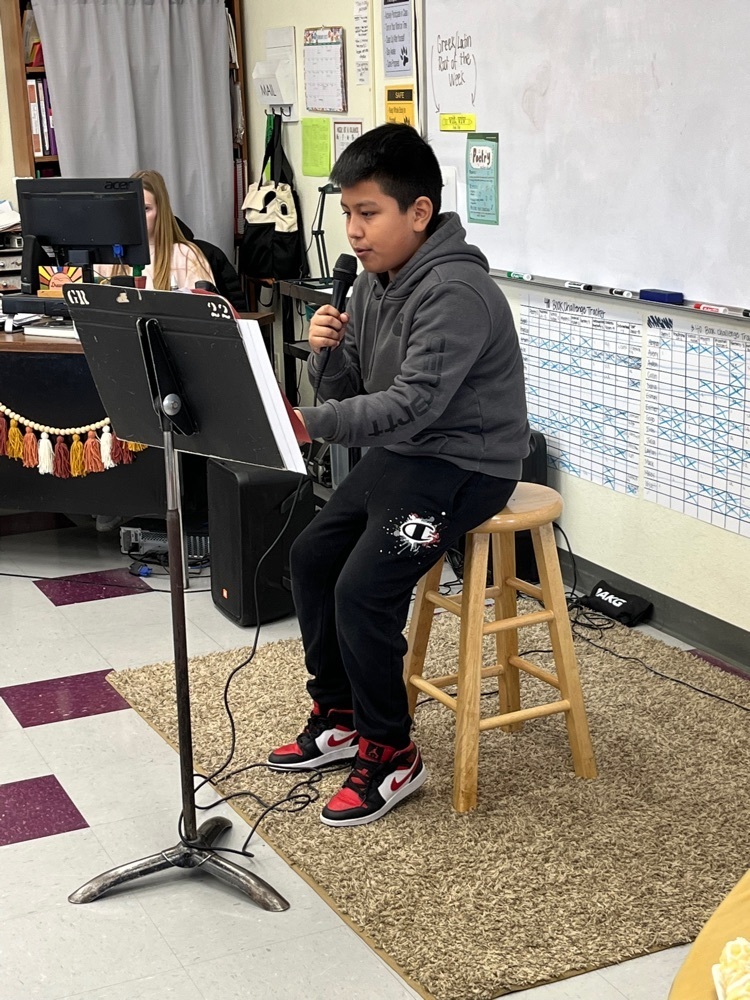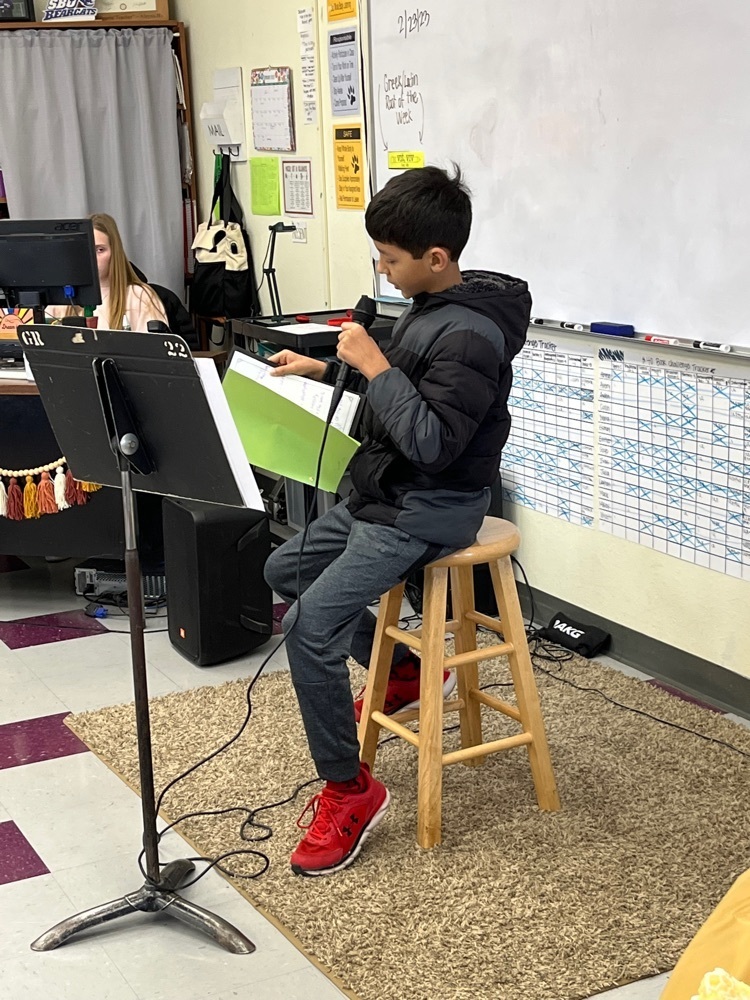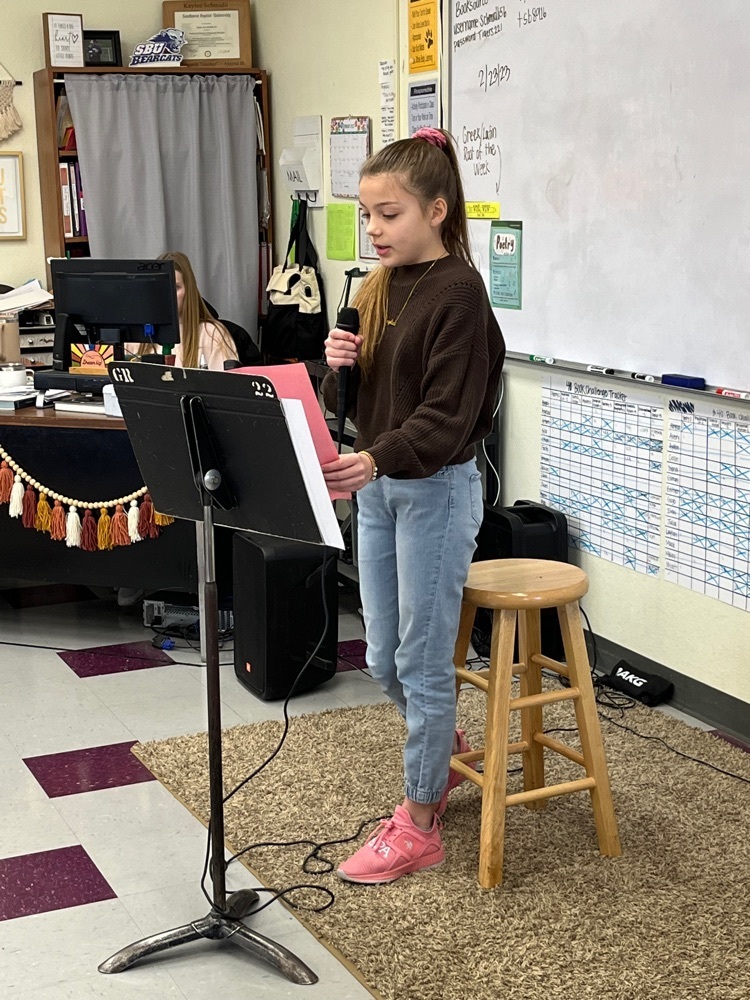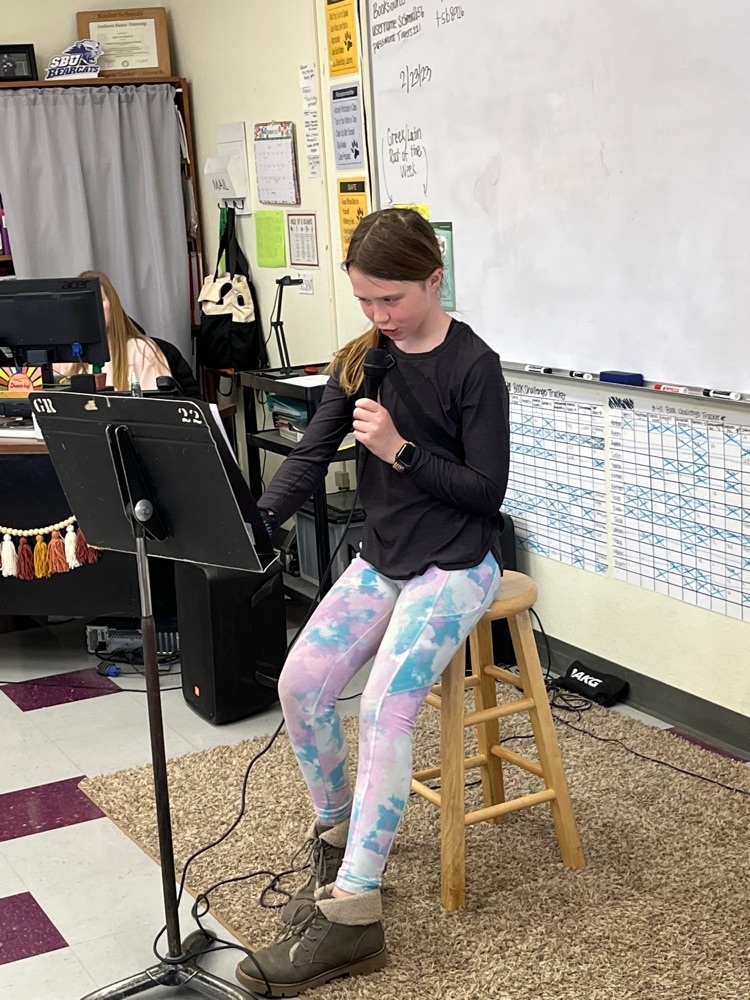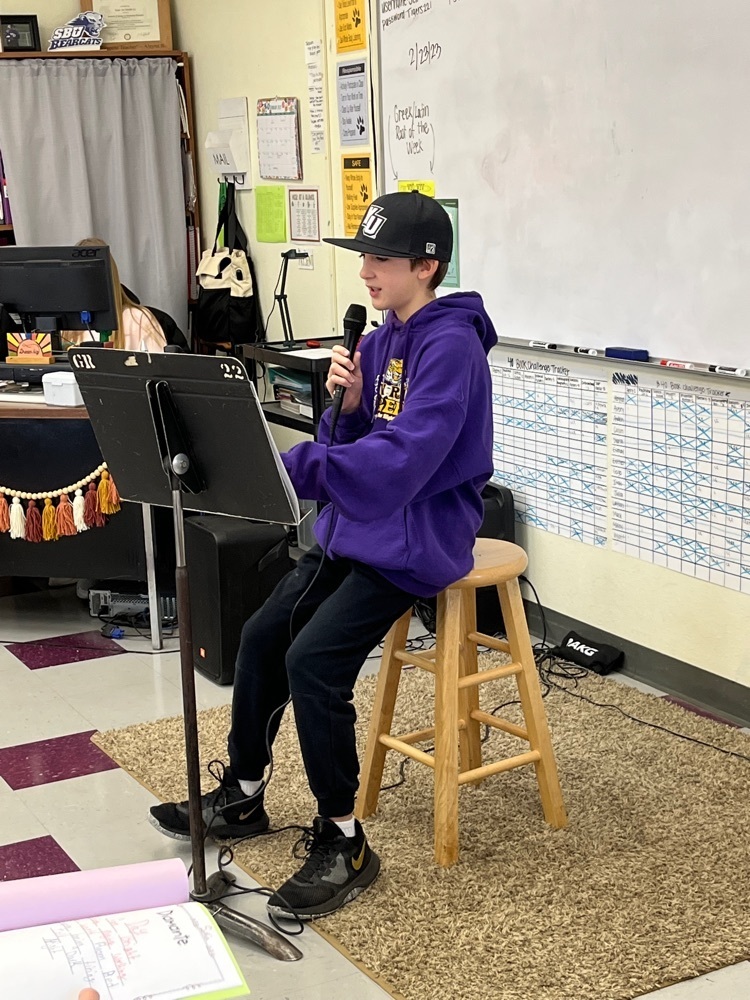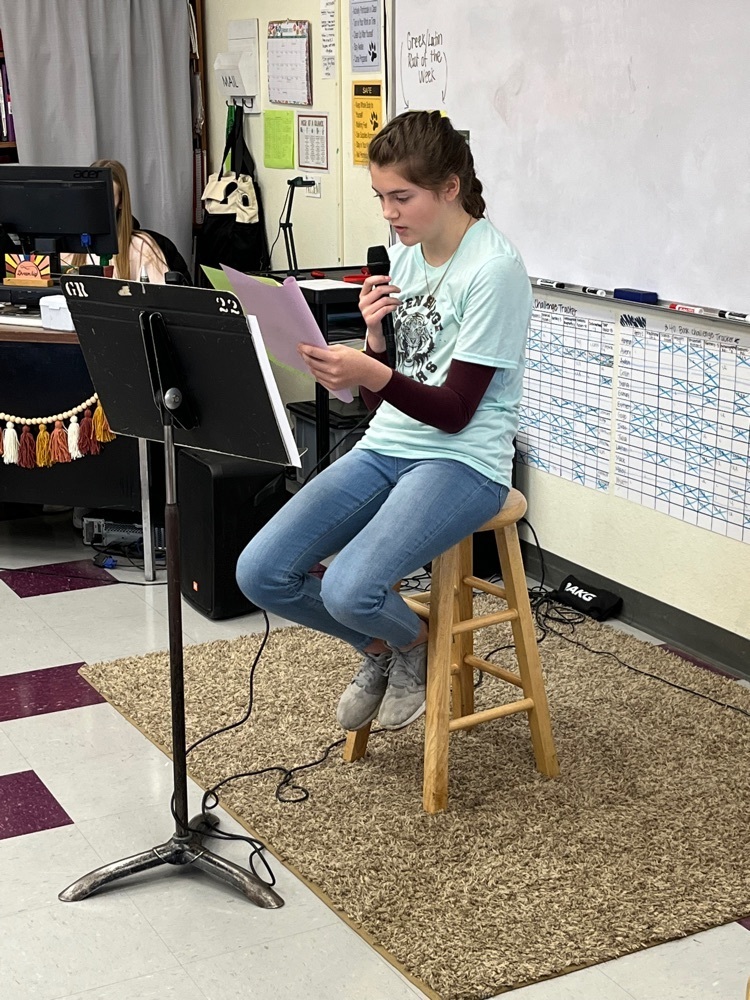 Ms. Schmidli's 5th graders participated in her annual Poetry Cafe last week! We have some very creative students! Wonderful job!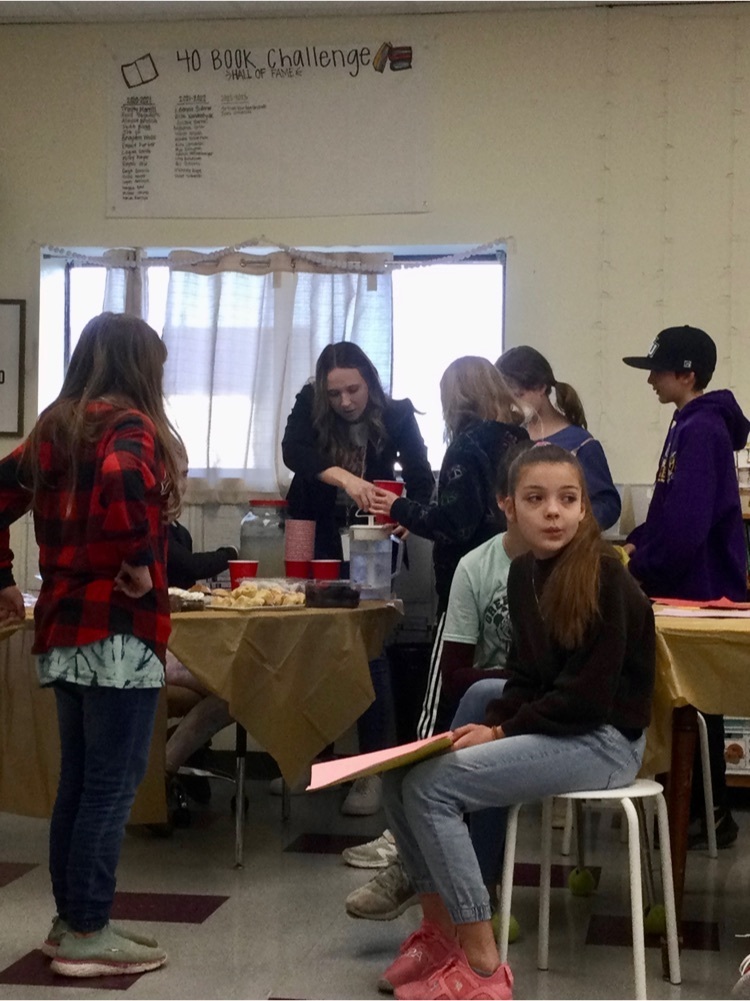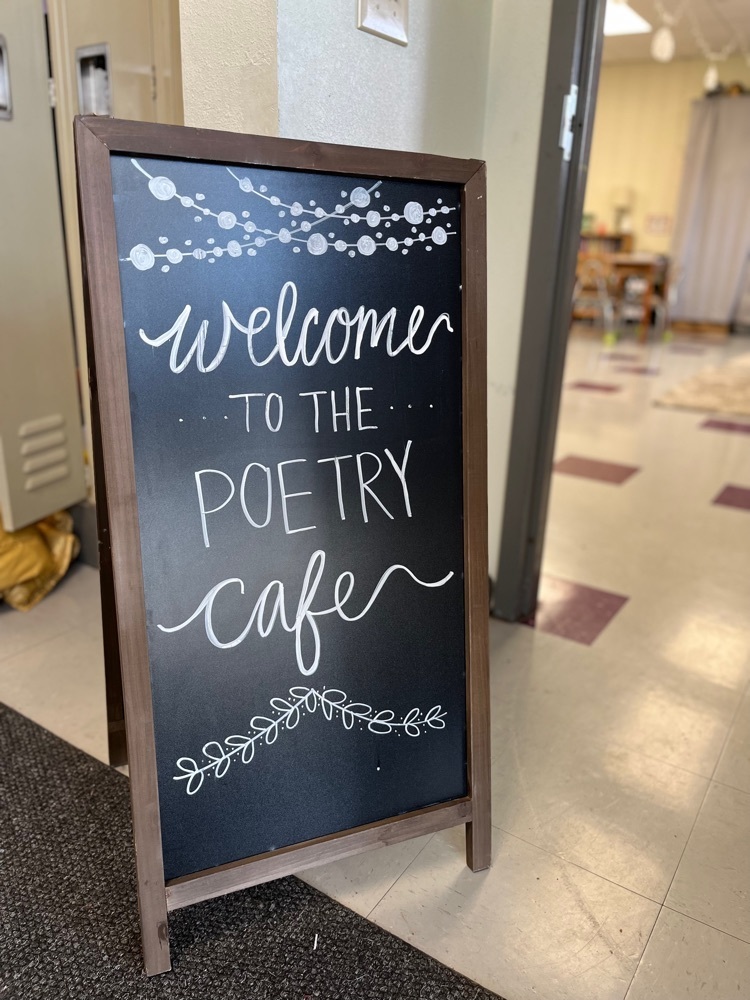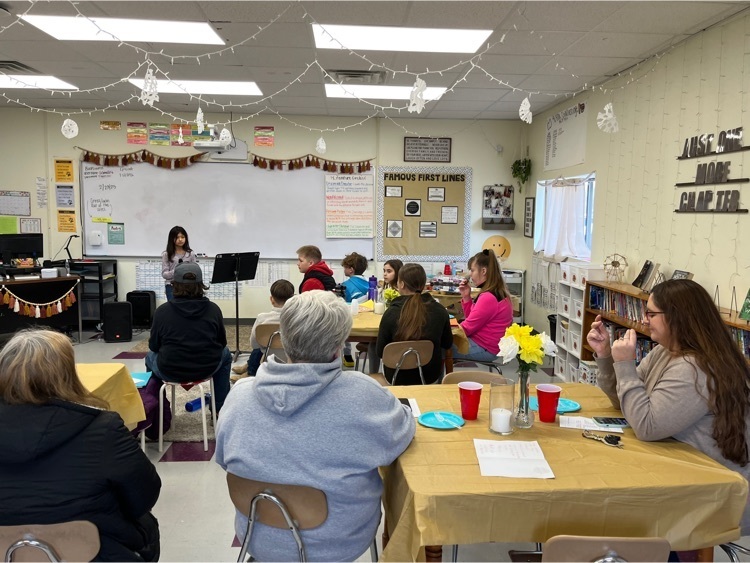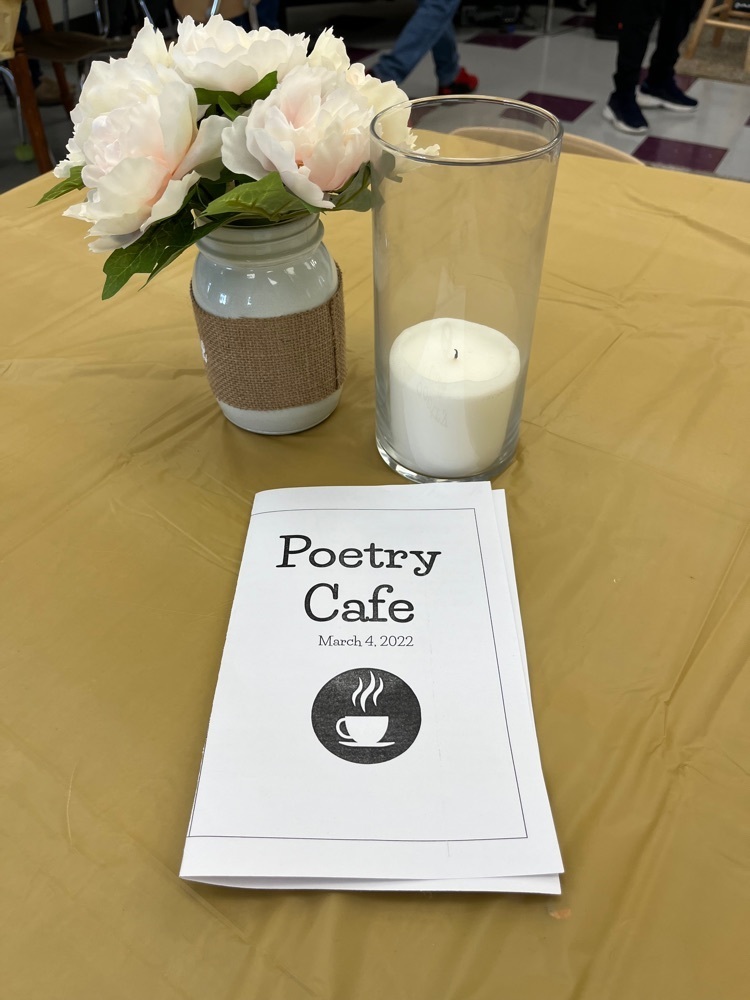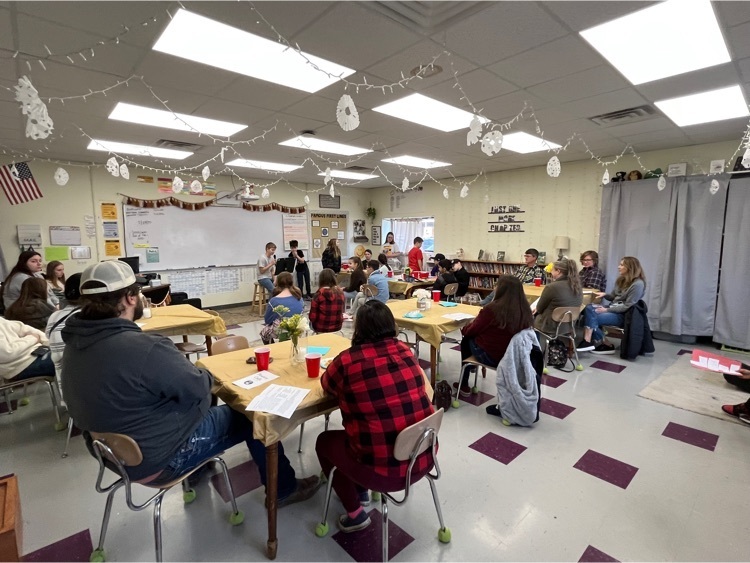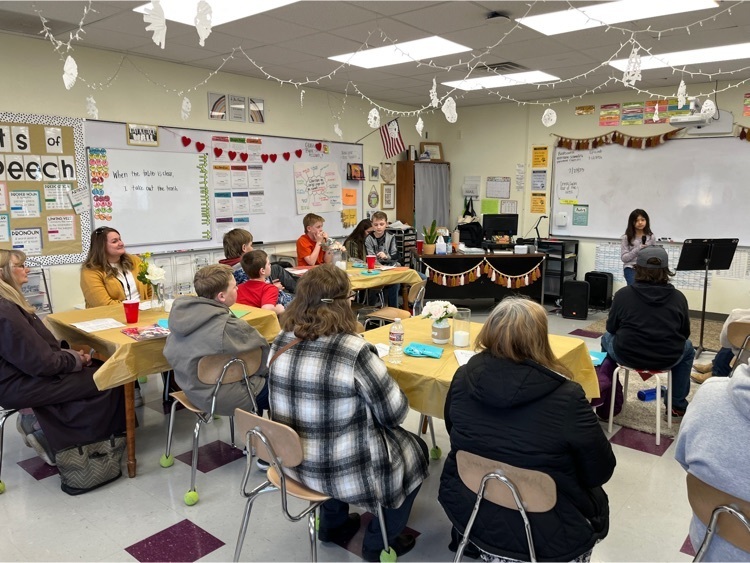 Silly string for the win!