Congratulations to the JH Volleyball team on their win over Otterville last night. The A team played a great game winning 25-9 and 25-14. Santana Rivas led the team with 2 Kills and 9 Aces. Kayden Box led with 3 Kills and 2 Aces. LC Box contributed 6 Aces as well. The B team then played a hard game against Otterville's A team losing 25-15. Kynleigh Tyler had 2 Aces and Emma Larimore had 1 Ace to finish out the night. The girls have a busy week with playing Smithton Thursday and competing in the JH Kaysinger Conference Tournament this weekend. GO LADY TIGERS!

Lady Tigers pounced back into action for another win for both the junior varsity and varsity teams as they traveled to Otterville Tuesday night. Junior Varsity took charge winning 25-16, 25-8. Miley Hayes brought her solid serving skills to the line and finished with 5 aces. Macy Reed and Mallory Reed led the offense with 2 kills each and Zakiyah Morse led the way defensively with 4 digs. In the Varsity match Lady Tigers were laser-focused from the service line with 3 players serving aces for a total 15 points: Nevaeh Washington (6 aces), Kayley Goodman (5 aces) and Matti Mergen (4 aces). Strong serving in volleyball often means lots of free balls back and that meams lots of opportunities for offense and Lady Tigers were putting the ball away! Nevaeh again led the way with 11 kills and Kelsey Buxton made her presence known with 8 kills. Kayley Goodman was in hunt as well with 7 kills. Setters Matti Mergen and Sydney Gordon found their hitters. Sydney dished 13 assists and Matti added 11. Topping off the hot offense, Kayley Goodman made some spectacular digs to keep the ball alive and finished with a total of 9 digs. Fun night of volleyball! Lady Tigers retun to action Thursday night taking on Smithton on the home court in The Ridge.

For the 3rd year in a row, the Green Ridge Girl's Golf Team will be going to the big dance. Both girls shot a 102 (Personal Best) and will be competing in the State Tournament next week ⛳️ The weather was absolutely brutal but they played a complete round of golf today and were rewarded for all of their hard work! Coach Doane stated, "I'm extremely proud of them, but the work isn't finished yet." Let's keep up the GR8 work, ladies!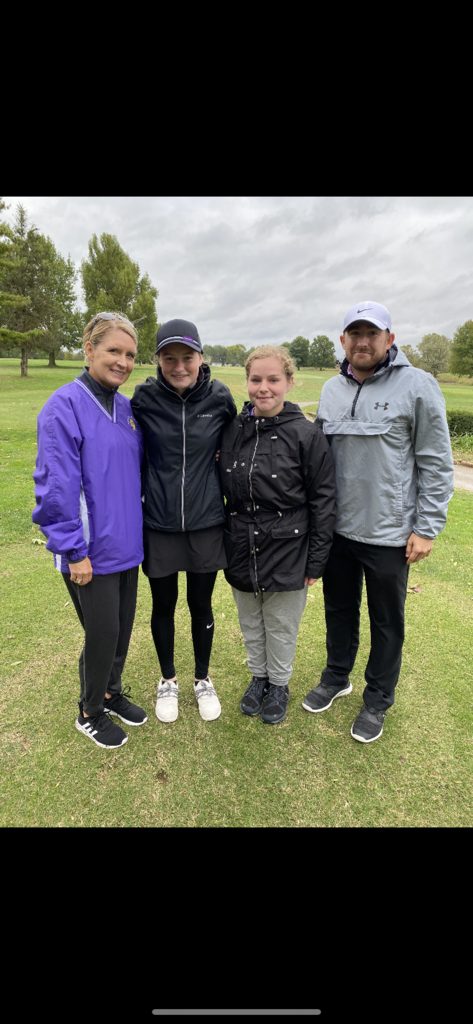 STUDENT OF THE MONTH! Congratulations to our elementary student of the month Talen Skidmore. Talen is a hard worker who enjoys learning new things. He applies what he is learning to other areas at school and at home. He has a positive attitude and is kind to all of his peers. Many teachers have said he is a "GR8 Kid!" Congratulations to our high school student of the month Lane Fox. He has shown leadership in FFA, as well as showing some other 10th graders how to work in the concession stand. Lane has maintained a challenging schedule while keeping consistent high levels of achievement. He is respectful, cooperative, and willing to volunteer to help out whenever he can.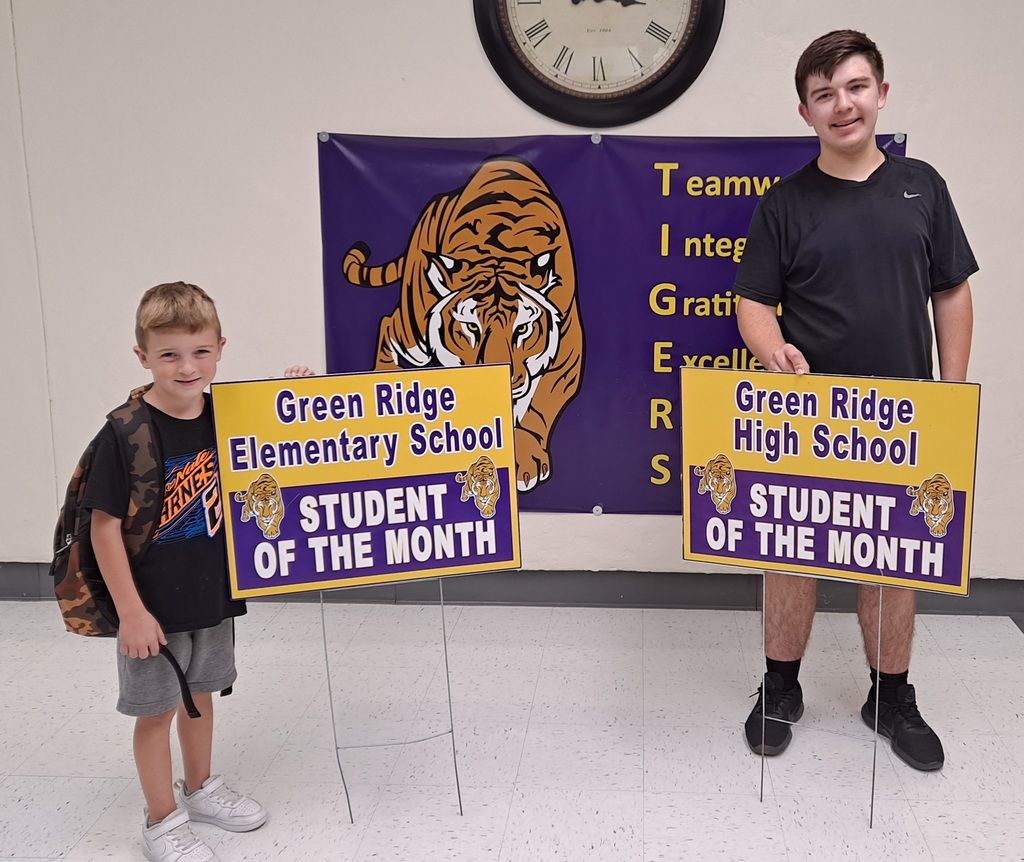 These 7 students along with many others from our district came together for a day of music rehearsals in preparation for the concert performance this evening.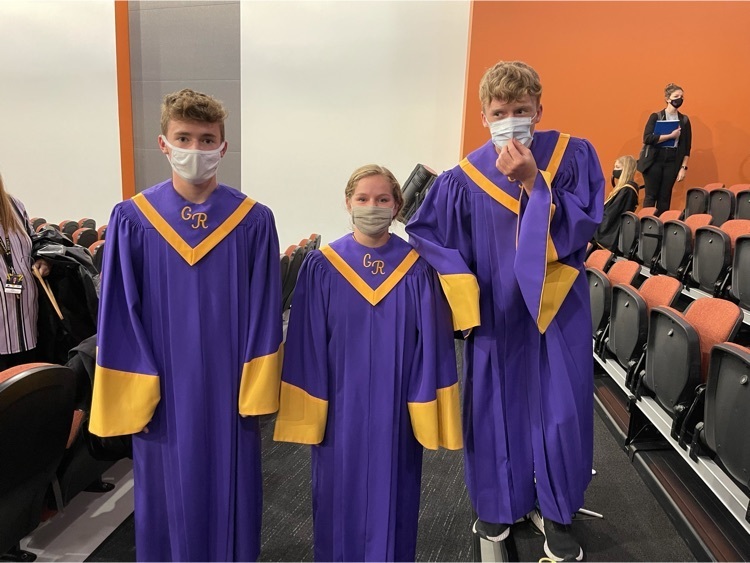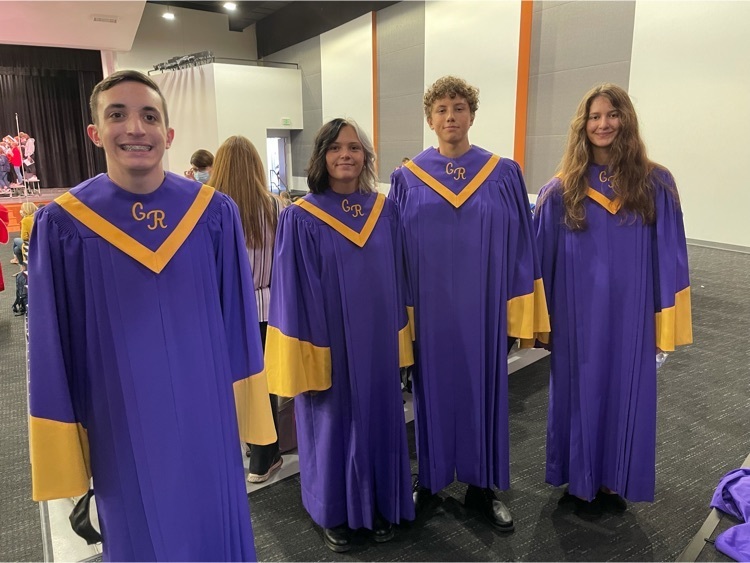 7 of our Choral students performed in The All-District and 9th & 10th grade Honor Choir. It was a wonderful day full of rehearsals, music, and joyful singing!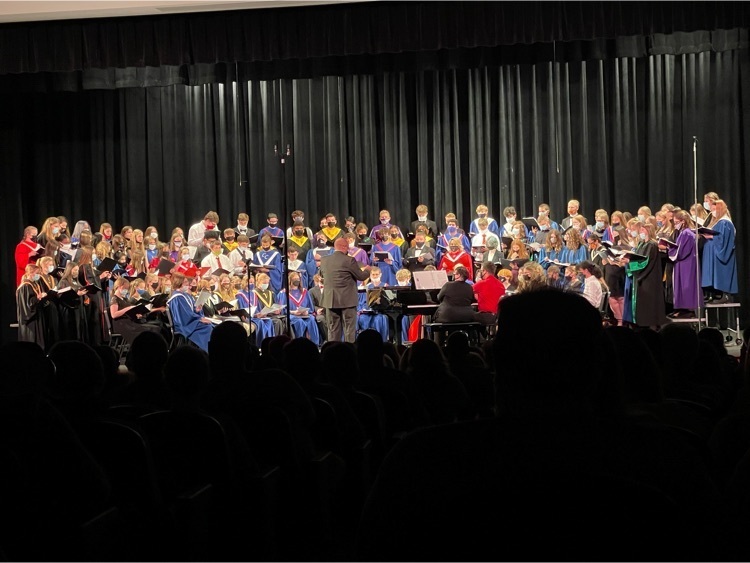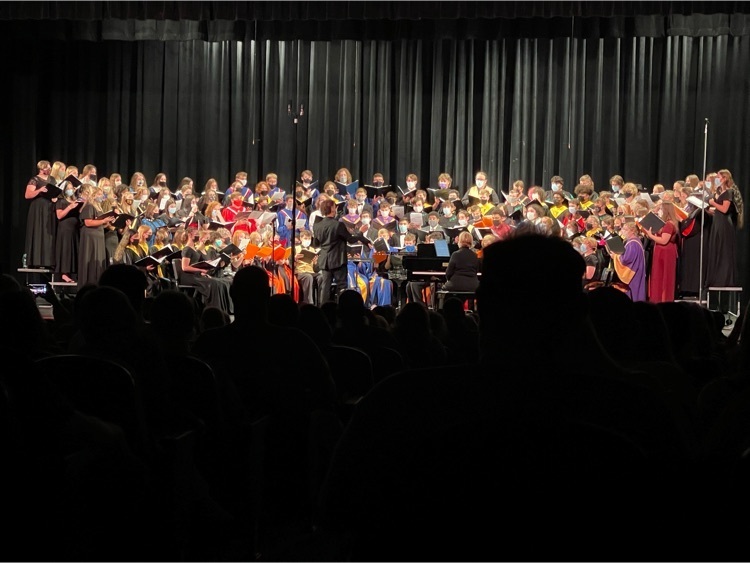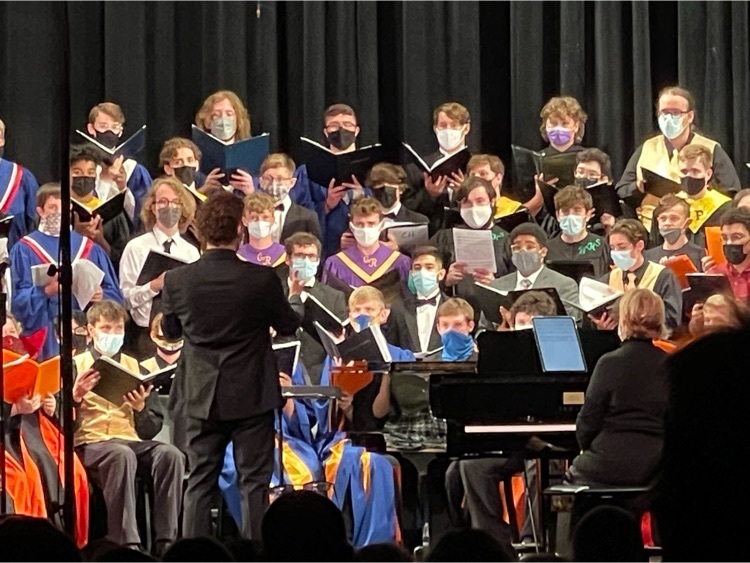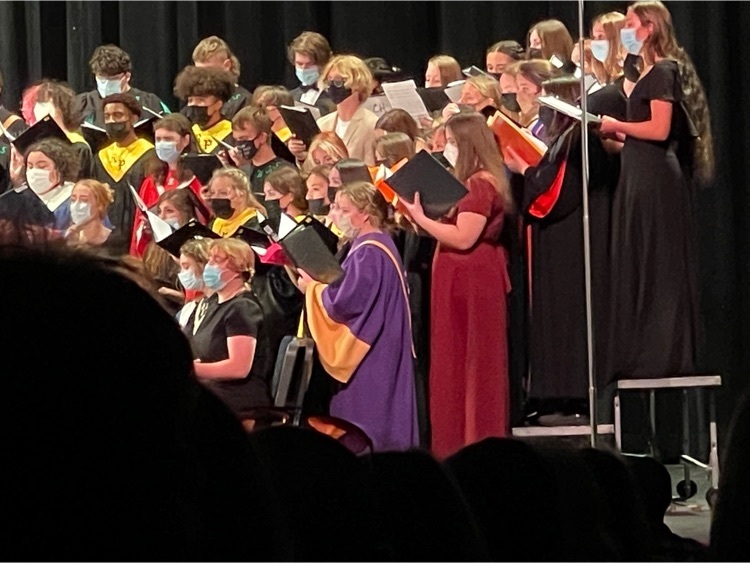 The GRHS softball team will be hosting a coed slow pitch softball tournament on Saturday October 30th. For more information or to enter a team contact Kaylee Schmidli at
schmidlik@grtigers.net
.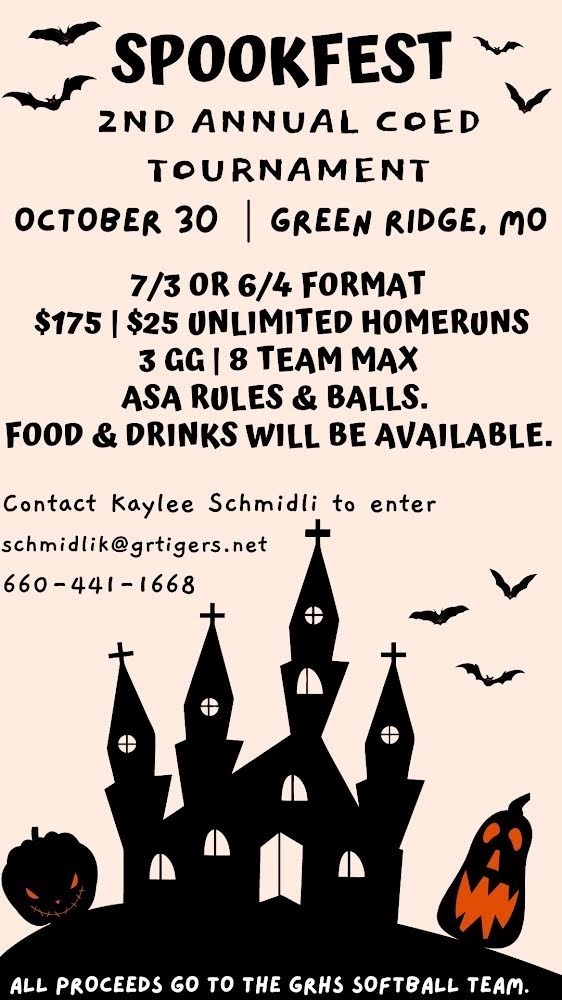 The GRHS softball team will be hosting a coed slow pitch softball tournament on Saturday October 30th. For more information or to enter a team contact Kaylee Schmidli at
schmidlik@grtigers.net
.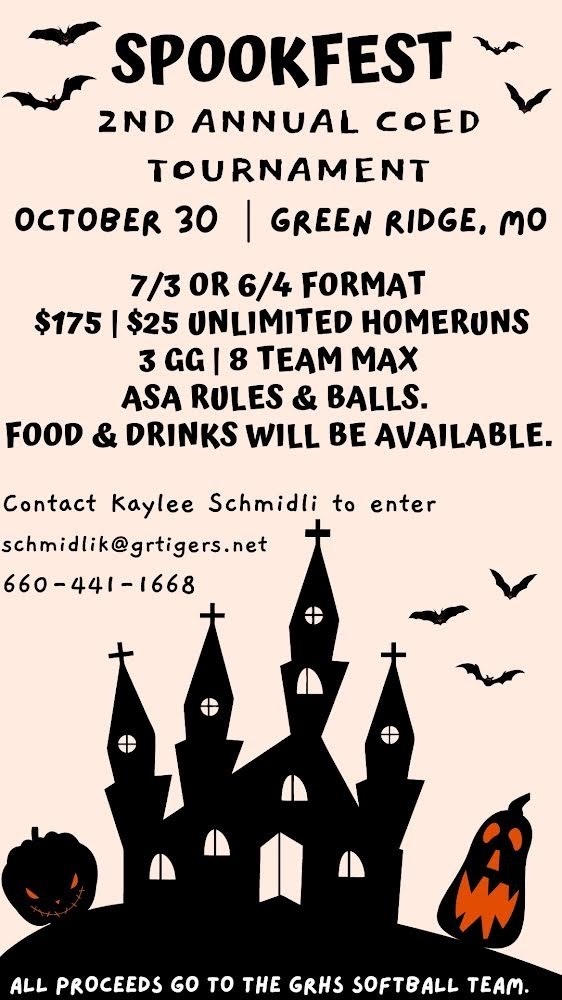 Last night was the last regular season girls golf match in California vs Blair Oaks and California. Ashlee finished in 7th place. Ava finished in 10th place. Abbey finished her golf season with her season best! Ava and Ashlee have a few more days of prep before teeing it up in Springfield for the district tournament on Monday. ⛳

Lady Tigers swept the Tipton Cardinals at home Tuesday night winning both the JV match and Varsity match. Junior Varsity started the night winning in 2 straight sets 25-13, 25-14. Sydney Gordon served for 3 aces and swung for 3 kills to lead the way. Zakiyah Morse added 2 aces and 2 kills. Miley Hayes added 4 assists. Isabel Knoernschild prowled the net pulling down 3 kill blocks. Exciting to see 14 of our Lady Tigers combine efforts for the win. Varsity continued the momentum. Lady Tigers won the Varsity match 25-22, 25-19, 25-23 behind the efficient offense from Nevaeh Washington. Nevaeh hammered down 10 kills for the night. Kayley Goodman used a variety of shots to get 6 kills while also serving for 3 aces and covering the court on defense with 6 digs. Kelsey Buxton and Matti Mergen added 5 and 4 kills to keep Tipton off balance. Setting up the offense Mergen led with 16 assists and Sydney Gordon added 6 assists. Libero Lexi Van Brocklin fired up the communication and came out with 5 digs. Congratulations to all our high school Lady Tigers! Varsity will return to action in the Kaysinger Conference tournament on Thursday playing 3 pool play matces in Cole Camp. Kaysinger bracket matches will take place on Saturday in Cole Camp. Junior Varsity's next match is next Tuesday 10/12 along with Varsity in Otterville.

Our music department's chairs have been upgraded! These kindergarten students in Mrs. Pottorff's class give the chairs their approval!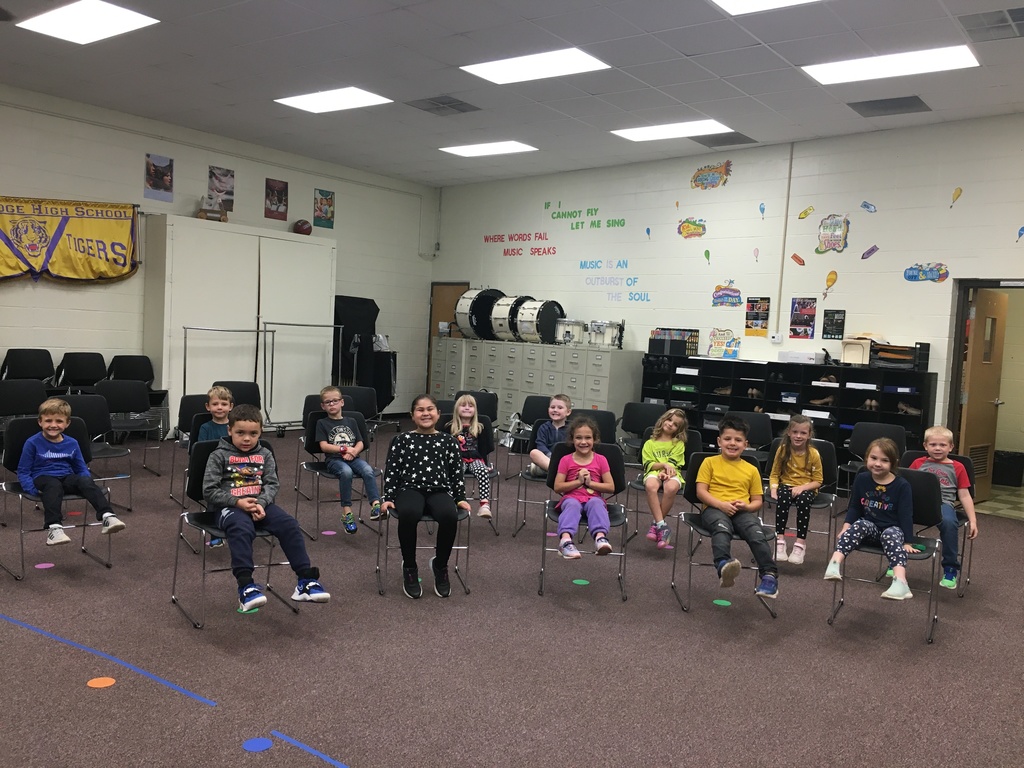 This Saturday, Tyson will be hosting a free, open to the public community food donation event held at the Sedalia Tyson Plant Parking Lot. Tyson will be giving away 20lb boxes of chicken from 10 am to 1 pm.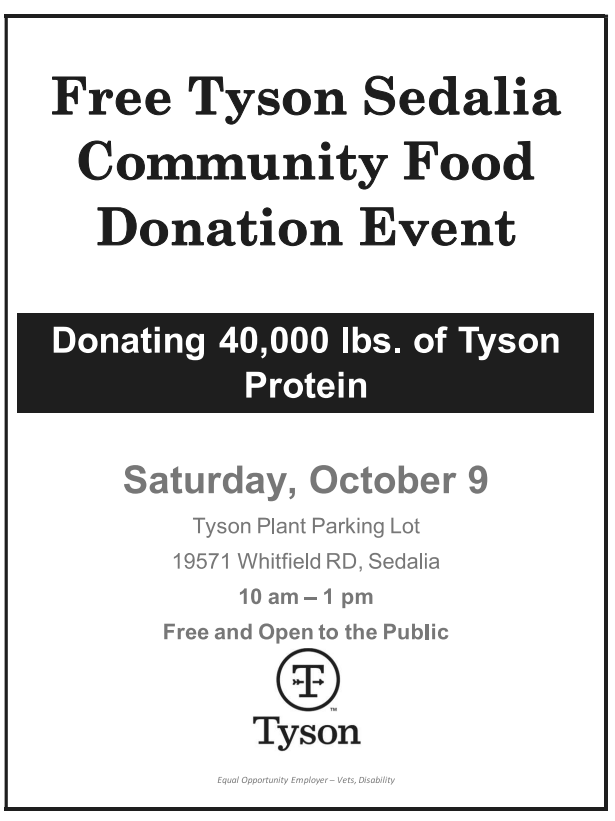 The Green Ridge R-VIII School District has a full-time, special education paraprofessional position available for the remainder of the 2021-2022 school year. Our district is looking for a dynamic, student- centered professional to join our team. The applicant must possess 60 college hours or have passed the paraprofessional test (Missouri Educator Gateway Assessments). The position will remain open until filled. Please forward a completed district application to: Angela Hagedorn, Special Services Coordinator, Green Ridge School District, PO Box 70 Green Ridge, MO 65332.

Lady Tigers traveled to Cole Camp Thursday for their third match of the week. JV Tigers lost 4-25, 19-25 with Grace Warner adding 3 kills, Mikensey Divorss 5 aces, Miley Hayes 5 assists, and Anna Stillfield and Abby Warner each had 2 digs. The Varsity Tigers fired up the offense led by Kayley Goodman with 14 kills. Losing in 4 sets (22-25, 25-21, 18-25, 14-25) the Tigers made it an exciting night of volleyball taking charge in the second set. Adding to the offense Matti Mergen and Kelsey Buxton each had 5 kills and Neveah Washington added 4 kills. But everyone knows an offense needs some defense to get going and Lexi Van Brocklin led the charge covering the court for 10 digs. Mergen and Washington followed Van Brocklin's lead with each of them making 8 digs and Goodman had 5 digs of her own. Mergen dished out 18 assists and Sydney Gordon pushed for 8 assists off of the hot defensive game. Buxton and Gordon then served for 3 aces a piece and Washington got 2 aces. A great way to finish a full week of volleyball! Varsity Tigers will return to the court next Tuesday taking on Tipton in The Ridge. Our Junior Varsity tournament is this Saturday 10/2 in Green Ridge and we have 2 Green Ridge teams entered due to another team having to drop out!!!! Come out for a full day of volleyball and watch our players compete.

Concordia Orioles came to The Ridge Wednesday night. Lady Tigers were met with strong serving and effective hitting. In the JV match, Isabel Knoernschild finished with 2 kills. Miley Hayes had 1 ace and 4 digs and Anna Still field had 2 digs. The JV team lost 9-25, 12-25. The Varsity team also lost to a strong offense from the Orioles losing 16-25, 9-25, 9-25. Struggling on serve receive the Lady Tigers couldn't get the offense going, but Neveah Washington swung for 6 kills and 2 aces and played great defense getting 4 digs. Sydney Gordon added 4 assists and 4 digs for the night.

Lady Tigers started a full week of volleyball Tuesday night traveling to Northwest. The Junior varsity ladies duked it out with the Mustangs and came out with the first win of the season 26-24, 25-21! Well done! The varsity Tigers couldn't find the winning vibe though losing in 3 sets 15-25, 19-25, 21-25. Nevaeh Washington had 8 kills and 2 aces. Kelsey Buxton added 5 kills, 4 blocks and 2 aces. Matti Mergen added 4 assists and Lexi Van Brocklin chipped in 4 digs.

Coach Doane has some exciting things to say about girls golf! "Yesterday, we had a conference match at Triple Creek Golf Course in Cole Camp. Ashlee Martin shot her season best and finished 2nd overall for the night. Abbey continues to improve each match and I am very proud of her. It is always important to be playing your best golf towards the end of the season and I am excited to see these girls get one more week of prep in before the District Tournament." ⛳ GR8 job!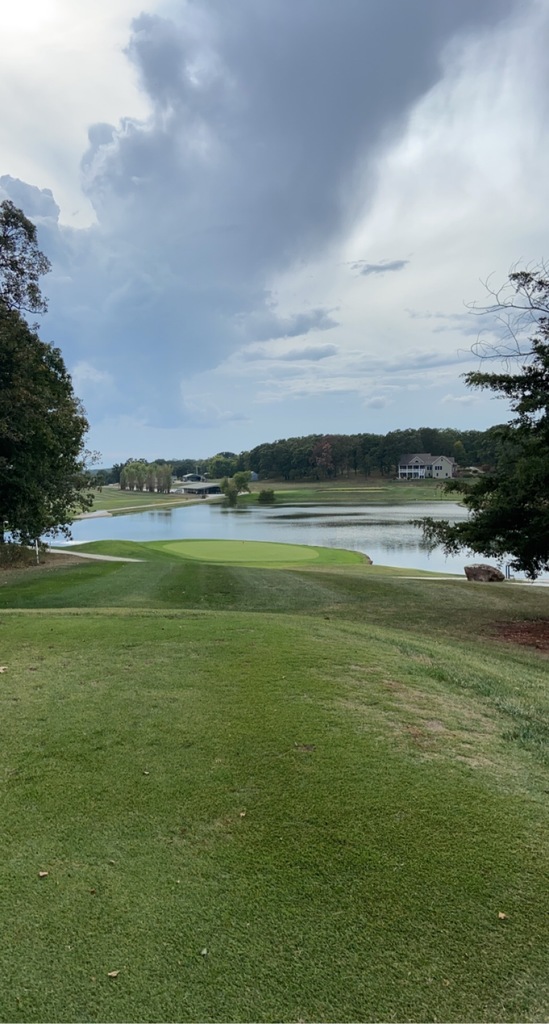 The cross country team traveled to Hermitage this morning. Despite the massive hill the Tigers had to climb, today was filled with season records(SR), personal records(PR), and course records(CR). For those unfamiliar, SRs are the fastest time for that season for each runner, PRs are the fastest they have ever finished a race, and CRs are their fastest time at that meet. The high school runners ran 3.1 miles while the junior high runners ran 2 miles. Here are their times. High School Eric Thomas-22:59 (SR/CR) Isaac Townsend-23:22 (PR) Savannah Nilson- 27:44 (SR/CR) Junior High Wyatt Crawford-14:41 (PR) Emmit Porter-15:39 (PR) Riley Donaldson-16:33 (PR) Callie Knoernschild-17:05 (PR) Wyatt, Riley, and Callie also earned medals for finishing in the Top 20 of their races. Great job, Tigers!

Lady Tigers clenched a win in LaMonte Thursday with a strong service game 25-18, 25-20, 25-13! Katlyn Hiller led the serving charge with 7 aces while teammates Matti Mergen (6 aces, 2 kills, 3 assists), Nevaeh Washington (5 aces, 3 kills, 1 block), and Kelsey Buxton (4 aces, 4 kills, 1 block) added to the firepower from the service line. Kayley Goodman led the offense with 7 kills and Sydney Gordon dished out 11 assists in the 3 set win. Tigers return to action next Tuesday when they travel to Northwest to take on the Lady Mustangs. HEY RAH TIGERS!