Good luck today to Ava Needy as she competes today and tomorrow at state! We know she will represent us well, and show her tiger pride!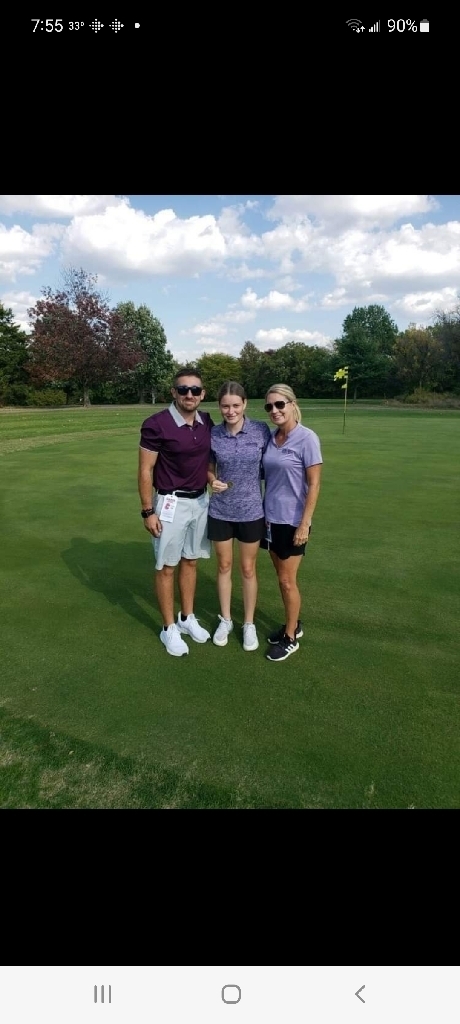 Congratulations to our junior high volleyball team! These Lady Tigers placed third in the Kaysinger Tournament! #GR8proud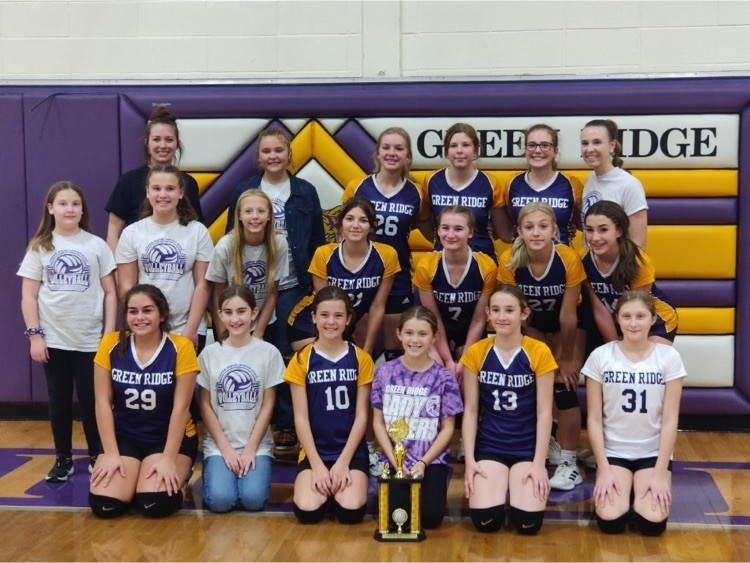 Kaysinger Conference JH Tournament Update: Rule change for moving forward tomorrow- any match that moves to the third set will be played to 15 instead of previous 25.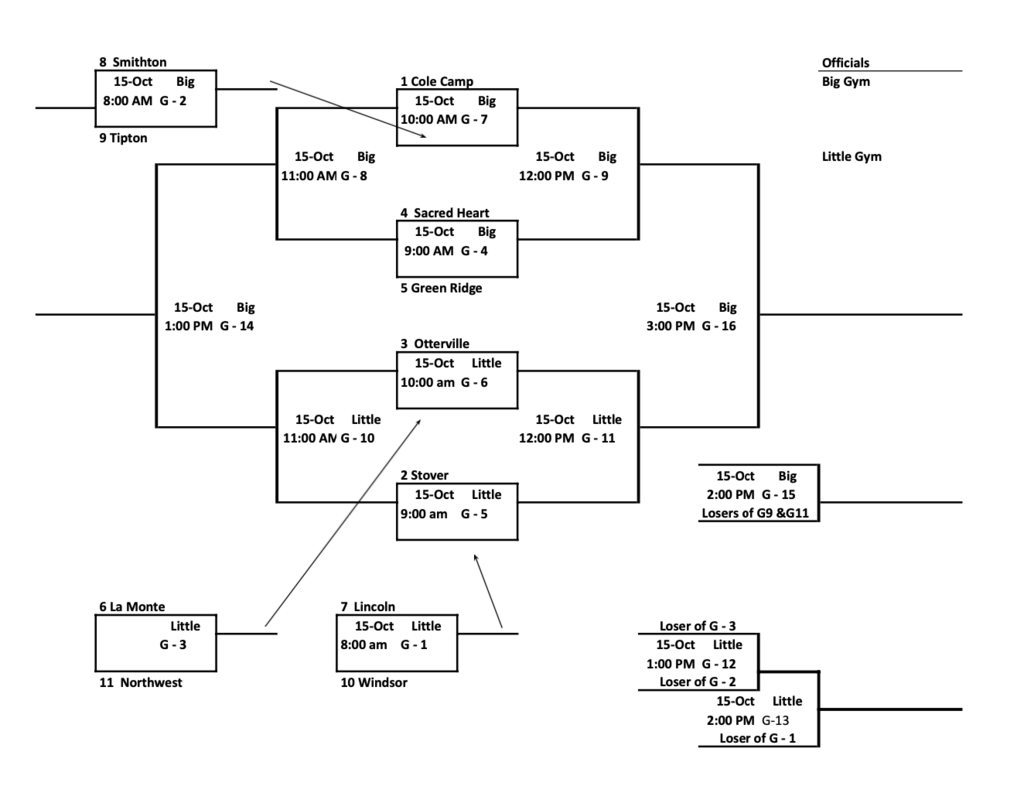 The Kaysinger JH Volleyball Tournament has been postponed for tonight due to power outage. The teams that were to play at 6 pm tonight (Windsor, Smithton, Tipton and Lincoln) will play at 8 a.m. tomorrow morning. The new, adjusted bracket will be sent out to schools and posted on our page when it is completed. Thank you for your understanding!
Congratulations to Wyatt Tucker (Elem) and Joshua Birch (JH/HS) for being selected as Green Ridge students of the month for September! Wyatt is a great role model for other students. He works hard to be safe, respectful, and responsible. He follows school and classroom rules. He treats teachers and students with respect by listening in class and not disturbing others. He consistently turns his work in on time and is always willing to help others. Josh has made great strides in his attitude, willingness to assist, and his interactions with other students. Josh has impressed me with his maturation as a young man. We have observed Josh outside of the normal school day (helping with concession stands, coming to extracurricular activities, etc.) and he has been more than willing to help students and staff do tasks around school.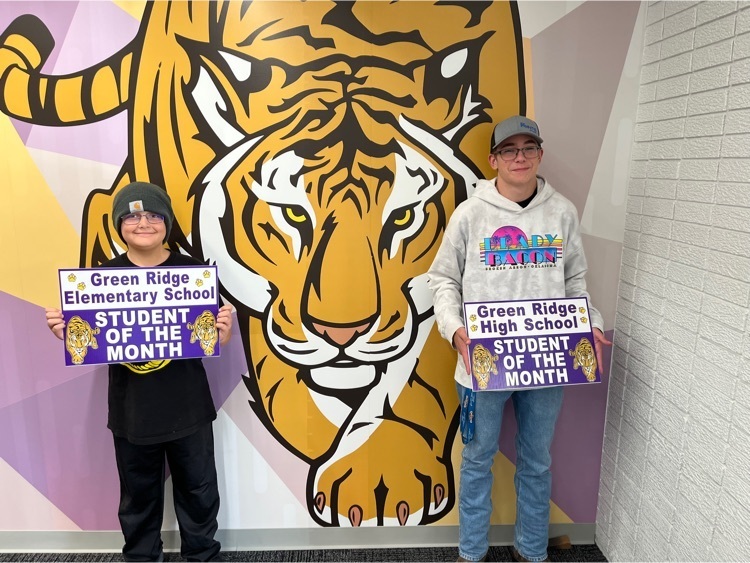 Volleyball District Bracket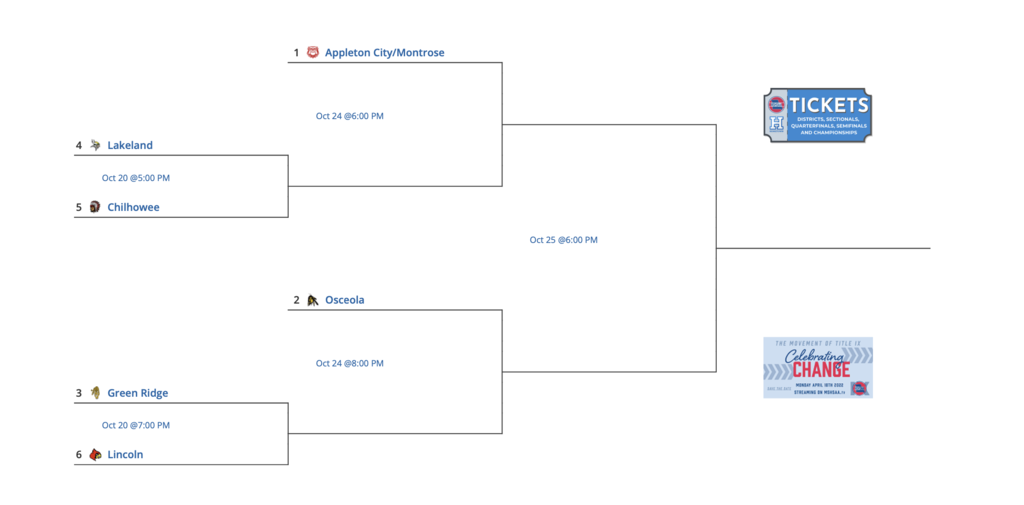 Senior Night for Fall Sports is tomorrow night in the Big Gym. Volleyball plays Otterville. JH "A" game starts at 5:30. Senior Recognition will be in between the JH contest and the Varsity contest. There will not be a JV or JH "B" contest. Otterville does not have JH "B" or JV teams.

Cross country travels to Stover today for the Kaysinger Conference Cross Country meet. HS Girls race starts at 4:00 pm, HS Boys race starts at 4:30, and JH race starts at 5:00. Good Luck Tigers!

2022 Stover Classic Soccer Tournament Bracket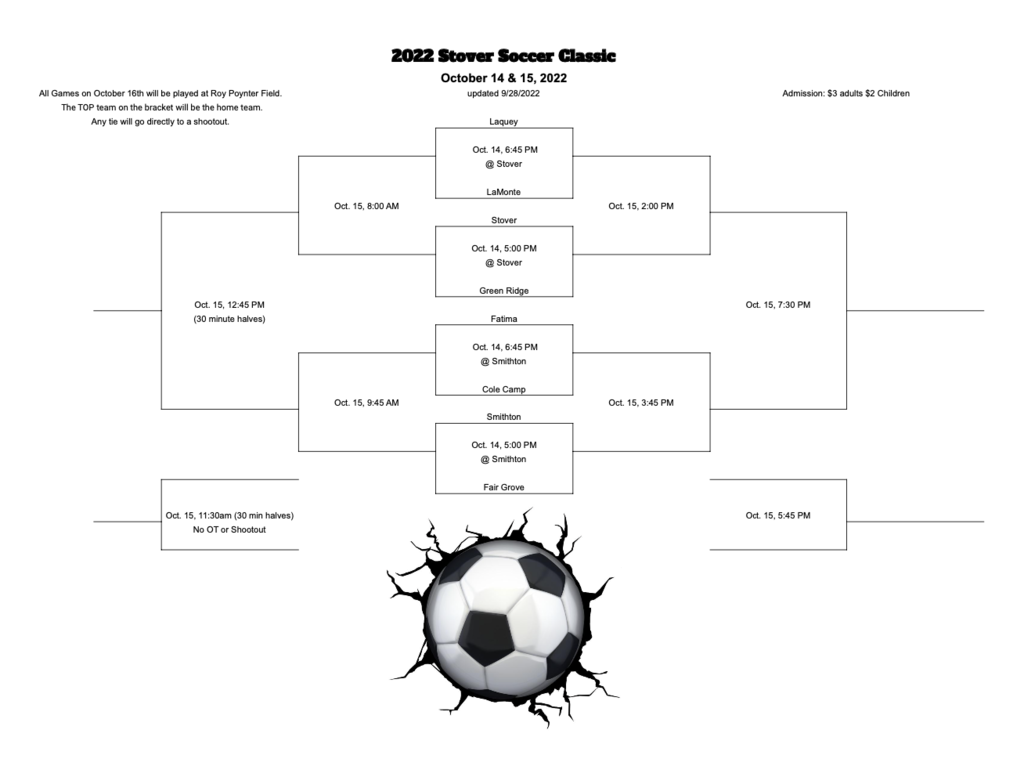 Kaysinger Conference Junior High Volleyball Bracket- Admission is $3/adult, $2/student, and Senior Citizens are Free. Unlike Green Ridge Home Games, students will be charged for entrance for this tournament.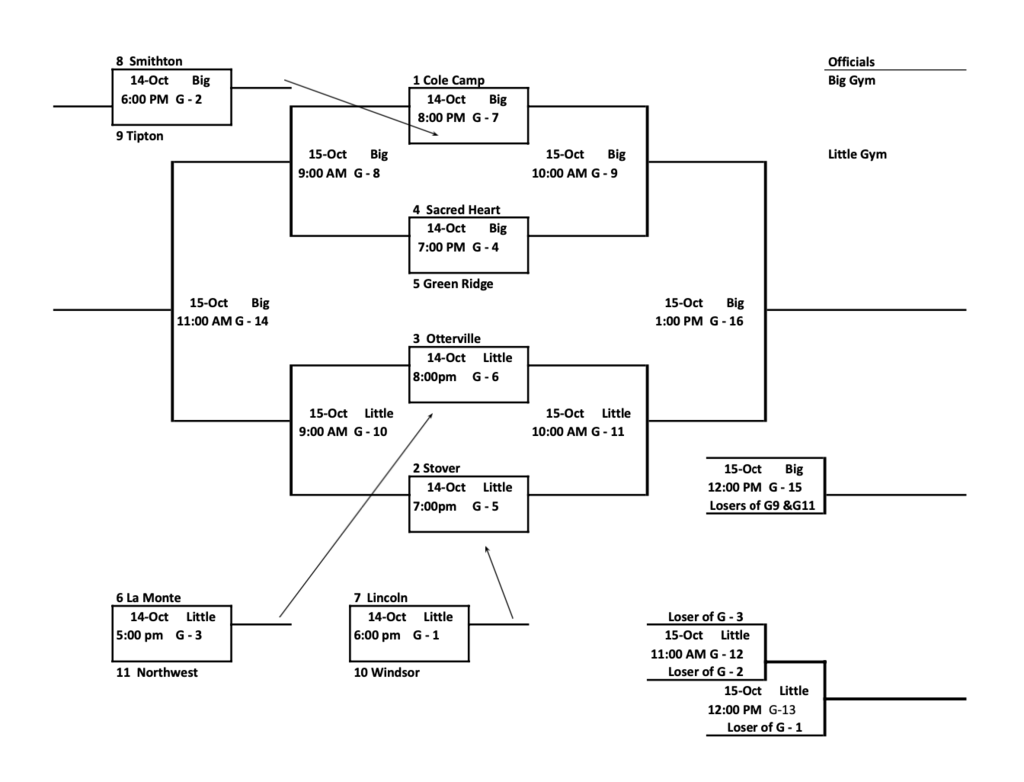 Volleyball travels to Tipton tonight in a Kaysinger Conference battle. We will be playing in two gyms, with JH "A" and Varsity (playing first) at 5:30 p.m. JH "B" and JV will follow. Good Luck Tigers!

Girls Golf is competing in Districts today, in Columbia. Tee off was at 9 am. HS and JH soccer are traveling to Marshall for contests starting at 5:30. JH will play first.

Cross Country is traveling to Columbia today to compete at the Brian Simpson Invitational. Running begins at 9:00 am. Volleyball participates in bracket play for the Kaysinger Tournament, and their first game is at 9:00 a.m. against Northwest @ Cole Camp. Good Luck Tigers!

Kaysinger Conference Golf. Congratulations Ladies. District Golf will be held next Monday (10/10) at L.A. Nickel Golf Course in Columbia. Good Luck Ladies!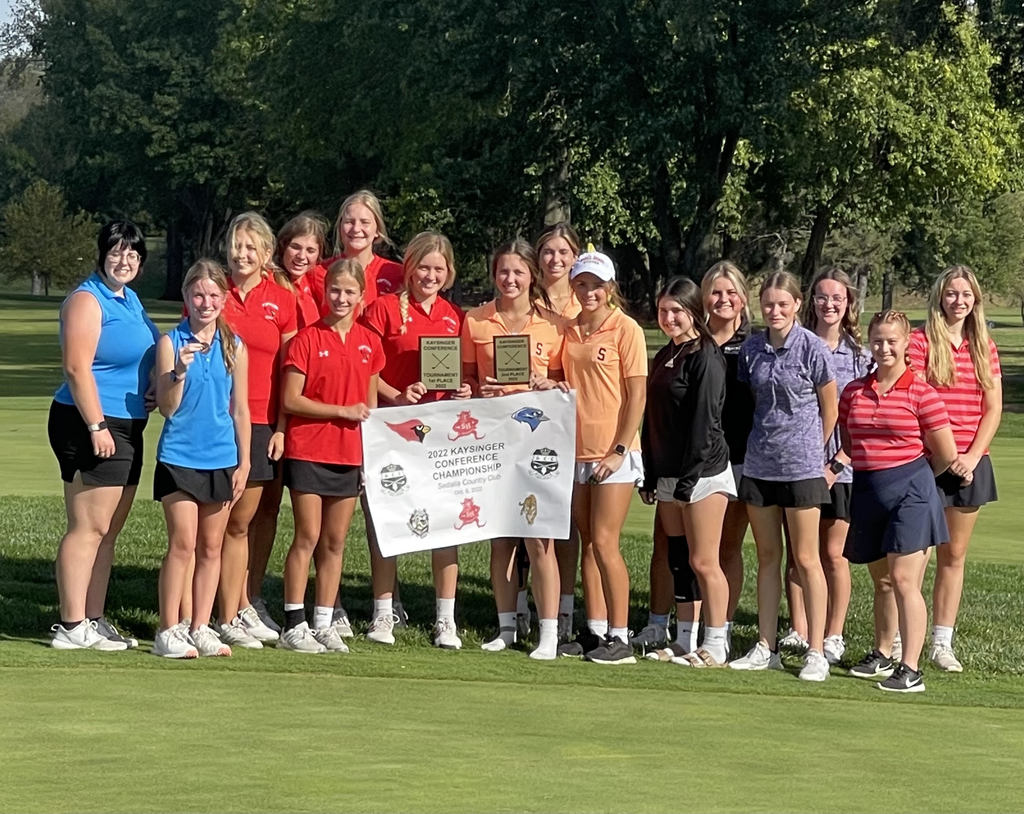 Kaysinger Conference High School Volleyball Bracket. The Green Ridge Lady Tigers will complete the Kaysinger Tournament on Saturday. Their first contest in bracket play will be against Northwest in Cole Camp's High School Gym at 9:00 a.m. Good Luck Lady Tigers.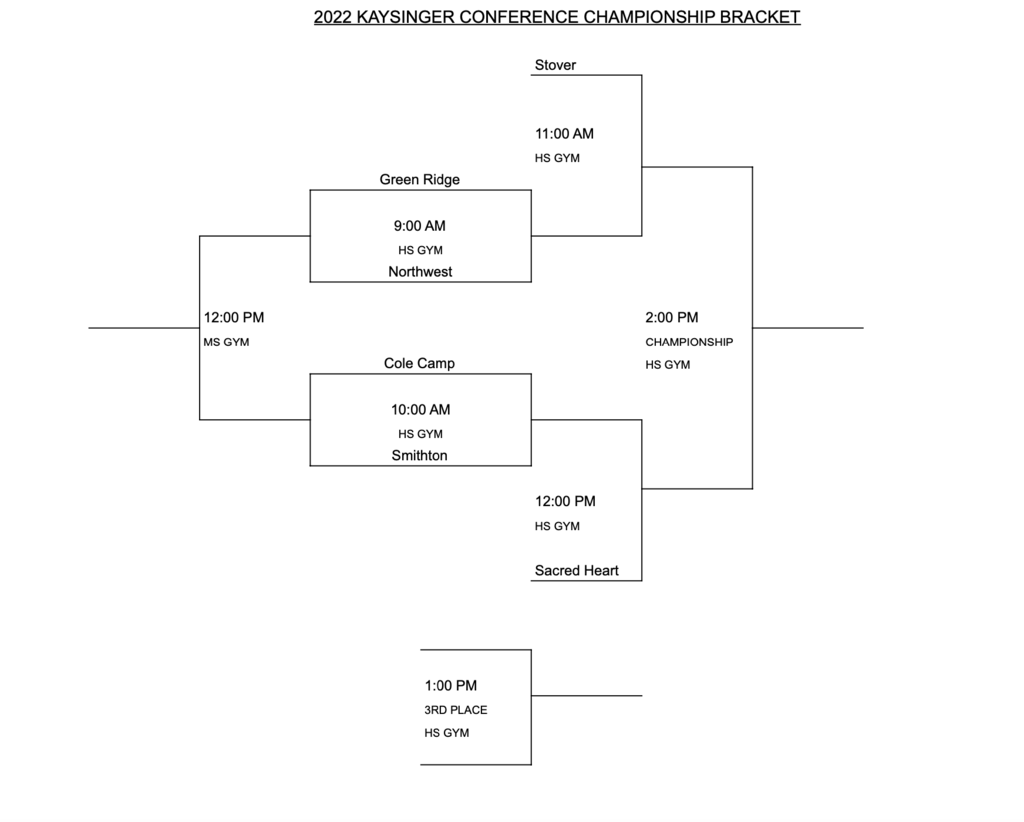 Green Ridge Soccer travels to Stover tonight to play Stover in the Third Place game of the Kaysinger Conference Tournament. Game time starts at 6:15. Good Luck Tigers!
Tiger Vibes! Lady Tiger Volleyball has had a busy 2-weeks!  For a quick catch-up, Lady Tigers wrapped up last week's schedule in Concordia on Wednesday and then at home Thursday against Northwest.   In Concordia, JV started the night with a thriller 2-set loss 23-25, 27-29 led by Mallory Reed with  6 kills and 2 aces.  Varsity continued the energy playing a high-intensity match, but lost 23-25, 19-25, 21-25 with Kelsey Buxton leading the way with 8 kills and 2 aces.   Thursday night in Green Ridge, Lady Tigers struggled to find a rhythm.  JV brought the excitement with a 3-set loss, combined with some lineup woopsies from the coaches, it kept everyone guessing!  Varsity lost in 3 sets to the Northwest Mustangs 15-25, 19-25, 20-25  behind Kayley Goodmans 8 kills. Saturday brought us the Green Ridge Fall Showdown for JV teams to duke it out!  Lady Tigers JV played 5 pool play matches in round robin before losing their semi-final match to Tipton.  But then powered through Crest Ridge JV to take 3rd place. Tuesday Night PINK-OUT was a huge success!  Thanks to all the parents and community folks that donated and assisted to make the night special.  The icing on the cake was Varsity's win over the Cole Camp Blue Birds 25-17, 25-23, 20-25, 25-15.  Nevaeh Washington led the way with 16 kills and 5 aces.  The balanced offense had help from Kayley Goodman with 10 kills, Kelsey Buxton, 9 kills and Emery Cannon 8 kills. Sydney Gordon and  Goodman each added in 4 aces from the serving line.  Gordon (15 assists) combined setting duty with Matti Mergen (23 assists) to keep the offense rolling.  Washington and Goodman had a busy night on defense with Washington finishing with 27 digs and Goodman 18 digs.  Great job Lady Tigers! Tonight - Varsity travels to Cole Camp for the Kaysinger Conference pool play rounds against Tipton, Otterville, and Sacred Heart!  Hey Rah Tigers!

Volleyball travels to Cole Camp for pool play in the Kaysinger Conference Tournament. The pool play schedule is attached. The Lady Tigers open up at 4:00 p.m. today. A special note to spectators, please do not show up to Cole Camp before 3:30 p.m. You will not be allowed to enter the school until after 3:30. Thank you all, and good luck Tigers!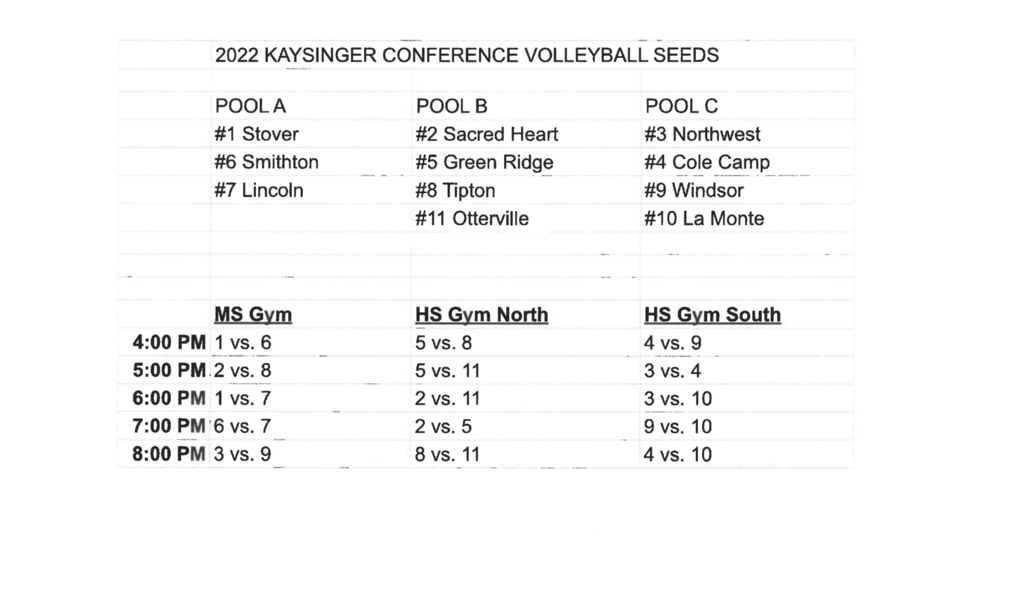 October Board Meeting Agenda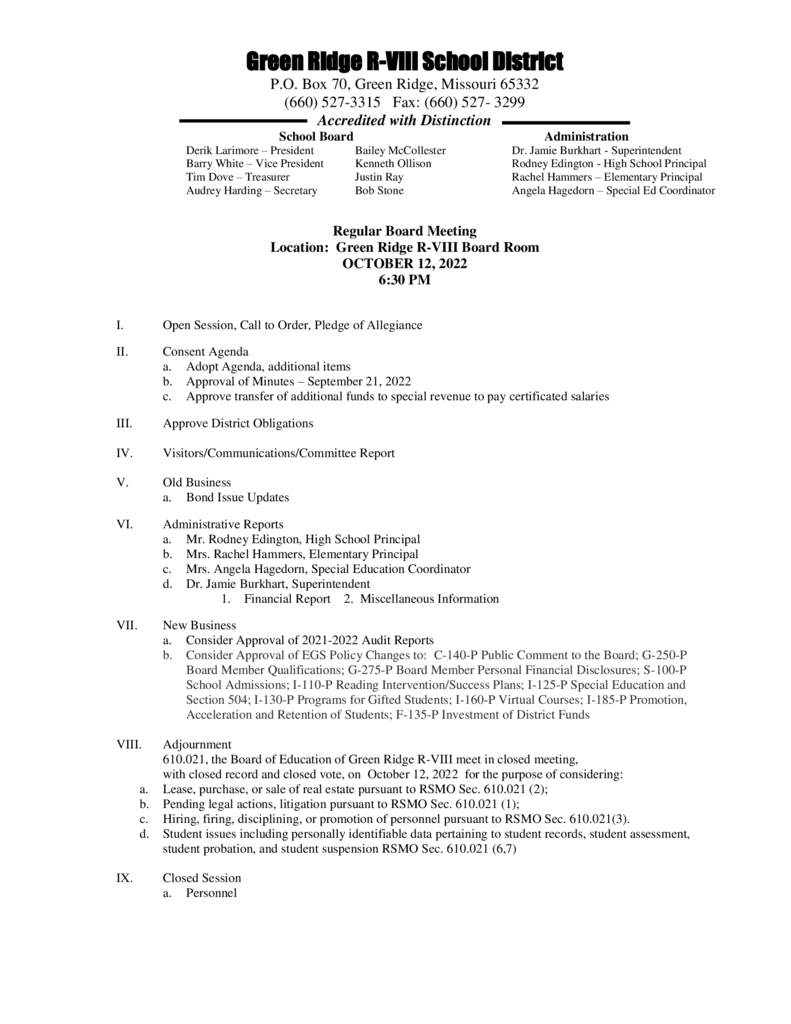 Activity update for 10/5: JH soccer will play Stover tonight in Stover. Start time will be 4:30. Varsity Soccer will play Smithton in the Kaysinger Conference Tournament, in Stover, following the JH game. Varsity game will approximately start around 5:45-6:00.